This Year's International Women's Day Theme Is So Powerful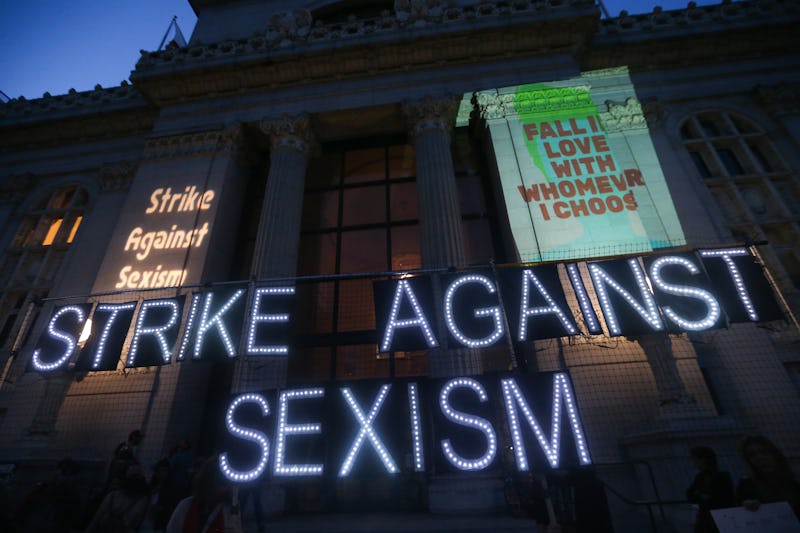 Elijah Nouvelage/Getty Images News/Getty Images
International Women's Day is a holiday dedicated to celebrating strong women of the past and present, and also a reminder to continue working towards gender equality. This year, it falls on Thurs., Mar. 8, and I can't wait to see all of the social media posts about inspiring women that are yet to come. While this day is always about cheering for the achievements — both big and small — of women, there is always a different theme to take into consideration. So what is the International Women's Day 2018 theme? This year, it's all about #PressForProgress, which is tied into the recent political movements about gender equality — and I'm definitely into it.
The #PressForProgress theme is an important reminder that, despite all of the progress we've seen in the last few years, we are still far from gender equality. That's exactly why it's the theme of this year's International Women's Day: it tells us to continue fighting for equal rights while also celebrating the many recent movements that are doing just that. As is shared on the International Women's Day website:
And while we know that gender parity won't happen overnight, the good news is that across the world women are making positive gains day by day. Plus, there's indeed a very strong and growing global movement of advocacy, activism and support. So we can't be complacent. Now, more than ever, there's a strong call-to-action to press forward and progress gender parity. A strong call to #PressForProgress. A strong call to motivate and unite friends, colleagues and whole communities to think, act and be gender inclusive.
Just reading that is making me feel inspired to do something big this year — and that's exactly what the organizers of International Women's Day are going for. The theme encourages anyone who takes part in celebrating to work together to fight gender inequality. As the official site added, "Individually, we're one drop, but together we're an ocean. Commit to a 'gender parity mindset' via progressive action. Let's all collaborate to accelerate gender parity, so our collective action powers equality worldwide."
#PressForProgress acknowledges all of the hard work that has been done by movements like #MeToo and #TimesUp, and is encouraging everyone to continuing pushing (or "pressing") for even more progress. Ideally, the thoughts behind the #PressForProgress theme shouldn't just be around on International Women's Day, but every day for the foreseeable future. So how can you get in on the action?
The easiest way to join in on the push for gender parity is to take a quick pledge online on the official site for International Women's Day. You simply answer a few questions about how you plan on working towards gender equality, something that will probably inspire you to really take action. The organization is also asking everyone to submit their own #PressForProgress photos that show your commitment to gender parity. You can email photos to info@internationalwomensday.com, and they'll be sharing some of the most engaging images on the website and social media channels like Twitter and Instagram. This is your chance to make a difference and go viral.
There are also tons of events going on throughout the country (and the world) that you can participate in if you're interested. Many are listed on the official website if you want to check them out.
While we should be celebrating strong women and their achievements all the time, it's good have an entire day dedicated to raising awareness. This year's theme is an important reminder that we need to keep talking about gender inequality and keep pushing for big changes. We got this! Now let's all celebrate together on Mar. 8, and keep pressing for progress.