The March For Truth Proves That Trump's Russia Woes Are Here To Stay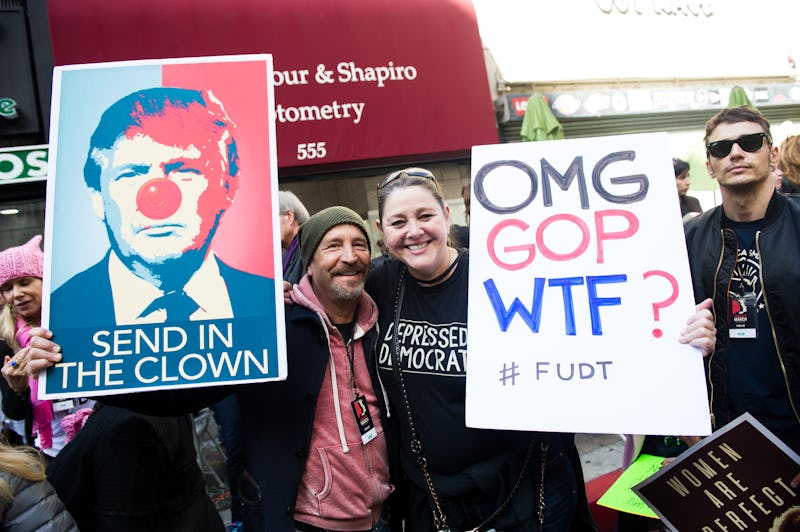 Emma McIntyre/Getty Images Entertainment/Getty Images
The latest gathering of grassroots organizations and activists will take place on Saturday, June 3. Dubbed the March for Truth, it focuses on the alleged ties between Russian officials and Donald Trump's campaign, and possible interference in the 2016 election.
Similar to the Women's March, the People's Climate March, the Tax March and the March for Science, the March for Truth calls for activists to take to the streets in peaceful protest in Washington, D.C. as well as 135 other cities. The goals of the march include pushing for a "properly resourced" independent commission to further investigate Trump's possible ties to Russia, transparency in those investigations, and putting further pressure on Congress to require President Trump to release his tax returns and disclose foreign business interests and obligations.
Organizers have also called for a non-partisan, united approach to those investigations. Per the march's website:
The legitimacy of our democracy is more important than the interests of any party, or any President. So, we will rise together to call for a fair and impartial investigation, for the pursuit of truth, and for the restoration of faith in our electoral system and the Office of the Presidency.
Following Robert Mueller's appointment as special counsel for the Russian investigation, an independent commission — like the one created to investigate the 9/11 terrorist attacks — could potentially allot more resources and give far more power and authority than other independent investigations.
In a statement about the march, former New York congressional candidate and founder and president of Stand Up America, Sean Eldridge supported the independent commission option:
Donald Trump and Republicans in Congress need to know that we won't let this issue get swept under the rug, and that's why thousands of Americans across the country will be marching to demand the truth. The special counsel is an important step, but we still need an independent commission to expose the full truth of Russia's attack on our democracy to make sure it never happens again.
The march's organizing partners and sponsors include 17 national progressive groups (including MoveOn, Women's March, Swing Left, Rise to Run, and more) and various local grassroots organizations. It is slated to bring together a diverse combination of activists, writers, artists and politicians across the country. Notable speakers at the march include Congressional Representatives Jerry Nadler and Jamie Raskin, Watergate prosecutor Jill Wine-Banks, activist Linda Sarsour, and Hamilton star Javier Muñoz.
With the broad mission of "restoring faith in American government," the events may have their work cut out for them — but there's still plenty of time for those interested to find their local march and get involved.