This Bra Will Grow & Shrink With Your Boobs — And It's Available In 98 Sizes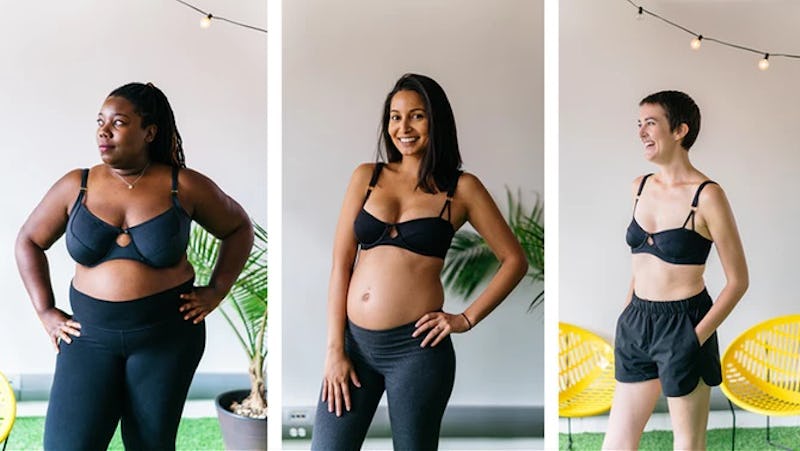 House of Anesi
Boobs don't stay just one size, even well past puberty. They shrink and grow as the weeks go by and make us reach for different cup sizes in our underwear drawers, depending on the day. But there's a new bra out to change all of that, where the Anesi Bra will adapt up to two cup sizes by expanding or shrinking in size, depending on what your ladies need.
With a promise attached to be "the only bra dedicated to make your life easier," it's a bold statement for a piece of clothing that's notorious to be finicky and uncomfortable. But a lot of planning went into creating the piece, where an industrial engineer, an aerospace engineering grad, and a fashion communications graduate put their heads together to design a support system that will actually do what needs to be done.
Female bodies fluctuate all the time, whether it's due to periods, water weight, pregnancy, menopause, or simple weight fluctuations — and even though that's a common fact, the lingerie industry hasn't done much to create a bra that takes that into account. Enter the Anesi Bra, which has used engineering and tech to create a fabric that can grow or shrink with your own body.
"Worrying about 'spilling out', 'wardrobe malfunctions', or tender boobies when you're hormonal is all bullshit that men don't have to deal with, so why should we? We don't believe that back pain, red raw shoulders and painful underwire marks are a good way to end your day either," the product description reads. "Frankly, women deserve better, and the current lingerie industry just doesn't care about true comfort or empowerment."
"Anesi" means "comfort" in Greek, and the bra is meant to be the first smart bra on the market. For example, it utilizes cooling gel straps, which not only add an extra dose of comfort, but nixes the problem of straps that dig into the shoulders if you have a heavy bust. There is also a three-dimensional metal-free underwire that is fully flexible, which negates the problem of annoying wires poking you at all hours of the day, while still giving you the necessary lift and support to battle back back pain or lack of perkiness. But the true star of the show is the innovative new fabric, which not only adapts to two cup sizes and two band sizes, but is available in 98 sizes.
The fabric uses a combination of rigid and elastic parts that work together to create invisible "power zones," which will conform with your changing shape in those hot zone areas that are most affected. For example, you can say goodbye to over-spillage and gapes, because those areas will be elastic enough to move with your fluctuation. Even better, the fabric is made with moisture-wicking and anti-microbial fabric, so boob sweat will be a thing of the past.
Right now they offer two types of bra styles — full coverage or balconette — but there is a catch. Right now Anesi Bra is in Kickstarter mode, so the only way to get a bra is to donate to the cause. With a $49,822 goal and 21 days to go, you need to pledge at least $90 in order to get an Early Bird 30 percent off discount and get the bra delivered to your door. There are different levels you can choose from, so make sure to check out their Kickstarter page here if you want a whole new bra experience. If you have constantly battled with trying to find a perfect fit that conforms to your changing body, this just might be the innovation you have been waiting for.