Trump Is Killing A Trade Pact With South Korea & Kim Jong-Un Will Be Paying Attention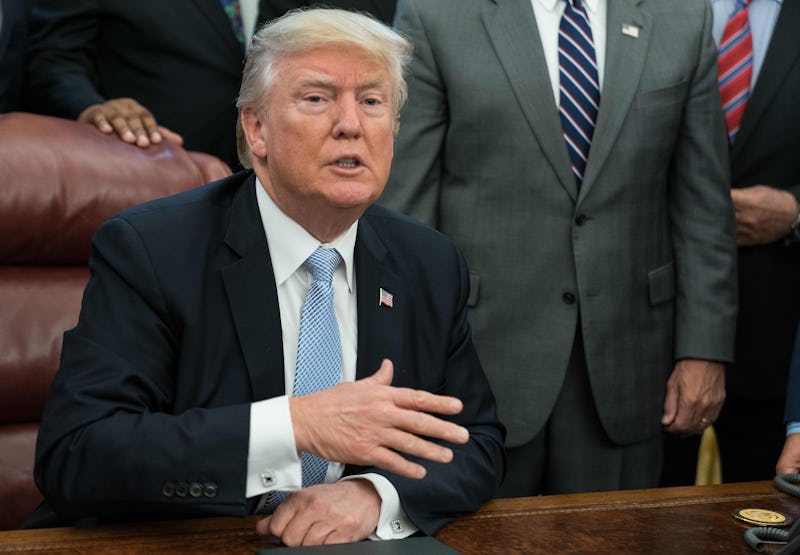 NICHOLAS KAMM/AFP/Getty Images
According to White House officials close to the process, the United States is set to withdraw from its free trade deal with South Korea. The report published in The Washington Post detailed that Donald Trump has apparently initiated an unofficial plan to pull back from the free trade agreement with the formal procedure tentatively set to take place early next week. The sources cited in the report, published on Saturday, asked to remain anonymous and said that there is also a likelihood for the president to remain in the agreement insofar as re-negotiating the deal's terms is concerned. But officially withdrawing from the agreement, the sources claimed, "could begin as soon as this coming week."
America's free trade agreement with South Korea - known as KORUS - is a five-year-old bilateral trade deal signed in 2012, and has been criticized by Trump for supposedly contributing to the American trade deficit that took place after the agreement's implementation.
In June, Trump described the agreement as a "horrible deal" and stated his intentions to re-negotiate with South Korea while also expressing consternation over supposedly destructive trade agreements between the United States and other countries, especially China.
"We are being absolutely devastated by bad trade deals," Trump said. Trump's reported plan to withdraw from the deal seems to be the logical outcome of his consistent criticism of bilateral trade deals.
In spite of his rebuking of deals, president seems to be alone in his opposition, more or less, as top aides within the administration have shown resistance to his withdrawal plan. Figures like Defense Secretary James Mattis, national security adviser H.R. McMaster, and National Economic Council Director Gary Cohn have apparently implored Trump to remain in the agreement, according to The Post.
The possible reason for reluctance is that a tentative evacuation from KORUS could inadvertently exacerbate bilateral relations between South Korea and America. Opponents to Trump's plan fear that such a departure could also isolate South Korea in the face of North Korean aggression. South Korea's largest news agency, Yonhap, reported that officials in Seoul have also expressed disagreement with Trump's plan and stated that the trade deal has been mutually beneficial for both countries.
As mentioned before, Trump's plan to withdraw from KORUS is neither out of the blue nor a political anomaly. Given his track record and campaign promises to keep America "first" and to do away with apparently disadvantageous trade deals, Trump's reported decision to pull out of the South Korean free trade deal is merely deliverance on part of his apparent promise to place America's working force above all, an impulse that critics fear will eventually backfire.