Instagram's New Type Mode Is Going To Up Your Stories Game So Much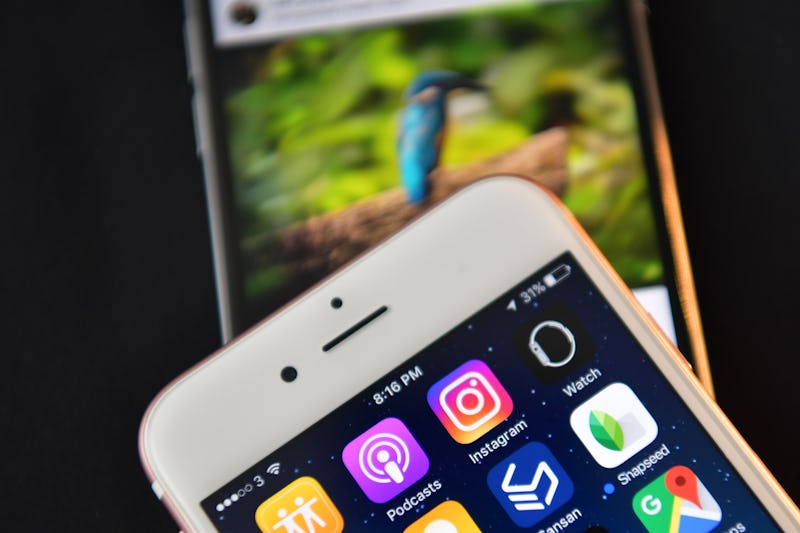 Carl Court/Getty Images News/Getty Images
If you're a diligent app updater, you might have opened Instagram this afternoon to find a little present in the stories section of the app. There's a carousel of ways you can tell your stories through the social media platform — and now, you can post your stories with more design friendly ~flair~. If you're curious as to what is type mode on Instagram stories, well, to put it simply it's basically your new favorite story telling tool.
Instagram has made the stories feature more engaging than prime time television. The bar of users' stories that sit at the top of the app is constantly queued up and forever refreshing with content more entertaining than reality television. You can tap in to get a glimpse of your best friend's vacation or follow along as your favorite brand preps for a photo shoot. You can peek into behind the scenes action of a celebrity's day by day or catch up on headlines from prominent news sources. Instagram Stories has changed the way we're exposed to as well as consume information and entertainment. It allows us to be directors and stars and story tellers. The new Type Mode feature equips us with another creative tool to ~express~ ourselves with.
Get ready to make your stories way more attractive to viewers, I mean, followers.
Can we consider our followers an audience? You bet. When we all started to frequently use Instagram, we all became amateur photographers. When we were bestowed the gift of Instagram stories, we became amateurs ~directors~ and ~storytellers~. I mean, at this point in our Instagram career, we can all probably — and confidently — list "content creator" as a special skill on our professional resumes.
Type Mode adds a new layer to how we express our lives through the Stories feature. A spokesperson for Instagram shares with Bustle, "Type Mode" is for the times when you just want to share what's on your mind. Whether it's sharing your love for your dog, your favorite song lyrics, a thought you had or something funny you overheard on the street, Type Mode is a fun and creative way for users to express themselves through a creative library of fonts and styles." While you can simply upload a thought as a colorful, animated card, you also have the choice of layering your photos and videos with the exciting new fonts. New GIFs on our Stories and now this? What have we done to deserve such updates?!
Thankfully Type Mode is incredibly easy to get started with so you can get to scripting your Stories. All you have to do is open the Instagram app and launch the camera for Stories. At the bottom where you typically see options like "Normal" and "Boomerang" you'll find the option for "Type". There you'll type whatever lyric or quote or witty caption into the screen. Find your favorite font by tapping the button at the top of your screen. A spokesperson at Instagram further informs us, "Customize things like background color (tap circle on bottom left), text color (select text), highlight color (tap the "A" box for select styles) – you can also add a background photo by tapping the camera icon (bottom right). Once ready, tap the ">" button to add stickers and other creative touches." All of our stories will start looking like pages ripped from a beautifully designed magazine.
The addition of Type Mode allows us to make the daily story telling of our lives better tailored to our personal ~brand~ and ~style~. My suggestion is to explore the latest addition and find what colors, textures and fonts work best for you. Are you more "Modern," "Neon," "Typewriter," or "Strong"? Find out by directing your first Instagram Story with the latest updates.