Here's What You Should Do If You Don't Have GIF Stickers On Instagram Stories Yet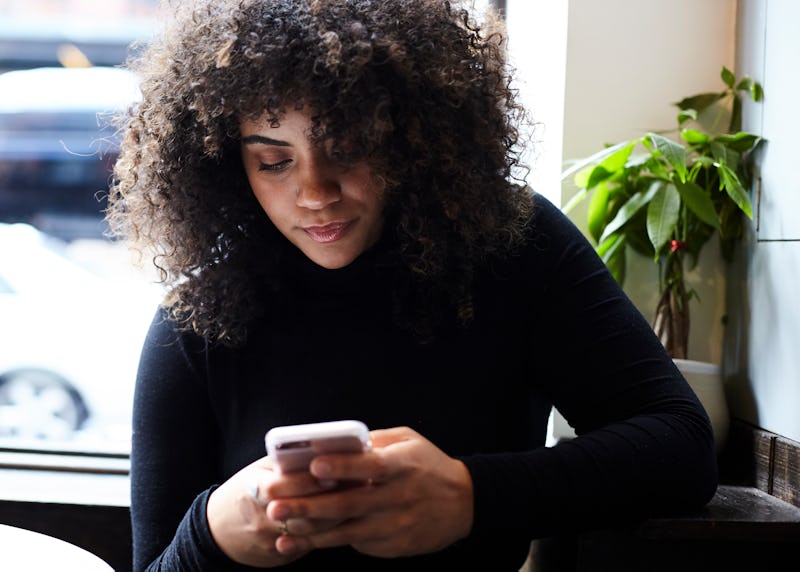 Bustle
Big Instagram news today: GIF stickers are arriving for Instagram Stories, allowing 'grammers everywhere to stick fun little moving images on top of their photos and videos for some added pizzazz. If, however, you booted up Insta today, only to find yourself wondering, "Wait a minute — why don't I have GIF stickers on Instagram Stories? And what can I do about it?"… well, I've got good news and bad news for you. The bad news is that, depending on what the reason for the feature's absence turns out to be, there may or may not be a whole lot you can do about it. The good news, though, is that you might be able to troubleshoot the problem pretty easily.
Announced on Jan. 23, GIF stickers for Instagram Stories operate courtesy of the ever-popular GIF database GIPHY. All Instagram users have to do in order to add them to images or videos in their Stories is to tap the smiley face icon in the upper right-hand corner, then tap "GIF" and search for whatever kind of GIF they're looking for. There are tons of options available: Searching for "Accessories" will bring up things that can be layered over faces, like sunglasses, hats, eyes, and so on; searching for "Effects" will let you do things like add fire or confetti to an image; searching for "Word Art" will bring up text-based stickers (perfect for, say, wishing someone a happy birthday); and searching "Emoji" will show you a whole bunch of specialized emoji sets. There's even a special kind of GIF sticker called a "Peeker," which, if used, will pop up on the photos and videos you stick them to, then disappear (kind of like they're playing peek-a-boo). To access these wonders of technology, just search for — you guessed it — "Peekers."
But what if you don't have GIF stickers for Instagram Stories yet? Why might that be? And what can you do about it?
There are typically two reasons why users may not have a specific Instagram update immediately: First, new features often roll out gradually, which means not all users will have them as soon as they're announced; and second, updates typically require users to have the most recent version of Instagram installed, so if you haven't updated the app in a while, you probably won't see any of the new stuff.
There isn't a lot to be done in the case of an update rolling out gradually; if that's the issue, then you just have to wait. Usually it only takes a couple of days or weeks for gradual rollouts to be completed, though, so you probably won't have to wait too long.
If the issue is simply that you haven't updated your app in a while, however, you're in luck! That's easy to fix. As of this writing, the most recent version of Instagram for iOS devices is version 29.0, which was rolled out on Jan. 22, 2018; for Android devices, the actual version number will vary depending on the specific device you've got — but like the iOS version, the current Android update is dated Jan. 22.
Here's how to install the most recent version of Instagram on your phone, regardless as to whether you're an iOS or Android user: