Robert Mueller Doesn't Have To Indict Trump To Bring Him Down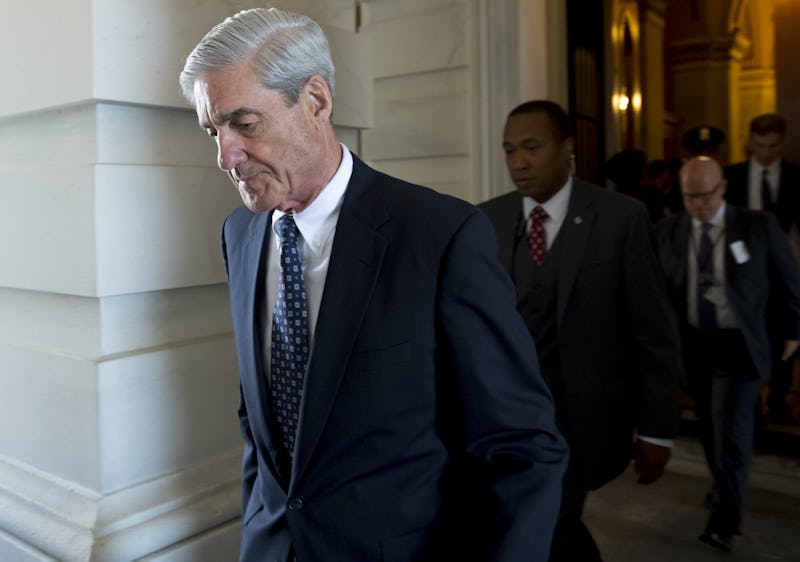 AFP Contributor/AFP/Getty Images
Special counsel Robert Mueller may hand down his first indictment on Monday in the ongoing investigation into Russia's interference in the 2016 presidential election. It's unlikely that the former FBI director will indict President Trump himself, as presidents are generally considered immune from indictment. However, Mueller could name Trump an "unindicted co-conspirator" to any wrongdoing, which would undoubtedly put POTUS in some hot water.
First, it's important to clarify some terminology: Mueller himself won't indict anyone involved in the alleged election interference. Rather, an indictment requires approval from a federal grand jury. Mueller and his team will likely make charges public after they've convinced a federal grand jury to indict the alleged wrongdoer(s). According to NBC News, a federal grand jury has indeed approved the first indictment in the case, and Mueller's office is expected to make the indictment public on Monday.
The indictment doesn't mean that the individual charged has necessarily done anything wrong — the investigators will still have to prove that to a court and jury — but it will give the public a new development to grasp onto following months of mystery. This will be the first indictment handed down in the case since Mueller was named special counsel in May.
It's unclear who will face indictment on Monday, but there's at least one person who can probably be ruled out. It has long been believed that sitting presidents cannot — or, at least, should not — be indicted. Neither Richard Nixon nor Bill Clinton were indicted during their respective federal investigations. According to The New York Times, it may actually be legal to indict a president, but it certainly hasn't been done before — at least, not in modern history.
Still, there is an obscure way that Mueller could involve Trump without indicting him. During the Watergate proceedings, Nixon was named an unindicted co-conspirator in 1974. According to an archived New York Times story, the classification meant that, though he was able to escape criminal indictment, the then-president's actions could be closely examined during the criminal proceedings of others, due to Nixon's involvement in the scandal.
For instance, evidence of Nixon's conversations with aides reportedly could become admissible at trial. The more evidence of Nixon's behavior that came out at trial, the easier it would be for members of Congress to build a case of their own for impeachment.
What does that mean for Trump? For the most part, it's still unclear. It remains to be seen if Trump will be named an unindicted co-conspirator. In fact, Title 9 of the U.S. Attorney's Manual indicates a preference against using the obscure classification. "In the absence of some significant justification, federal prosecutors generally should not identify unindicted co-conspirators in conspiracy indictments," says the code.
However, if Trump does find himself identified in such a way, he could see evidence about his alleged involvement in Russia's election interference surface in federal court. Records like memos, emails, and other correspondence between the now-president and his to-be-identified indicted co-conspirators could become public record. Needless to say, those items — assuming they exist — could be a windfall for lawmakers looking to launch impeachment proceedings in Congress.
It's worth noting that there are some drawbacks to the unindicted co-conspirator classification. As reported by Slate, there's a legitimate concern that unindicted co-conspirators may not receive due process. After all, they aren't technically on trial, yet they are basically incriminated by the very fact that a federal grand jury has deemed them a co-conspirator to a crime. Unlike those who are indicted, unindicted persons may not have the opportunity to respond to those allegations in court. In other words, the unindicted co-conspirator classification is a powerful tool that's best wielded carefully.
If Trump is named an unindicted co-conspirator, you can expect to learn much more about his alleged involvement in Russia's election interference as federal court proceedings move forward. However, it's somewhat unlikely that the president will be indicted or named an unindicted co-conspirator, since precedent seems to discourage both courses of action. Then again, this is 2017 — so all bets are pretty much off.