This Watercolour Eyeshadow Trend Will Turn Your Make-Up Into An IRL Work Of Art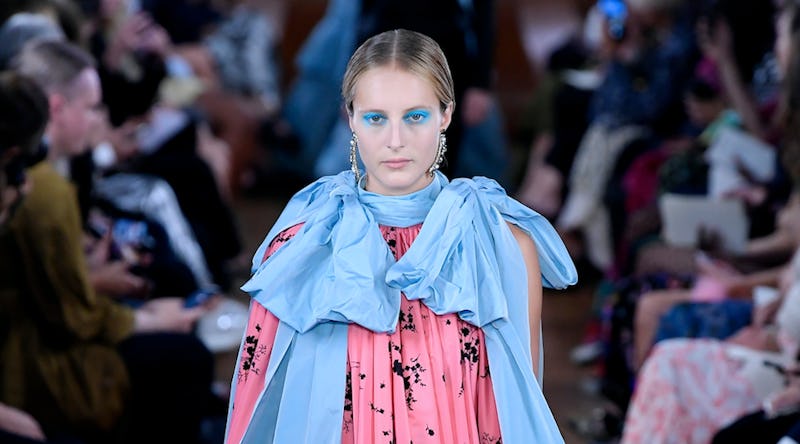 WWD/Shutterstock
The SS19 shows are fully underway, and there are so many beauty trends to get excited about. From subtly glossy eyelids at Tom Ford to nouveau glitter lips at Jeremy Scott, next summer is going to be bold AF. But the one trend that's particularly had the beauty set talking is Val Garland's watercolour eyeshadow at Erdem. But what is watercolour eyeshadow?
We're used to associating Erdem with floaty, ethereal floral colours, and patterns that look like oil paintings, so TBH, it comes as no surprise that for the brand's SS19 show in London (at the National Portrait Gallery) makeup artist Val Garland was all about "watercolour eyes". Revealing all to Vogue's Lauren Murdoch-Smith, Garland explained how she created the look using Nars. Although most of the models sported pared-down make-up with glossy skin, there were four who wore bright colours around their eyes, leading to the coining of the term "watercolour eyeshadow".
Garland told Vogue that she used Nars Geity Blush for the pink eyes, Douro for yellow, Baby Jane for blue, and Green from the Moskova Quad eyeshadows to create the looks. She then took the corresponding shades of the Nars eye pencils to the lids for the base.
Garland described the shades as "royal blue, acid yellow, damask rose pink and a forest green."
The royal blue look is particularly enchanting, and luckily for us, Garland shared a super close-up snap of it on her own Instagram page:
Explaining how she created the looks, she told Vogue:
"I take a pencil first and blend it in so I have a waxy base. I then use a cotton wool bud to windscreen-wipe across the colour, picking up the pigment and pressing it into the eyelid a few times."
She continued: "Because of this lovely dewy skin I have a bit of fall-out from the eyeshadow which creates a painterly, delicate and beautiful pop of colour with a more velvety texture which comes from the application technique. The waxy pencil creates an ombré stain where the pigment from the other colour hasn't hit."
A make-up look that actually uses eyeshadow fallout to its advantage? I am totally here for that.
In addition to backstage at Erdem, social media (particularly Instagram and YouTube) is awash (get it?) with ideas of how to interpret and create watercolour eyes.
Some, like Garland, use a wash of colour to create a beautifully bold look, while others interpret watercolour eyes more literally, creating inspiring oil painting-style looks on the lids.
There are plenty of tutorials on YouTube to look to for inspiration of you want to try out the look for yourself. Alternatively, give it a go by falling Garland's application technique as detailed in her quotes above.
The main thing to remember is to use eyeshadow formulas that are soft and velvety, as well as blendable. Blending is always the key when it comes to these incredible eyeshadow looks. I really like the Kiko Water Eyeshadows, which come in amazing shades and can be used wet or dry, making them perfect for creating watercolour eyes. They're also under a tenner... score.