Here's Why So Many Women Are Boycotting Twitter Today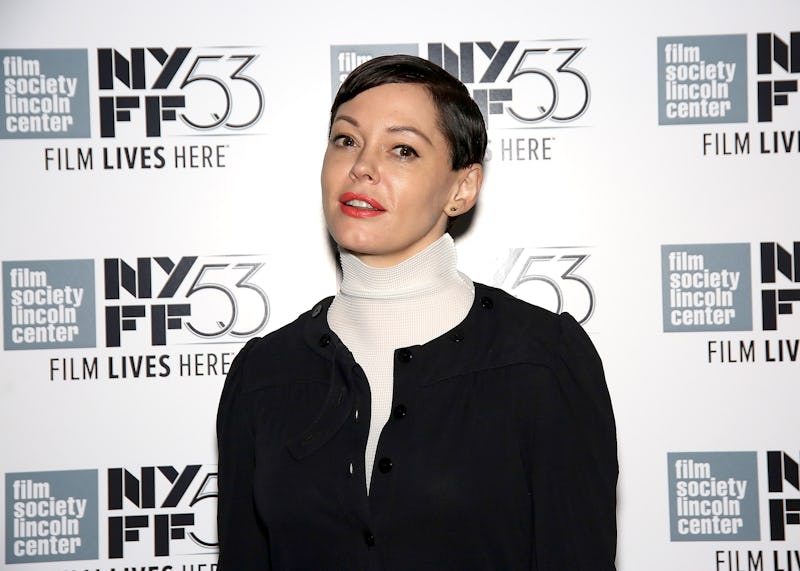 Paul Zimmerman/Getty Images Entertainment/Getty Images
Following the allegations that Harvey Weinstein sexually harassed and assaulted multiple women over the course of decades, Rose McGowan was busy on Twitter. The actress called out by name other male industry professionals who she saw as complicit in Weinstein's alleged behavior. Then on Thursday, Twitter abruptly suspended McGowan's account, sparking outrage among many people. The next day, a "Women Boycott Twitter" movement sprung up in response, as support for McGowan exploded, and anger over what many see as Twitter's uneven enforcement of its rules.
On Friday, the hashtag #WomenBoycottTwitter was trending from early in the morning, marking a 24-hour break from the social media website. Many of those who participated expressed solidarity with McGowan whom they say was targeted unfairly by the platform.
After the backlash to her account suspension, McGowan's Twitter account was quickly restored. Though it was initially unclear what guidelines McGowan violated, Twitter clarified that her account had been locked because she had published a private phone number in one of her tweets, in violation of their terms of service.
Twitter's reasoning did not go over well with many users, especially women who pointed out examples of seeming hypocrisy on its part. Many called attention to the numerous other instances of personal information being published that did not result in an account suspension.
A more common complaint against the company, one that has dogged Twitter in the past as well, is their willingness to let accounts that regularly threaten and harass other users — often women — remain active.
It's a double standard for many who saw a woman speaking out against powerful men be silenced. In many tweets expressing support for the daylong boycott, many women pointed out how Twitter did not deem it a violation of their policies when they were sent death and rape threats, and other forms of harassment on the website. Why was McGowan's account suspended while other perpetrators of abuse on Twitter allowed a pass?
Some, including McGowan herself, seem to suspect that her account was targeted because of who she was naming. "THERE ARE POWERFUL FORCES ARE AT WORK," McGowan wrote in an Instagram post following her Twitter suspension.
On Twitter, McGowan had called out Hollywood and business moguls, from Amazon founder Jeff Bezos to former Disney CEO Michael Eisner. She accused both Ben Affleck and Matt Damon of covering for Weinstein, calling the latter a "spineless profiteer" and telling the former to "f--k off," claiming Affleck had lied about not knowing Weinstein had a pattern of sexual abuse.
Notably, not everyone is on board with #WomenBoycottTwitter. A host of conservative, anti-liberal tweets have derided the cause, mocking the idea of silencing oneself as a form of effective protest against women being silenced.
This line of argument seems to miss the point: that women make up a significant portion of Twitter users, and their absence means less clicks — aka less advertising dollars — for the company.
And there's another line of argument against Friday's #WomenBoycottTwitter movement. The sudden outcry against Twitter's seeming unwillingness to enforce its terms of service fairly has caused some to question where the calls for a boycott were when Leslie Jones was hit with a deluge of racist and sexist tweets in the summer of 2016. In McGowan's ability to rally widespread attention to her cause, some pointed out a blindness to the harassment and abuse on Twitter regularly faced by women of color.
As with most online activism, there are divergent opinions on the effectiveness of the #WomenBoycottTwitter campaign. There's also clearly disagreement about why such a movement hasn't happened before, considering how problematic Twitter's response to reports from women about harassment has been before.
Still, by and large, the boycott of Twitter for suspending McGowan's account has garnered widespread positive reactions. It will be interesting to see if the absence of so many women and allies on the social media site Friday does anything to change Twitter's policies regarding its seemingly selective terms of service enforcement.