13 People Share Their Mile High Club Stories & It's Not All Fun And Games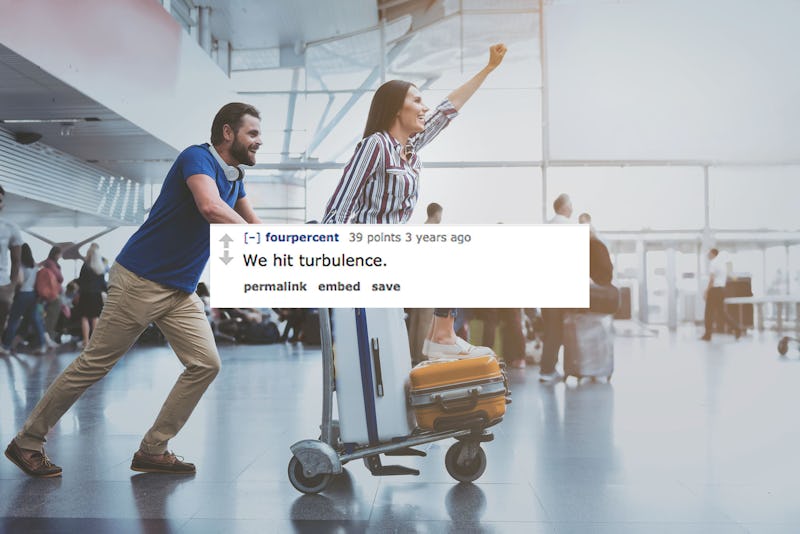 YakobchukOlena/Fotolia
Joining the Mile High Club may be some people's fantasy, but for some of us (like yours truly), it sounds pretty nightmarish. Maybe that's just because I haven't been able to figure out how it would play out in real life. But this Reddit thread looked at exactly what happens when you join the Mile High Club. Some of the stories sound like great successes, while others were... well, less successful, to say the least.
But no wonder. I mean, it's hard to have sex on an airplane — especially if you're doing it a tiny room with a vacuum toilet always menacingly close. You're going to need to get creative. "Since space is limited, you might want to consider various sex acts — not just intercourse," Astroglide's resident sexologist Dr. Jess O'Reilly. Lube can also be a lifesaver, she says. And definitely get creative with positions.
"Plan for positions that allow you to put your feet up on the toilet seat (wear shoes!) or allow you to lean back against the door of the restroom," she says.
And don't forget, of course, that there are some risks involved — like getting caught. So it's not something to walk into without a game plan. But if you are interested on how the Mile High Club plays out in real life, here's what the Reddit users had to say.