7 Things You're Doing When You're Stressed That Can Aggravate Your IBS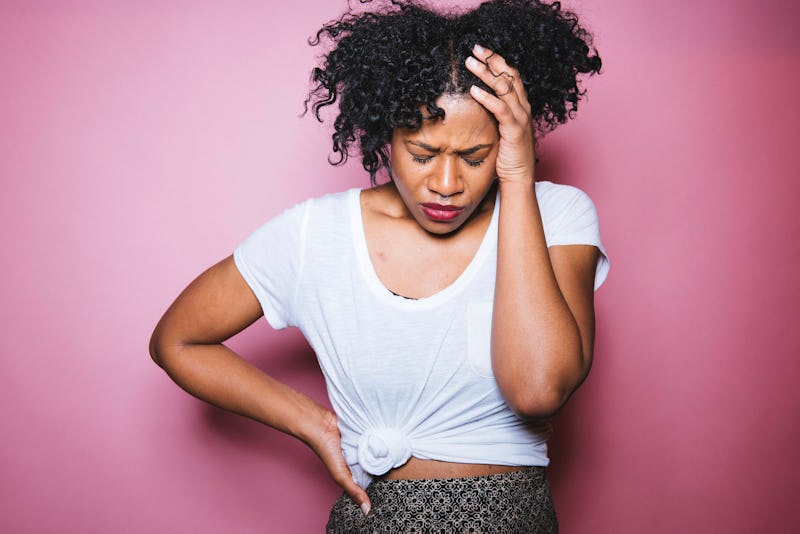 BDG Media, Inc.
If you have irritable bowel syndrome (IBS) you may have noticed that stress can make your symptoms worse. You might experience a flare-up, as it's called, whenever you're nervous or overwhelmed, or after a particularly stressful day. But there are certain daily habits that can aggravate IBS, too.
"[IBS] is a disorder that affects the large intestine and digestive tract," Kyra Cosman, registered holistic nutritionist and wellness coach, tells Bustle. "It can cause abdominal pain, diarrhea, and/or constipation." And while things like what you eat can play a big role in how you feel, many symptoms can be traced back to your emotional well-being.
"Unfortunately, IBS is not well understood," Dr. Alex Tauberg DC, CSCS, CCSP, EMR, tells Bustle. "However, it does appear clear that one's mental state can have an impact on their IBS. Stress in general is something that can cause IBS to flare up." So the more you can do to avoid stressful habits, and stress in general, the better.
"To ease your symptoms, it is recommended that you increase your water intake, maintain a consistent exercise routine, add more fruits and vegetables to your diet, and lower the amount of refined foods, sugars, and starches you are consuming," Cosman says. "It is also recommended that stress management techniques are practiced in order to reduce symptoms," such as yoga and meditation.
Here are a few stress-inducing habits you may want to replace, according to experts, in order to keep IBS symptoms at bay.