Here Are All The Holiday Festivities Meghan & Harry's Kid Will Be A Part Of Next Year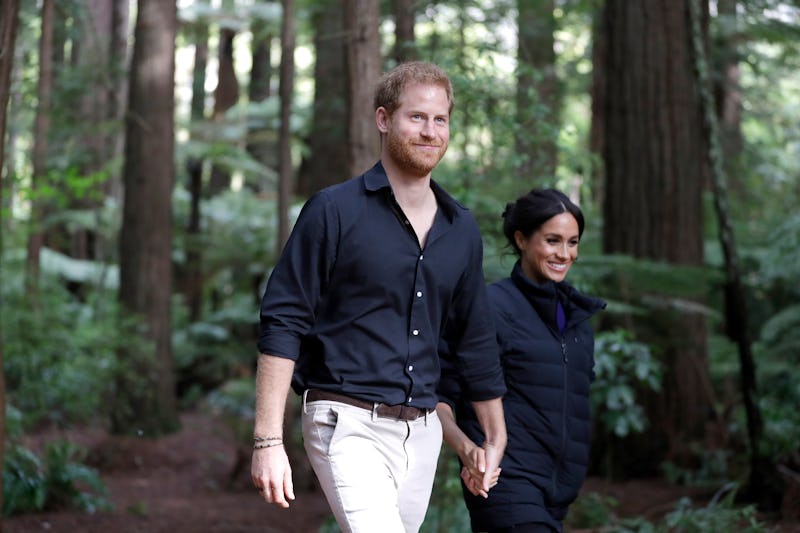 Pool/Getty Images Entertainment/Getty Images
A lot has happened in a year. For Meghan Markle and Prince Harry, that is. It's totally fine if you, a normal person, didn't do anything and are in full-blown "How is it December?!" mode. But when it comes to Harry and Markle, this time last year they had just gotten engaged, and now, they're a married couple with a baby on the way. And next year at this time, Markle and Harry's kid will be gearing up to join them for the royal family's holiday celebrations. I mean that literally. Babies need a lot of gear and surely a fancy baby like this will have a few nice Christmas outfits, too.
The British royal family has some holiday traditions that they always follow — including Christmas Eve festivities and Christmas Day church service with the Queen at Sandringham — and the little ones get in on the action, too.
Of course, the new little member of the family will be, at most, nine months old at Christmas 2019 (Markle is due in the spring), so they probably won't be up to much during their first Christmas besides crawling around. But, if you already can't wait to find out what little Alice or Alexander will do during future royal Christmases as they get a little older, taking a look at what Prince George and Princess Charlotte get up to is one way to find out.
Listen To Christmas Music
As reported by Elle, at the end of November, Kate Middleton visited Leicester and was asked by a fan how her kids were doing. She responded that they were "getting excited for Christmastime," and continued, "They've started all their Christmas songs and Christmas trees are going up." So, baby Sussex already has some cousins that can teach them "All I Want For Christmas Is You." (I assume that is the type of Christmas song the Duchess is talking about.)
Appear In A Christmas Card
The Cambridges release family Christmas photos each year, so perhaps Harry, Markle, and the new baby will follow suit. They could even include their dogs.
Request Some Presents
Last year, an image of Prince George's Christmas list circulated after Prince William gave it to Santa Claus during a visit to Finland, and it showed that he only requested one present: a police car. Just like other kids, the ones in the royal family have their hearts set on certain gifts. Unlike some other kids, George only asked Santa for one gift.
Open Gifts On Christmas Eve
According to the Mirror, the royal family opens presents on Christmas Eve while at Sandringham because they are of German descent and it's German tradition. That said, Will and Kate have also spent Christmas with the Middleton family, which would mean Christmas presents on Christmas Day. Maybe Markle will want to switch things up, too.
Go To Church Service On Christmas Day
While the kids weren't spotted at church service at Sandringham last year, in 2016, George and Charlotte went to church in Middleton's home town.
Spend Time With Grandma
The Daily Mail reported that Markle's mom, Doria Ragland, has been invited by the Queen to spend Christmas with the family this year. Reportedly, this is because Markle doesn't have other family members in the U.K., as is the case with Middleton. Whether she goes this year or not, it's clear that Markle and her mother are close, so the baby will definitely spend some time with her around the holidays.
Do Something More Chill & Personal
In a recent interview with the Telegraph (via Vogue), Carole Middleton said that her grandchildren each get their own Christmas tree in their rooms, "so that they can decorate it themselves." Questions aside (How big are these trees?!), it's clear that with George, Charlotte, and now, Louis, steps have been taken by their families to make sure they have some fun, personal moments at Christmas and it's not just about royal tradition. Surely, this will be important to Harry and Markle, as well.
It'll be exciting to see what the new baby is like as they get older. Hopefully, some cute Christmas cards and letters to Santa requesting one very specific gift are in the stars.