Meghan & Prince Harry Casually Confirmed They Got A Dog In The Perfect Way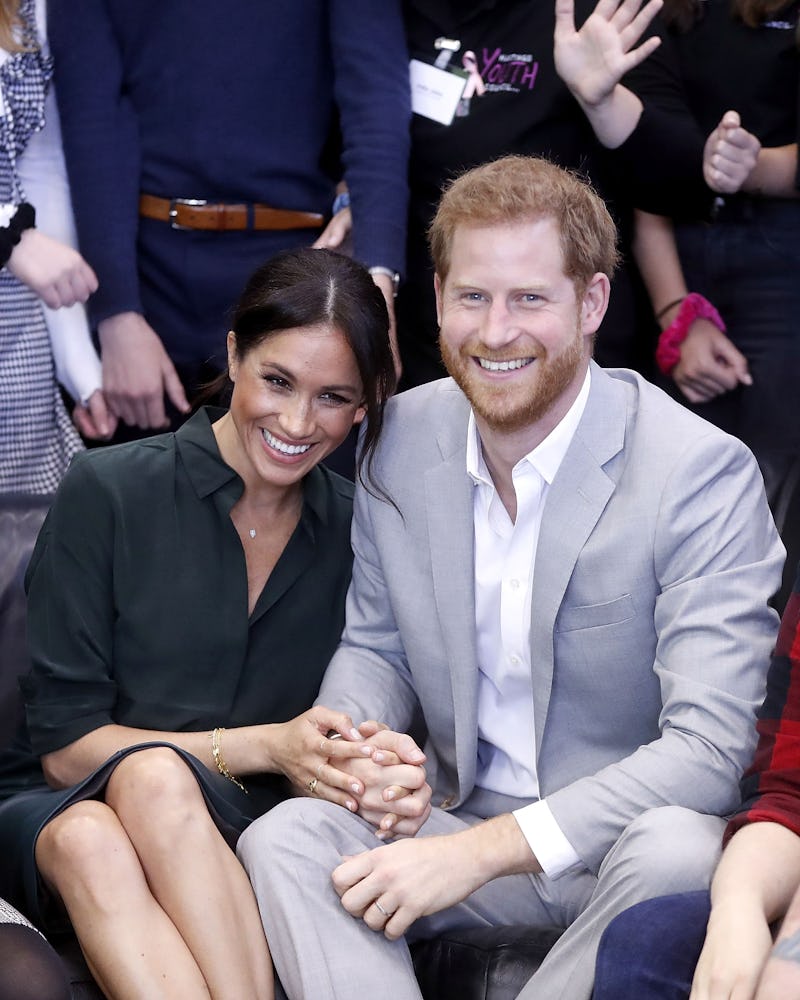 Chris Jackson/Getty Images Entertainment/Getty Images
If you thought you knew all there was about the Duke and Duchess of Sussex's new pup, think again. Prince Harry and Meghan Markle confirmed they got a dog on Wednesday during their first joint trip to Sussex. This is the first time an official confirmation about the newest addition to their family has been given. Furthermore, Harry and Markle announced the exciting news in an unusual, yet hilarious way.
While meeting with the Survivors' Network, a group supporting survivors of sexual assault, Markle and Harry were given an illustration of Guy, her rescue beagle, from the artist Drawings of Dogs.
While receiving the present, Harry declared, "No one's even seen our dog." It seems he thought the drawing was of their dog they got together, or he could've been joking. Then, Markle replied, "I know, and they keep getting her name wrong."
Soon after, they both pointed out how the portrait is clearly of Guy, especially since members of the public don't know that many details about their dog, save for the gender. If you didn't notice, the former Suits star referred to their pup as "her." However, what kind of dog they have and her name remain unknown. Part of the mystery surrounding their pup continues.
You can watch the exchange in the video posted below, which was tweeted on Oct. 3 by Daily Mail's royal correspondent Rebecca English.
The way Harry and Markle announced they really did get their first dog is perfect. They remained totally chill about it all. Leave it to the Duke and Duchess of Sussex to even correct the false reports that have been circulating about their dog in such a low-key way. They just let it roll right off their backs, all while taking control of the narrative and revealing the facts that have been reported aren't right.
In September, People reported Markle and Harry had gotten a dog and that it was "believed to be a labrador." That same month, the Daily Mail reported that royal biographer Sally Bedell Smith said the couple's dog was a black labrador named "Oz." Neither of these reports have been confirmed by Kensington Palace, but Markle and Harry cleared up some of the misinformation.
In addition to having the chance to clear the air about their dog, Markle and Harry walked away with a very special present from Drawings of Dogs. As you can see above, the piece of art shows an unseen dog owner asking, "Who's a good boy? Who's a good boy?" Guy is shown replying, "A boy who makes every effort to dismantle the patriarchy (whilst keeping in mind intersections with other forms of oppression)." They were also gifted a set of pins, reading: "You have a superpower and it's called empathy."
Both Markle and Harry are feminists, who have previously supported sexual assault survivors, in addition to #MeToo and Time's Up movements. As you can imagine, the gift meant a lot to them. After receiving the present, Markle said, "Oh, I love that. Oh, this is really special. Thank you."
Between the meaningful picture of Guy and shutting down rumors about their newest pup, Harry and Markle's first trip to Sussex together is one they'll probably never forget.