Here Are The Touching Words That Pam Said To Michael During His 'The Office' Goodbye Scene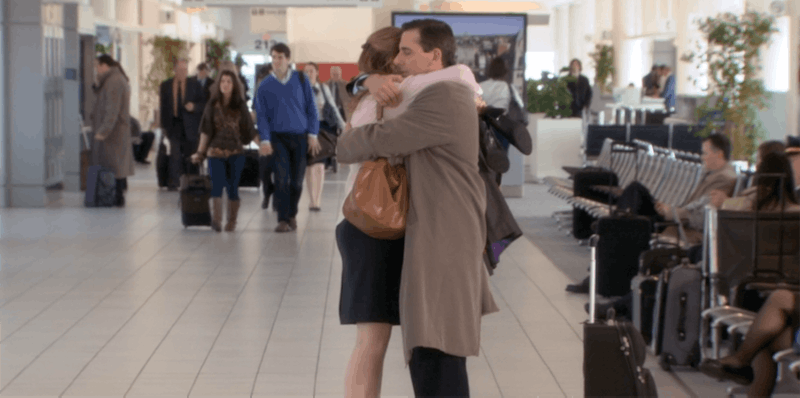 NBC
Saying goodbye to Steve Carrell's famed The Office character Michael Scott at the end of Season 7 was absolutely heartbreaking. And now, seven years later, fans are reminded about the sweet words Pam said to Michael during The Office airport scene during his tearful exit.
The twenty-second episode of the seventh season, entitled "Goodbye Michael," follows the Dunder Mifflin boss as he says his good-byes to his beloved colleagues on, what he initially believed to be, his last day with the company. The Scranton, Penn. executive was set to leave the office to relocate to Colorado with his girlfriend Holly. As with any other episode, this particular one has its hilarious Office quirks — especially when Michael starts to have second thoughts about leaving his former life behind him — but for longtime fans of the series, it also has a bit of somber tone.
But because magical things happen in television, just when Michael thought he missed his opportunity to give Pam (played by Jenna Fischer) his final "good-bye," the former receptionist shows up to the airport in time to wish him well. Neither of the characters were mic'd up during their final moments together onscreen, but by looking at their body language, it was seemingly clear to the audience that whatever was said was very personal and heartfelt. And as you probably already guessed, it was a total tearjerker.
It was later revealed in a 2013 TV Guide interview with Fischer that Pam's sweet good-bye to Michael was, in fact, Fischer's actual good-bye to her longtime friend and screen partner Carrell. And thanks to a fan's inquiry during Fischer's recent Instagram livestream, The Office alum shared the gist of what she said to Carrell during that emotional scene — helping fans to relive what is arguably one of the greatest moments on primetime television.
According to Mashable, Fischer said,
"That was me talking to Steve. I told him all the ways I was going to miss him when he left our show. Those were real tears and a real goodbye. That was a really emotional scene."
After seven amazing seasons, saying farewell to Carrell's beloved character was not only seemingly hard on those working on the show, but on fans as well. It's been said that The Office just wasn't the same without Michael Scott's adorably irritating epiphanies and workday banter. And after its Season 9 end, most will agree that primetime television just isn't the same without the award-winning show in its weekly lineup, altogether.
With the increase of television reboots hitting the scene, rumors of the NBC classic making a comeback have also found its way to the airwaves. While speaking at the Television Critics Association's winter press tour in January, the Splitting Up Together actor hinted that an Office reboot wasn't on her radar, saying, "I haven't been approached about it and don't know anything about it." That doesn't mean that the talent wouldn't sign on to it in a heartbeat, if it were happening, however. Because, after noting that she wasn't involved in any talks surrounding The Office's resurgence, the actor added, "But I love Pam," rather enthusiastically.
But while talks of an Office reboot have yet to be confirmed, that doesn't mean that fans should give up hope just yet. If the success of recent reboots, such as Roseanne on ABC and the Gilmore Girls and Full House revivals on Netflix, serve as any consolation, there's certainly a market of nostalgia television. And what better way to relive the "good ol' days' than by catching up with the lives of some of the most coveted officemates on television?
But for those who can't seem to get enough of The Office, and need a fix sooner than later, bingeing the classic series on Netflix is totally a viable option.