Here's What The Verdict In The Trial For Trump's Ex-Campaign Manager Means For Him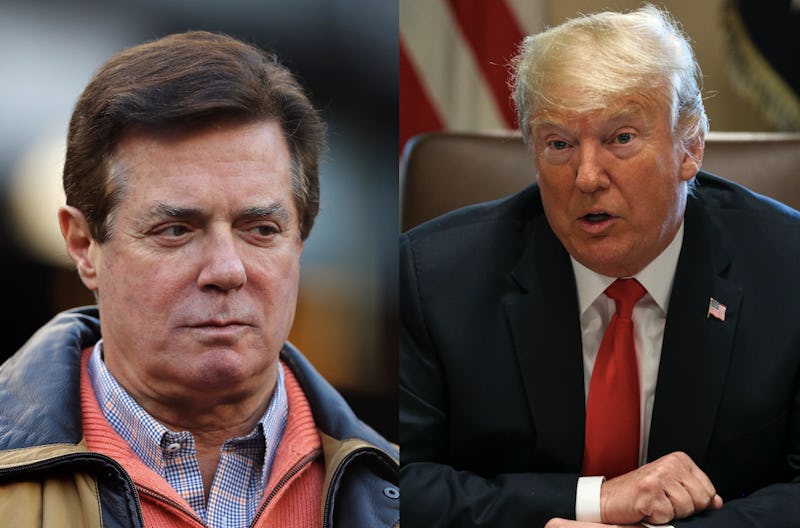 Elsa; Pool/Getty Images News/Getty Images
Though President Trump wasn't the one on trial, the verdict in Paul Manfort's case could signal what's to come in special counsel Robert Mueller's investigation into the Trump campaign's relationship with Russia. A jury found Manfort guilty on eight of 18 counts of tax evasion, bank fraud, and hiding foreign bank accounts on Tuesday, Aug. 21, meaning Trump's former campaign manager could spend up to 80 years in jail. But when it comes to Trump, Paul Manafort's verdict means Mueller's team is capable of successfully prosecuting former Trump staffers in federal court.
Before joining the Trump campaign during the 2016 election, Manafort worked as a lobbyist in Ukraine, where prosecutors allege he amassed roughly $60 million that he hid in foreign bank accounts. That money was the focus of his recent trial, but Manafort is also a person of interest to Mueller because he attended a meeting Donald Trump Jr. took with a Russian lobbyist who claimed to have dirt on Hillary Clinton during the 2016 election.
President Trump has repeatedly claimed the FBI probe is a "witch hunt" orchestrated by his political enemies — Manfort's verdict proves that the investigation has already found evidence of criminal activity on the part of Trump's allies, however.
Speculation about whether or not Trump would pardon Manafort if he were found guilty have swirled since before his trial even began. But, as legal experts pointed out to Vox, pardoning Manafort would likely backfire for the president.
"If the president pardons anyone involved in the Russian investigation, it may prove to be one of the stupidest things he has yet done," Julie O'Sullivan, a Georgetown University law professor, told Vox. "If the president were to pardon Kushner or Manafort or Flynn, presumably that pardon would extend to the Russia investigation because that is what concerns Trump. If — and this is a big if — the president is shown to have pardoned them to avoid his own personal exposure in the Russia investigation, that in and of itself could constitute obstruction of justice."
Manfort's verdict means Trump now faces a tough decision about whether or not to pardon Manafort.
But on a grander scale, it also gives momentum to Mueller's investigation into the Trump campaign at large. Not only does the guilty verdict send the message that Trump's campaign was led by a criminal, it could open the door for Mueller to charge other Trump allies.
It's possible Mueller will seek to indict others on charges seemingly unrelated to Russia, like the Manafort trial, in order to pressure former Trump staffers to help with his investigation. Six people with ties to the campaign are already cooperating with Mueller, including Trump's former national security adviser, Michael Flynn, who pled guilty to lying to the FBI in December. Trump's former chief strategist, Steve Bannon, also began cooperating with the investigation at the beginning of 2018, as did Paul Manafort's former son-in-law.
After he landed in West Virginia for a rally on Tuesday afternoon, Trump told reporters that Manafort's guilty verdicts were "a very sad thing that happened," repeating again that the Mueller investigation was a "disgrace" and a "witch hunt."
Editor's note: This article has been updated to indicate that Manafort could face up to 80 years in jail on the eight charges he was found guilty of.