Here's A List Of Every Restaurant That Will Be Open On Christmas Day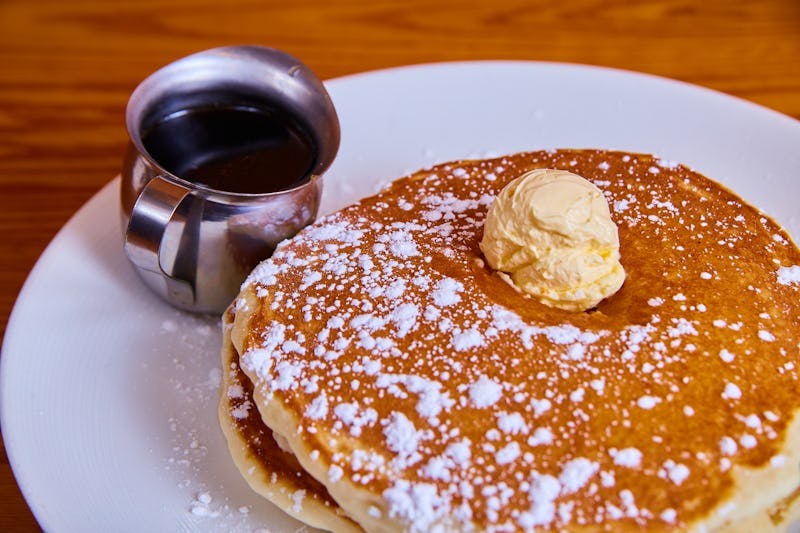 Nicholas Klein / 500px/500Px Plus/Getty Images
Like it or not, we live in a food-worshipping society (I, for one, most definitely like it), which means that our favorite meals and snacks are revered all the more when it comes time to celebrate the holiday season. Regardless of which specific December holidays you observe, you probably look forward for months to the spirit of indulgence that seems to overtake us all come the most wonderful time of the year — and sometimes you want to do that indulging without actually having to cook anything yourself. Whether or not you and your family actively participate in Christmas festivities, you're going to have to eat something on Dec. 25, so here's the info on what restaurants are open on Christmas Day this year. Maybe the best present you can give yourself this year is a delicious meal — even a casual one — that you don't need to clean up!
Keep in mind that the restaurants on this list are all chains, and since many of them work on the franchise model, certain locations will make their own holiday hours. While each of these spots does claim corporately to maintain open doors for Christmas, I would highly recommend checking on the hours for your local store to make sure you don't end up sitting sadly in an empty parking lot instead of actually having something to eat.
1. Starbucks
Most Starbucks stores are open on Christmas Day (at least for a little while). A girl's gotta have her Toasted White Chocolate Mocha in order to ensure maximum holiday energy, right?
2. Dunkin' Donuts
You can kick off your holiday with a DD Peppermint Mocha, a Brown Sugar Cinnamon coffee, a Gingerbread Cookie Donut, or a Frosted Sugar Cookie Donut to really get things started on the right foot.
3. Denny's
Lovingly nicknamed "America's Diner," Denny's is known for its commitment to being open literally all the time. The chain's 1,700-plus locations are open 24 hours a day, 365 days a year, including Christmas Eve and Christmas Day (which you probably already knew if you're a fan of 1994's The Santa Clause). In early October, Denny's announced the debut of three new holiday pancake flavors for 2017 — Pumpkin Cream, Cranberry Orange, and White Chocolate Raspberry — which should give you added enticement to pay a visit to the restaurant this holiday season.
4. IHOP
While IHOP's franchisees are entitled to set their own hours, the vast majority of locations do make a habit out of staying open for at least part of the Christmas holiday. Fluffy The Snowman pancakes look like Christmas morning breakfast to me!
5. Waffle House
Picking up on a pattern here? Yep, I am too. Basically, if you love a good pancake or waffle, you're set for Christmas. Like Denny's, Waffle House generally subscribes to an "always open" policy, so while some stores may adjust their hours so employees can enjoy the day with their families, you can generally expect to be able to get your fill of your fave waffles on Christmas Eve or Christmas Day.
6. McDonald's
Just gotta have a Big Mac and large fries on Christmas? No worries. Mickey D's has your back. Corporate-owned locations will be open on Christmas Eve and Christmas Day, and many franchises will likely have their doors open as well.
7. Huddle House
Located primarily in the southeast, mid-Atlantic, midwest, and southwest regions, Huddle House serves breakfast, lunch, dinner, and dessert planners around the clock — or, as they put it, "Any Meal. Any Time." — and Christmas is no exception.
8. Ruth's Chris Steakhouse
The award-winning steakhouse does more than just "stay open" for Christmas Eve and Christmas Day — they offer a full holiday menu and encourage visitors to their Web site to make a reservation so they can enjoy a beautiful Christmas meal with no kitchen cleanup.
9. Buca di Beppo
If losing yourself in a seemingly endless bowl of pasta sounds like your perfect Christmas (oh, you too?), you may want to check out Buca di Beppo, which opens at 11 a.m. and serves up lunch and dinner to holiday revelers until closing time. Have some fettuccine alfredo for me, please!
10. McCormick & Schmick's
Most McCormick & Schmick's locations keep their doors open for holiday dinner, so save up your appetite so you can spring for the surf and the turf.
11. Smith & Wollensky
Billed as the best steakhouse in New York City, Smith & Wollensky has a total of nine locations throughout the U.S. (with one more coming soon in Las Vegas), all of which offer dining experiences on Christmas Day. I like to imagine that Santa himself might enjoy a power lunch at a place like this, so why not give it a try yourself this year?
12. Panda Express
If some of these options are sounding a little too fancy for you on a day that I personally believe is meant to be spent in pajamas, consider instead an outing to the OG fast casual Chinese restaurant. Panda Express offers holiday hours at most of its locations, so you can easily fall asleep with visions of Sesame Chicken and fried rice dancing in your head.
Images: Nicholas Klein / 500px/500Px Plus/Getty Images; Giphy