Read Ruth Bader Ginsburg's Opinion Of Neil Gorsuch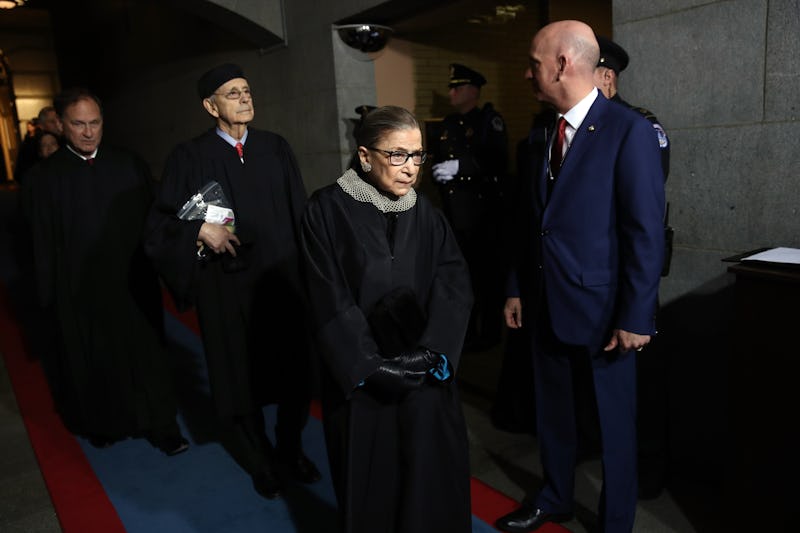 Win McNamee/Getty Images News/Getty Images
In a pair of interviews Thursday, Supreme Court justice and liberal icon Ruth Bader Ginsburg talked about free speech, the state of the country, and her feelings about President Trump's nominee to the Supreme Court, Neil Gorsuch. At a first glance, the justice's words about her fellow judge sound positive and encouraging. But if you look a little closer, Ginsburg's opinion of Gorsuch isn't as big of a compliment as it may seem.
"I think he is very easy to get along with," Ginsburg told NPR's Nina Totenberg in a discussion jointly co-sponsored by the Newseum and the Supreme Court Fellows Association in Washington. "He writes very well."
That's flattering, right? Well, kind of. It's a flattering testament to Gorsuch's personal affability and his ability as a wordsmith. Ginsburg said nothing, however, of Gorsuch's legal mind, and for a Supreme Court nominee, that's a lot more important than being easy to get along with. The fact that Ginsburg avoided any mention of Gorsuch's sense of jurisprudence is telling.
Ginsburg also weighed in on several other topics of the day. Although she avoided mentioning Trump by name, she strongly implied that she's a critic of the Trump Train, and most definitely not a passenger.
"I would say that we are not experiencing the best of times, but there's hope in seeing how the public is reacting to it," Ginsburg told the BBC in a separate interview, citing the recent wave of protests as "reason to hope that we will see a better day."
"The Women's March — I've never seen such a demonstration, both the numbers and the rapport of the people in that crowd," Ginsburg said. "There was no violence. It was orderly."
Ginsburg had reason to avoid directly addressing Trump's presidency. During the presidential campaign, she called Trump "a faker" with "no consistency about him" who "says whatever comes into his head at the moment." Some perceived this as a breach of decorum, as members of the judicial branch generally don't comment on contemporary political developments. Trump responded characteristically, proclaiming on Twitter that Ginsburg's "mind is shot." Days later, Ginsburg said that her comments were "ill-advised."
Nevertheless, she did throw some additional shade at Trump, for instance, by mounting an impassioned defense of the free press. The fact that defending the free press now constitutes throwing shade at the president is mildly appalling, but Trump did say on Twitter recently that CNN, CBS, ABC, ABC, the New York Times and other news outlets were "the enemy of the American People!"
Despite all of this, however, Ginsburg indicated that she's still hopeful for the future.
"I am optimistic in the long run," the justice said. "A great man once said that the true symbol of the United States is not the bald eagle; it is the pendulum, and when the pendulum swings too far in one direction, it will go back."