You Can Buy The Salt Spray 'Bachelor In Paradise' Is Going Crazy Over For SO CHEAP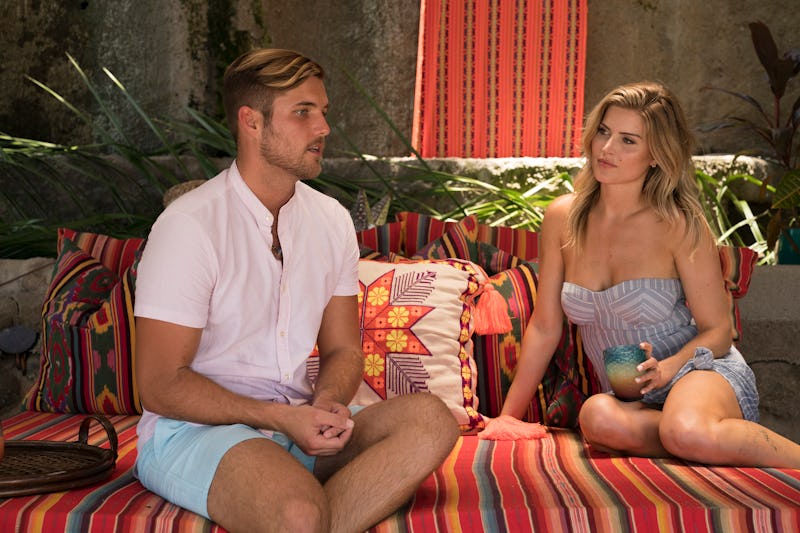 Paul Hebert/ABC
Jordan Kimball became a household name (well, some households) on Becca's season of The Bachelorette. He was the model from Florida, and his intense ego and, dare I say, narcissism made him an instant target in the eyes of all the other men on the show. But now, Jordan's on Bachelor In Paradise, and he's sharing his secrets with his fellow contestants, like, for instance, how he gets his hair so perfectly tousled. What sea salt spray does Jordan use on Bachelor In Paradise? It's super cheap and will make your hair look just like Jordan's (probably).
The Aug. 20 episode of Bachelor In Paradise was pretty intense — four women went home, Tia and Colton fought some more, and Kenny kissed virtually everyone on the beach. But the shining beacon during the credits segment was Jordan teaching the rest of the men on the show (and America, too) how to get his patented beach waves.
His hair "has to lay right," and he uses a few products to get it to stay that way, but his favorite product is a sea salt spray. When he showed the little blue-and-white bottle to the camera, I knew it instantly — it was Not Your Mother's Beach Babe Texturizing Sea Salt Spray. According to Jordan, all it takes is seven (not six, not eight) spritzes around your head and a comb back with your fingers and you'll have Joey Donner, model-ready hair, just like Jordan.
Why do I know so much about this particular sea salt spray? Well, I do use it myself! (This is a ringing unpaid endorsement of this product.) It smells like a tropical getaway, it's not too sticky, and it has just the right amount of hold to get beach-babe locks without actually having to stick your head in the ocean. The best part? It retails for anywhere from $4 to $8, depending on where you buy it, making it a major deal, since other similar sea salt sprays run you $25 a bottle. And a little goes a long way. Seven sprays, remember?
Jordan likes it so much he brought it to Paradise, and then he shared it with all of the other men in Mexico. Grocery Joe, Colton, and Chris all wanted a piece of the action so they could look like Jordan. This is probably akin to when I bring a photo of a Victoria's Secret Angel to my hair stylist and expect to leave looking like Lily Aldridge, but it's all about the aspiration. That's what Jordan is selling with his inexpensive sea salt spray recommendations — the idea that these other Bachelor In Paradise contestants could be just like him. And, though Jordan's best gift is being himself, who wouldn't want to be just like Jordan? (Don't answer that.)
What we all really need to know now is that what other products is Jordan using? He could make some serious spon con money on his Instagram if he starts reaching out to his preferred companies. First, hair products. Maybe his preferred spray tan formula. But then? Then, the world.