Fans Are Really Rooting For Jordan & Jenna After The Latest 'Bachelor In Paradise' Episode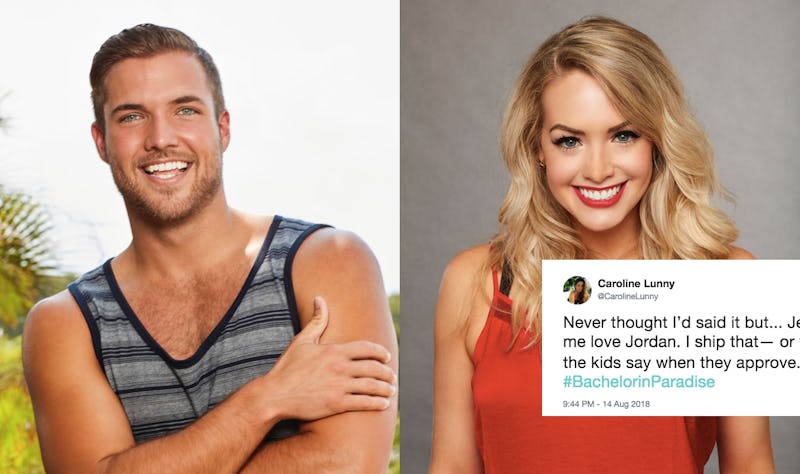 ABC/Craig Sjodin (2); CarolineLunny/Twitter
The instant connection between Jordan Kimball and Jenna Cooper is something that Bachelor Nation didn't see coming. Nevertheless, Jordan and Jenna are the couple Bachelor in Paradise that fans didn't know they needed. With all of the melodrama and lack of genuine connections, Jordan and Jenna are one of the few couples to root for at this point, and fans on Twitter are doing just that.
During Tuesday night's episode, the chemistry between Jenna and Jordan was undeniable. No one thought it was possible for Jordan to be at a loss for words, but his initial nerves around Jenna made him truly speechless in the cutest way possible. Unfortunately, Jenna and Jordan connected while Annaliese was still very much into him and even talking about the possibility of a future together. At the very least, both Jordan and Jenna were honest with Annaliese and made an effort to communicate with her instead of being shady about their connection (... unlike some other people on Bachelor in Paradise).
Even the rest of the cast members were on board with Jenna and Jordan becoming a couple. No one could deny their genuine spark. They got so much praise as a potential couple that, at one point, the contestants didn't even realize Annaliese was sitting right there while multiple people talked about how "perfect" Jordan and Jenna would be together.
The premise of Bachelor in Paradise is to find love on the beach. These two have a sincere connection and might be one of the final pairings left standing after all is said and done. They also provide some much-needed laughs after an overly dramatic start to the season. Even Twitter users couldn't help commenting. Spoiler alert: There are a lot of (on-point) Barbie and Ken comparisons.