Shailene Woodley Speaks Out Against DAPL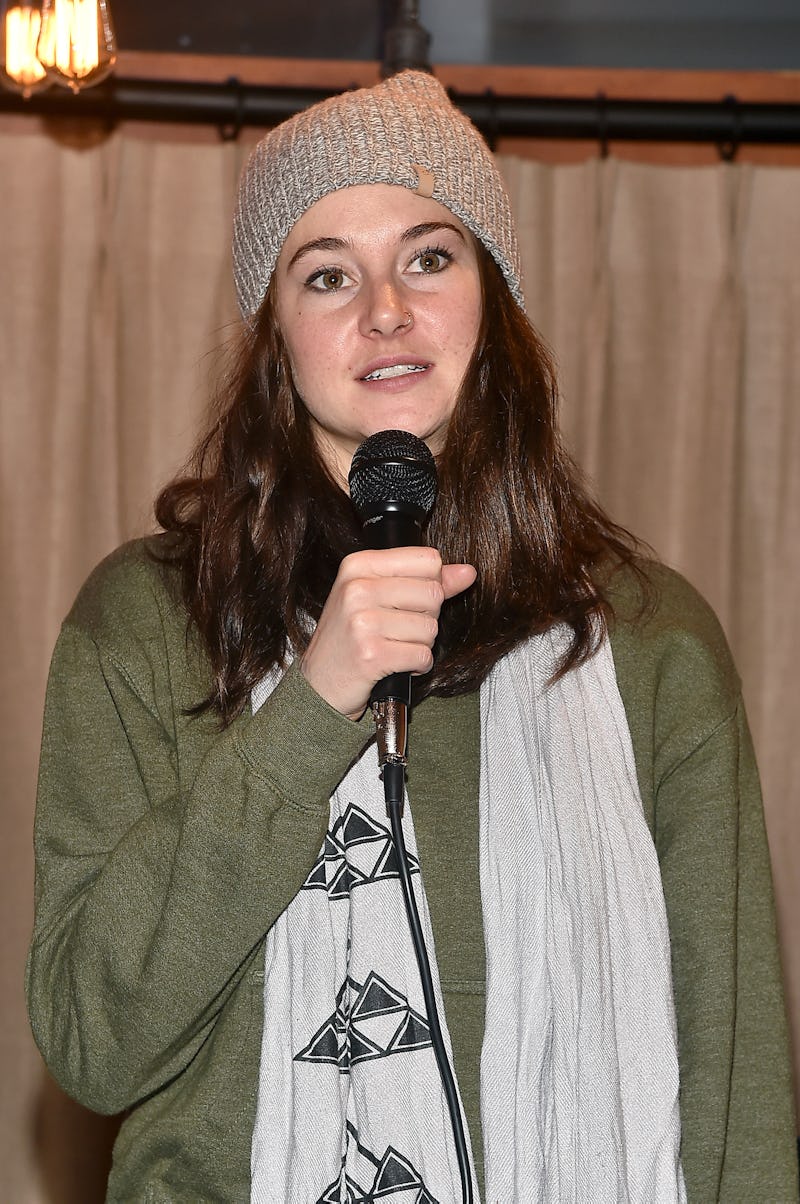 Alberto E. Rodriguez/Getty Images Entertainment/Getty Images
On Tuesday, Jan. 24, Donald Trump signed an order advancing the construction of the Dakota Access Pipeline and Keystone XL Pipeline, two of the country's most controversial oil pipeline projects. And there is one actor-activist who is continuing doing all that she can to ensure these projects do not actually become a reality. Following Trump signing his order, Shailene Woodley spoke out against the pipelines by offering tips on what those opposed to them can do to put a cork in the plans, stat.
While appearing on MSNBC Tuesday, Woodley said, "We mobilize." That is the biggest thing people can do to protest and hopefully stop the pipelines, at least according to the Our Revolution board member, an organization built upon Bernie Sanders' presidential campaign, according to its official website.
Woodley didn't stop there. She added, "What we can do now, as a population, as a society, is hold our corporations accountable and hold our banks accountable, because there are a lot of banks that are invested in this pipeline." She continued, "Regardless of any executive order or what our politicians want to do, if there's no money invested in the pipelines, then they can't be built."
For the Divergent star, it's all about educating others on why the pipelines are dangerous and how others can help to prevent this danger, especially to the Standing Rock Sioux Tribe, which has been attempting to protect their sacred land in North and South Dakota. "I think it's about spreading education and really honoring the fact that one of the biggest things about this particular pipeline is protecting indigenous rights, something that has been overlooked in our country for far too long," Woodley told MSNBC.
The 25-year-old activist believes the one specific danger posed by the pipelines is potential leakage. "This pipeline would be built under the Missouri River," she explained. "As we know, it's not a matter of if pipelines leak, it's a matter of when pipelines leak. When this one is to leak it would affect the drinking water of 18 million people. Not only Standing Rock Sioux Tribe in North Dakota and South Dakota, but millions of people down river as well."
(Meanwhile, project developers believe the pipeline "is the safest, most cost-effective and environmentally responsible way to move crude oil, removing dependency on rails and trucks," according to an August 2016 CNN report.)
For those unaware, Woodley has been protesting the pipelines for sometime now. In October 2016, she was arrested while protesting. Alongside 26 other individuals, she was accused of trespassing. At the time of her arrest, Woodley's rep released the following statement to Bustle: "Shailene Woodley has been released from the Morton County Jail in North Dakota. She appreciates the outpouring of support, not only for her, but more importantly, for the continued fight against the construction of the Dakota Access Pipeline."
Obviously, her arrest hasn't stopped her from fighting for what she believes in. For her, drinking water is so precious and something far too many people take for granted. That's why she believes everyone should be standing up against Trump's order. Per Woodley, drinking water is "the basic essence of what we're protecting." As she explained, "Drinking water is not something that should be a luxury, it's not something that should be limited to privilege. It's a human right and it's something that we all must start standing for and recognizing."
She agrees with Trump's idea that more jobs need to be brought to America, but doesn't believe the construction of an oil pipeline isn't the way to do it. Rather, Woodley thinks investing in renewable energy is the way to go. "That is something that would be permanent, and it's something that would actually implement energy independence into our country," she said.
There's no doubt Woodley is ready to fight whatever comes next, just like the Sioux Tribe, who are filing an immediate challenge against Trump's order.