This Is The SPF of Glossier's Invisible Shield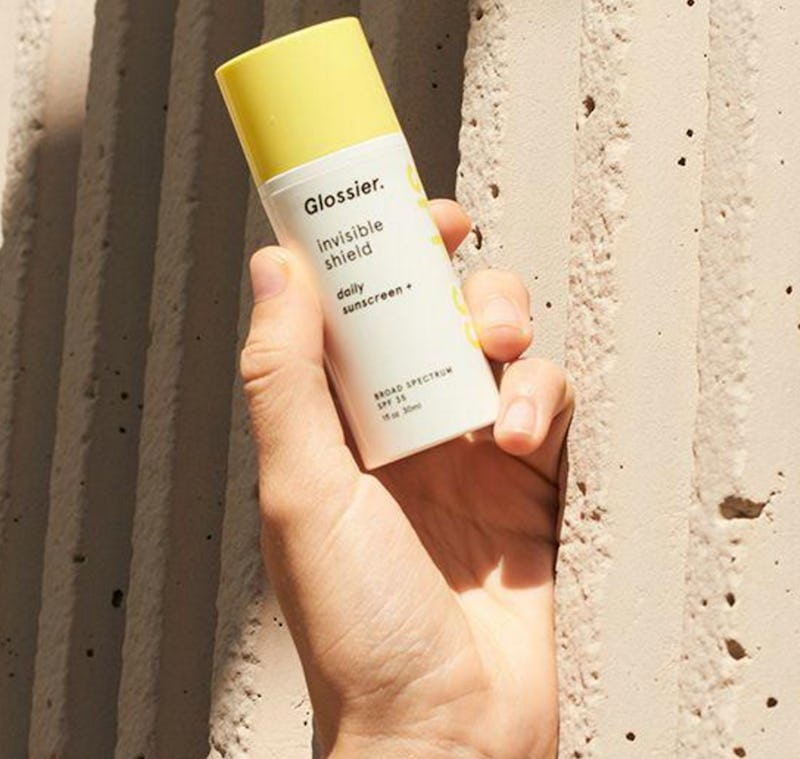 Courtesy of Glossier
Finally! Glossier dropped its Invisible Shield sunscreen last week. The Internet's fave skincare and minimalist makeup brand revealed that it created sunscreen because it was the product that its legion of fans requested the most.
Invisible Shield costs $34 and is also being touted as sunscreen… for people who hate sunscreen.
Even brand founder Emily Weiss admitted that she is only a recent sunscreen convert. Invisible Shield is a clear, water x gel formula that leaves none of that icky, chalky, and sticky residue that interferes with any makeup that you may apply over it. So, what's the SPF in Glossier's Invisible Shield?
Glossier Invisible Shield has an SPF of 35. That's a fairly average amount included in many sunscreens and moisturizers with SPF. The brand recommends applying Invisible Shield 15 minutes before exposure to the sun and re-applying every two hours to optimize protection.
You apply all over your face — after moisturizer but before makeup.
Since the product is not water-resistant, per the description on the Glossier site, the brand recommends using another water-resistant sunscreen when outside and sweating or engaging in activities like swimming.
Based on all of these factors, the Invisible Shield can serve as the perfect sunscreen for days when you don't plan on being outside all day and for winter months in cold climates because the sun's rays are out on chilly days, too.
If you spend most of your summer days inside working, be it at the mall, in an office, or babysitting, Glossier Invisible Shield is your best bet. If you want to add additional sun protection beneath your makeup, Invisible Shield is also designed for you.
If you are a lifeguard, Invisible Shield might not be your go-to sunscreen. Instead, if you are like Weiss and are newly incorporating sun protection into your skincare routine, Invisible Shield is a gateway product.
Personally, I am loving Coppertone's Clearly Sheer Whipped sunblock. I use it on weekends when I am walking dogs as a volunteer at an animal shelter.