The 2017 Oscars Red Carpet Starts Early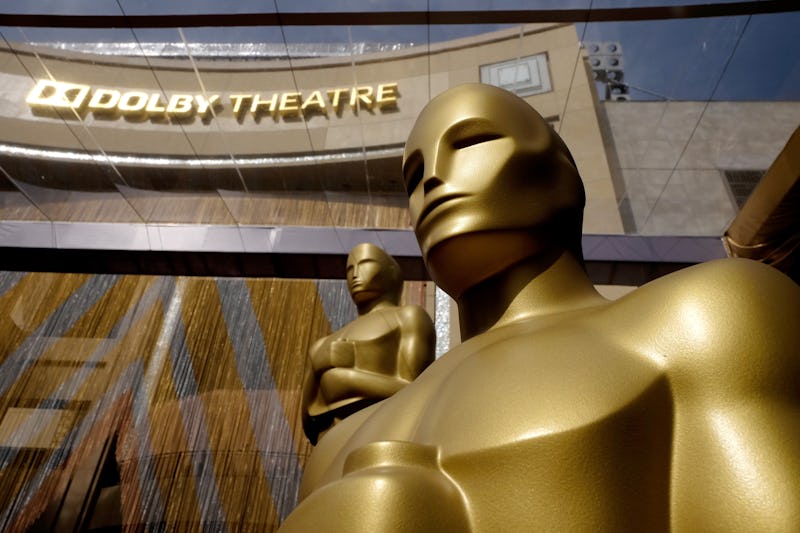 Frazer Harrison/Getty Images Entertainment/Getty Images
The 2017 Academy Awards are almost here, and some of your faves are bound to be on the red carpet. Whether you're dying to see talented cast of Hidden Figures or your favorite red carpet hosts, it'll be a great show. What time does is the 2017 Oscars red carpet, though? The red carpet coverage starts long before the actual Oscars ceremony, so if you want to get a full day of fashion, beauty, and celebrity in, come Oscars day, you totally can.
There's not just one source for Oscars red carpet coverage. Whether you want to stream it online or check it out on cable, there are different sources starting at different times. However, if you want all-day, long term coverage of the red carpet, E! is set to start covering the carpet 1:30 pm ET on Feb. 26. If that seems like a bit too much for you, ABC — the network airing the ceremony — will start red carpet coverage at 7 pm ET. Your choice of where to watch depends on just how much celebrity, fashion, and beauty you can handle. For me, I can watch all day.
As for the awards themselves, they're set to begin at 8:30 pm ET on ABC. While the show itself is great, the fashion on red carpets is can't miss. All you have to do is look back at this year's Golden Globe Awards and some of the Oscar nominees' previous looks to anticipate just how good the fashion on the 2017 Oscars red carpet will be.
Emma Stone's literal star-studded dress was incredible at the Golden Globes.
Viola Davis was stunning in a vibrant yellow gown.
Ruth Negga's incredible metallic gown was show stopping.
Clearly, the 2017 Oscars red carpet won't be lacking when it comes to style. Whether you want to watch all day or just see a condensed version, you've definitely got options. It's all up to you.