Here's Your Cheat Sheet For What To Buy On Black Friday Vs. Cyber Monday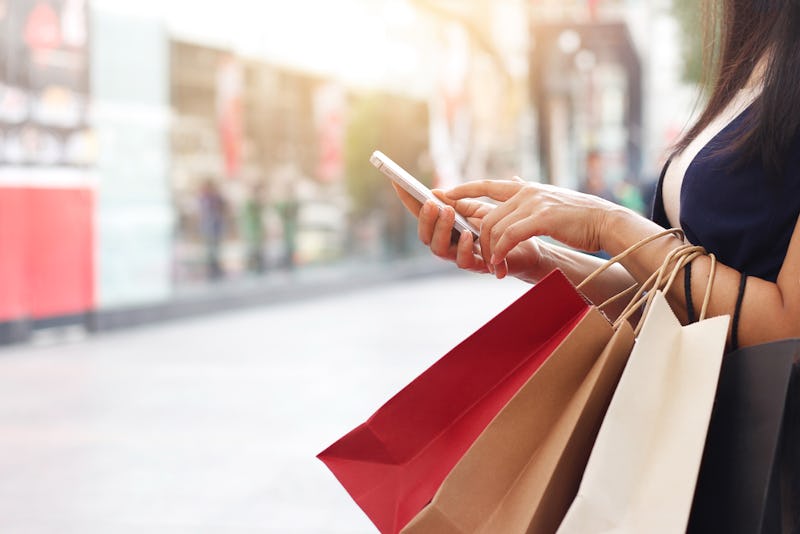 PopTika/Shutterstock
Calling all holiday shopping fiends: The set of holidays you actually care about is !!quickly approaching!! That's right, I'm talking about Black Friday and Cyber Monday 2018 and all the hot deals that come along with 'em. Whether you're on the market for a new laptop, some fancy kitchen appliances, or just a casual wardrobe revamp, the post-Thanksgiving shopping hoidays are going to be bringing the heavy discounts. A survey by BlackFriday.com found that most 2018 shoppers will be looking for deals on clothing and tech items. Makes sense, as these are things we use on an everyday basis, so why not find a steal if you're going to have to buy it anyway? Now's the time to buy, friends.
Remember when it used to be all about Black Friday? I can still envision the gnarly footage that used to play on the news when I was a teen that showed people literally trampling over each other in department stores in hopes they could get their paws on, I don't know, the newest DVD player? Dark stuff. That said, it's no wonder Cyber Monday came along to give Black Friday a run for its (literal) money. So many of us do the bulk of our shopping online now anyway, so waiting in line for hours the morning after Thanksgiving (only to have to shove your way through an overcrowded department store) feels a little outdated now. Plus, if you plan on partaking in some heavily spiked nog on Thanksgiving eve to get you through the hometown family mayhem, an early rise n' shop on Friday morning may not be what the doctor ordered.
That said, if you're on the market for a deal, then you're on the market for a deal. And if you're gonna do the dang thing and participate in the madness of post-Thanksgiving money spending, you may as well get the best deal you possibly can. Some items will be heavily discounted across the board through the entirety of the shopping weekend, so whenever you do your sale shopping, you'll score. That said, some items are likely to hit their lowest prices on one day in particular, so it's going to behoove you to know which day is best for buying what.
If you're looking for the hottest deals on the most-purchased items post-Thanksgiving, here's exactly what you should buy on Black Friday vs. Cyber Monday this year.
TVs: Black Friday
TVs seem like the most stereotypical Black Friday purchase, and I suppose it's for a reason. It's predicted that the big seller this year will be 4K TV models, so if you're lookin' for that big screen upgrade, Black Friday will be your chance to score a deal.
Clothes, Shoes, & Accessories: Cyber Monday
Where all my clothes hoarders at? I love a deal on clothes (hence why I spend so much time hunting for vintage steals in thrift stores), and if you're looking for the best post-Thanksgiving clothing prices, Cyber Monday may actually be the day to find them. While Black Friday is sure to offer plenty of solid deals on clothes, shoes, and accessories as well, tons of online retailers will be having site-wide sales and beyond come Cyber Monday. TBH, we're all already used to clothes shopping online, so make yourself comfortable and save your wardrobe cash for Cyber Monday.
Home Appliances: Black Friday
If you're on the market for some shiny new home appliances — things like washers and dryers, refrigerators, air conditioners, and the like — classic Black Friday deals are still going to be your best bet. "Department stores like Macy's and Sears and electronics stores, such as Best Buy, go all in on Black Friday, discounting practically everything they carry," wrote BlackFriday.com on its site. That said, it's worth it to make the trip out to your department store of choice and upgrade your appliances.
Laptops: Cyber Monday
In true cyber fashion, you're likely to find the best deals on both laptops and PCs come Cyber Monday, so hold off on making final computer-related decisions until then. Black Friday deals will also be solid for tech items, but according to BlackFriday.com, "you'll see those deals repeated (or slightly improved)" come Cyber Monday.
Game Consoles: Black Friday
Calling all gamers: Black Friday is going to be your ideal day for deals, so as much as you may long to chill in front of a screen Cyber Monday-style, you may want opt for the earlier shopping day in order to get the lowest prices on game consoles. Games and consoles are super popular holiday gifts, so many department and electronic stores will be offering their best prices.
Tech Accessories: Cyber Monday
Carrying on with the cyber theme, tech accessories are also likely to see lower markdowns on Cyber Monday than on Black Friday. Think things like external hard drives, USB cables, headphones, Bluetooth devices, and more.
Home Goods: Black Friday
Whether you're looking for a new coffee maker, rice cooker, crock pot, or toaster oven, Black Friday deals are likely to have you covered in the home goods department. Plan on heading out so you can buy the Hello Kitty toaster of my dreams.
Travel Deals: Cyber Monday
If you're lookin' to score low prices on airfare and other travel packages, Cyber Monday shopping is likely to be the best time. Lots of airlines and travel companies are looking to fill up their post-holiday-season flights and offering super low-cost tickets and accommodations, so keep an eye on your favorite vacation destinations — you may just end with your first 2019 trip planned and ready to go.
Phones: Black Friday Or Cyber Monday
Who isn't looking for a steal on the newest smartphone situation? I think both iPhone and Android devotees can unite on this one. Thankfully for all, it's expected that dope deals on phones and corresponding plans will be raging hard all post-Thanksgiving weekend, making it a toss-up between Black Friday and Cyber Monday. Go with whatever's most convenient.