7 Steps To Creating A Working Relationship With Your Personal Trainer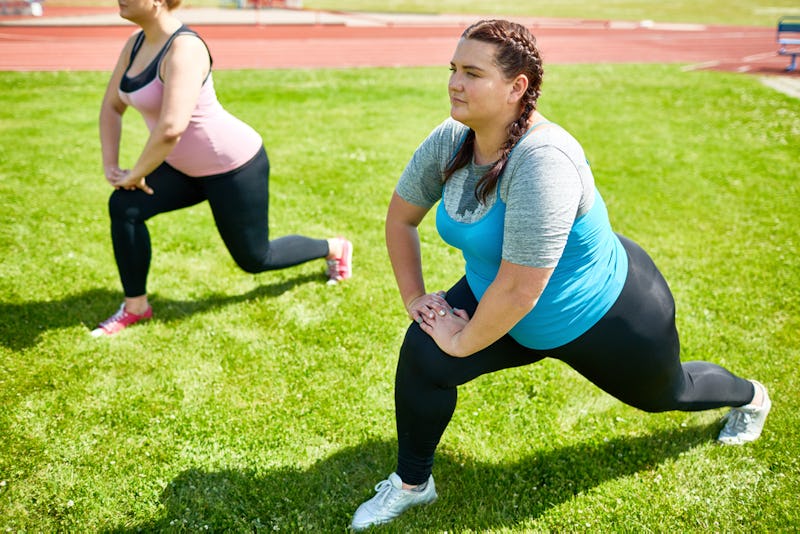 Pressmaster_Shutterstock
This piece is part of Bustle's All Levels Welcome, a column about making fitness culture as accessible and inclusive as possible.
If you're looking for a boost in mental health, served up with a strong side of physical fitness, a personal trainer might be a great way to go. The benefits of personal training include increased accountability, better form, personalized training plans, and a built-in hour of socialization all in one, and I'm not just saying this because I am a personal trainer. But if you've ever had a negative experience with a personal trainer (and so many people have), then you know it's not just about having any old personal trainer. It's about developing a strong relationship with your personal trainer.
To develop a healthy working relationship, you don't just need accountability from your trainer — you need to hold them accountable, too. Your trainer can help you personalize your training, but your goals are always, first and foremost, your own. Your movements, your body, is always yours.
Personal training is, of course, expensive (often prohibitively so). But cheaper personal training options exist, such as online personal training and small group training. Online training can both cut costs and allow you the flexibility of working out on your own terms, in your own space. Small group training also cuts costs and also gives you and your friends the opportunity to train together.
Regardless of how or where you're training, sometimes the power dynamic involved in personal training makes people, trainers and clients alike, forget that ultimately it's your experience that matters. But you're not embarking on your trainer's fitness journey — you're embarking on your own. Your trainer is there to be your ally, but to make sure your relationship with your trainer is beneficial for both of you, here are some tips to live by.