What To Pack If You're Going To Cuba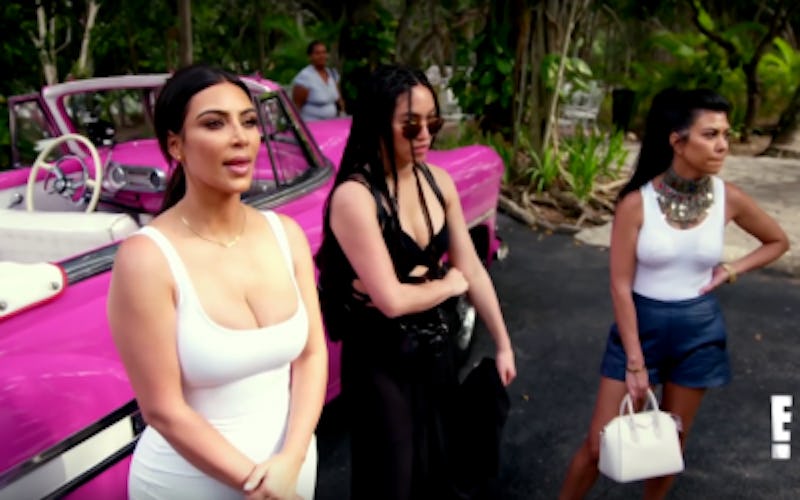 Spring Break is almost upon us, and this year, our travel options have increased by one very important destination: Cuba. And without much information on the country that's reopened its arms to the U.S., you're definitely going to want to plan out your trip and make sure you know exactly what to pack when you're going to Cuba in advance. Because if your only knowledge of the current state of the country is what you learned from that episode of Keeping Up With The Kardashians where they drove around in neon vintage cars and complained about the lack of WiFi, you're going to have to take some time to learn a bit more about it. Cuba is not the kind of place you go on a whim, it's the kind of place you extensively plan to visit.
Cuba is a Caribbean island nation, so no matter what time of year you go, you're going to be subject to some intense heat and sun exposure. So keep in mind while you're packing that you'll need adequate coverage to avoid burns that will ruin your trip. Save the tanning for the beach, and consider going somewhere else if you're looking for a beach-only trip. According to an article in The Wall Street Journal, Cuba is still not the best place to go if you're looking for lux beach accommodations. Sure, you'll get some sun and some waves, but the best part about Cuba is the Spanish colonial capital city of Havana. If you take the time to plan and research points of interest, Cuba will easily be a no-brainer home run spring break destination. Here's what you'll need to pack to ensure you're prepared for it all:
Passport
Sure, it sounds obvious, you need your passport to leave the country. But you'll also need it on-hand while you're traveling through Cuba, so make sure you have a sturdy and safe carrying case and that you keep it on you at all times. To be extra safe, take a picture of your passport and email it to yourself so that you have a copy of it.
Bug Spray
You'll need some serious defense against the mosquitos. Make sure you have a strong repellant and make sure you wear it around the clock — even inside.
Lifestraw Water Bottle
LifeStraw Play, $39.95, Life Straw
If you're worried about having access to clean, bottled water, or concerned about having to pay a premium for every sip of water, bring a LifeStraw water bottle with you and eliminate the stress entirely.
Feminin Hygiene Products
Tampons, pads, condoms — anything that you might need should packed from home. The prices are much higher in Cuba, so you'll want to come prepared.
Stomach Medicine
Whether you accidentally drink the water, have a nasty hangover, or eat something that doesn't agree with you, you're going to want to have American stomach medicines that you already know work for you. The pharmacies in Cuba are limited and there's a pretty big chance you'll find yourself with some sort of stomach ailment on your trip.
Wet Wipes And Tissues
Travelers have warned that bath tissue, napkin, and paper towels can be scarce in Cuba. Don't risk having to drip dry, just bring some extra toiletries with you and store them in your purse. Better safe than sorry.
Bring Cash
Make sure you travel with cash and exchange your currency for Cuban Pesos at the airport before you venture out into Cuba. While it might be ready for tourism, not all businesses accept American credit cards, and ATMs can be hard to find. Prepare for an instance in which you cannot find a working ATM and no one accepts credit, just to be safe.
Find The WiFi Ahead Of Time
Yes, it's true, WiFi is scarce in Cuba. If you're planning on staying connected, check out the area you're staying in and find an internet cafe or WiFi plan ahead of time. This way, you won't have to waste time freaking out and chasing signal bars.
Comfortable Shoes
You're going to be doing a lot of exploring, and because you're not a Kardashian, you probably won't have a driver in a vintage car taking you around the city. Make sure you have a pair of comfortable shoes that you can walk in for miles and miles. Uber is not yet available in Cuba.
Sun Protection
Make sure you pack some heavy duty SPF, hats, and lightweight clothes that cover your back and shoulders. The sun is strong and you're going to be spending a lot of time outside. Don't ruin your trip by getting sun poisoning on the first day.
Anti-Bacterial Soap
You should bring this with you every time you travel, but especially in Cuba where the heat will leave you sweaty and vulnerable. And when you're unsure about the quality of the bathroom water, play it safe and use the anti-bacterial soap instead.
Stay safe on your trip this year, and make sure, above all, to stay prepared!