Here's What To Try If Only One Sex Position Feels Good To You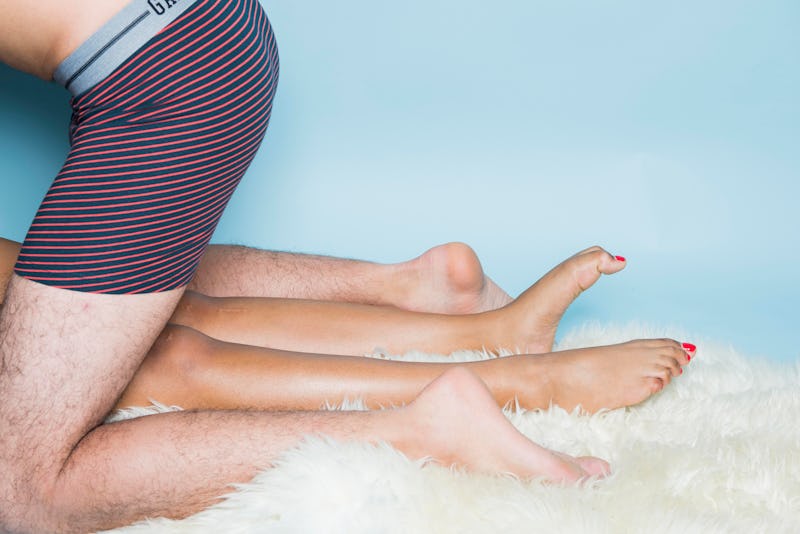 BDG Media, Inc.
I remember my first orgasm like it was yesterday. But it definitely wasn't: I was 11, and a friend had just told me about fingering. "Couldn't you do that to yourself?" I thought. To answer my own question, I went into my bathroom, butterflied my legs open, put a mirror between them so I could see what I was doing, and rubbed the sensitive skin at the top I'd later learn was the clitoral hood. It felt good. Then it felt really good. Then I watched my vaginal lips open and close in the mirror, and then it didn't feel good anymore.
Fast forward 15 years, and my partner is fingering me, and I notice I'm moving my legs into that same position, butterflied open. I also realize I've been doing this every time. It had become an unspoken routine. Just as an experiment, I tried moving my legs together. That's when I realized: I couldn't come that way. My legs had to be in that same position that they'd been in since I was 11.
It's not uncommon to have that one go-to position you have to be in to orgasm, sex therapist Marissa Nelson, LMFT tells Bustle. Like me, most people in this situation learned to masturbate in their position of choice. I hadn't noticed it for the longest time because I'm usually on my back with my legs open when I'm with a partner anyway. For others, it's more obvious because they need to be in a less common position, like on their stomachs.
Whatever position you need to be in, this needn't be a problem. "It's fine for your orgasm to take whatever shape it needs to take," Vanessa Marin, sex therapist and creator of Finishing School, an online orgasm course for women, tells Bustle. "A lot of women get self-conscious about positioning, because they think they're supposed to orgasm on their backs. But there's absolutely nothing wrong with orgasming in any other position."
Some might feel they need to change because they feel weird about telling their partners what they need. But it's more than OK to tell your partner you need to be in a particular position. Here are some sex positions you can try that will also accommodate your masturbation position.
Reverse Cowgirl
This position lets you control the depth and speed and touch yourself with nothing getting between your hand and your clitoris, says Nelson.
Downward-Facing Doggy Style
If you need to be one your stomach, try laying facing downward on the edge of the bed while your partner stands up behind you. This way, you can play with yourself while they do their thing, says Nelson.
Female Superior Modified
If you're like me and need to have your legs apart, this one might work for you. Straddle your partner, tilt back, and put your feet in a crab position, with your hands behind you. Your partner can cradle your butt if you feel like you'll slip off. This angle really allows for greater G-spot access and stimulation of the vaginal walls, and the partner can also play with her clitoris, giving her the opportunity for a blended orgasm," says Nelson.
If you want to learn to orgasm in a greater variety of positions, you can also try masturbating in them. The same way your body got trained to orgasm in your go-to position, it can be trained to orgasm in other ones.
Here are a few positions you can try masturbating in to expand your repertoire.
Sunny Side Up
Lie on your back and spread your legs apart, either stretched out or in the butterfly position. Sit up if it's easier to reach that way, or rest your head on a pillow. If you're like me and enjoy being an exhibitionist and a voyeur at the same time, you can put a mirror between your legs.
Prone
Lie on your stomach with your hand under your vulva and move your hips, your hand, or both. You can also rub against a toy, object, or piece of furniture.
Sideways
If you want to switch from prone to sunny side up or vice versa, a good middle step is to turn on your side.
It's not all or nothing, though — you can start off in one position and switch to another, or alternate between your usual position and new ones, says Marin. "Keep going back and forth. Do everything else the same. It's going to take time for your body to learn to orgasm in a new position, but it's definitely possible."