Reading & Leeds Join 2020's Summer Of Cancelled Festivals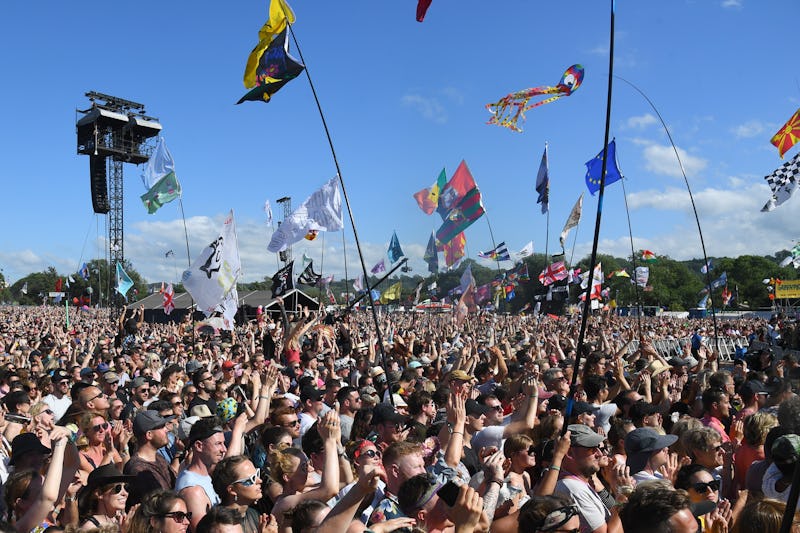 Dave J Hogan/Getty Images Entertainment/Getty Images
This post is updated regularly to reflect the latest news around the new coronavirus, also known as COVID-19, in the UK.
As the number of COVID-19 cases continues to rise, the government has launched an action plan detailing how the country will cope, announcing on 16 March that all mass gatherings should be avoided. The list of events to be postponed or cancelled is growing, including several major fixtures in the coming months.
From big festivals and sporting events, to local elections, here's a rundown of the UK events that are being cancelled and postponed.
Political Events In The UK
Prime Minister Boris Johnson announced on March 13 that local elections and the London mayoral vote which had been due to take place in May would be postponed until 2021.
In a statement given to the Evening Standard, a Number 10 spokesperson said: "We will bring forward legislation to postpone local, mayoral and Police and Crime Commissioner elections until May next year.
"We will also work with the devolved administrations to ensure that they have the necessary powers to do the same."
Parliament has cancelled scheduled Brexit talks amid the pandemic. The second round of trade negotiations between the UK and Europe was planned to take place in London, per the Financial Times. "More than a hundred trade experts from Brussels were due to arrive in London," the publication reports.
In a joint statement, representatives of the UK & EU said: "Given the latest COVID-19 developments, UK and EU negotiators have today jointly decided not to hold next week's round of negotiations in London, in the form originally scheduled."
Music: Gigs, Concerts & Festivals
Glastonbury
When Glastonbury organisers last week defied the odds and announced the line-up for their 50th anniversary festival, 200,00+ ticket holders held their breaths to see whether the show would actually go on. But sadly it wasn't to be, with Michael and Emily Eavis breaking the news on Wednesday March 18 that this year's festival would have to be cancelled with tickets rolling over onto 2021's event.
"Clearly this was not a course of action we hoped to take for our 50th anniversary event," they wrote. "We very much hope that the situation in the UK will have improved enormously by the end of June. But even if it has, we are no longer able to spend the next three months with thousands of crew here on the farm, helping us with the enormous job of building the infrastructure and attractions needed to welcome more than 200,000 people to a temporary city in these fields."
Eurovision Song Contest
It's one of the biggest dates in the pop music calendar, but as the World Health Organisation director general states that Europe is now the centre of the coronavirus outbreak, the chances of Eurovision going ahead are looking pretty slim.
Sharing an update on Twitter, the song contest promised fans that more information would follow for the May event in the coming weeks. "With a constant changing situation regarding coronavirus and a large number of people to consult, every important element needs to be taken into consideration," they said.
Radio 1's Big Weekend
Radio 1's Big Weekend was heading up to Dundee for its 2020 festival, with Dua Lipa and Harry Styles set to headline. They've now announced that following guidance from the Scottish government, and with festival-goers health and safety in mind, the event will not go ahead.
A statement on the Radio 1 website read: "After careful consideration we have come to the decision that Radio 1's Big Weekend 2020 in Dundee will not go ahead. This decision has been made in conjunction with our event partners, in line with the advice from the Scottish government, and while we know fans looking forward to purchasing tickets will be disappointed, it is important we prioritise the health and safety of all those involved."
Reading, Leeds, BST Hyde Park, & Lovebox
Reading and Leeds, two of the biggest in the UK music calendar, was officially cancelled on May 12. "Reading and Leeds will no longer be taking place this year," the organisers said in a statement. "We've been closely monitoring this unprecedented situation and we were hopeful we could deliver the ultimate festival to you in August, something to look forward to in these strange and confusing times. However, it has become clear that it's just not possible for this year's festival to go ahead."
The festivals were due take place on the August bank holiday weekend, with Liam Gallagher, Stormzy and Rage Against The Machine headlining this year. Organisers have said however, that Reading and Leeds would return in 2021 on the same bank holiday weekend.
On April 9, the organisers of BST Hyde Park announced they had made the "difficult decision to cancel" the event, saying "safety always comes first. In addition to the government rightly enforcing a prolonged period of social isolation, we would not want to place any extra strain on the emergency services, who we are lucky enough to have working alongside us at our events."
On March 27, Lovebox confirmed it too is no longer taking place. "We've been closely monitoring this unprecedented situation and it has become clear that it's just not possible for this year's festival to go ahead," the official announcement read. "We will be back stronger than ever on 11th-13th June 2021 and we hope you see you all then."
On May 14, dance festival Creamfields and Green Man separately announced they too would cancel their 2020 editions, both formerly scheduled to take place over the August Bank Holiday weekend. Creamfields was due to take place in Daresbury, Cheshire, featuring the likes of Adam Beyer, Ben Nicky, Boris Brejcha, Carl Cox, Eric Prydz, Tiësto and Timmy Trumpet. Green Man's line-up included Michael Kiwanuka and Mac DeMarco.
BTS
The K-Pop stars have already cancelled their April dates in Seoul due to the virus, and the fate of their shows at London's Twickenham Stadium on July 3 and 4 remains to be seen. Ticket sales for their European dates have been postponed but organisers are yet to confirm whether the performances are actually cancelled. As there's been no news fans may be able to purchase tickets at a later date.
Bustle has reached out to the group's reps for comment on the situation.
Harry Styles
Due to the pandemic and travel restrictions between European countries Harry Styles has postponed his European tour. He was set to play dates in the UK, Germany, France, Denmark, and Italy to name a few. He's not totally canceled his shows and will kickstart the Love On Tour on Feb. 12 2021 in Bologna, Italy. He wrote on Twitter: "Anyone who knows me, knows that performing has always been my favorite part of working in music. However, during times like these, the safety and protection of touring crew, fans, and everyone else around the world is an immediate priority."
The Who
Rock band The Who have cancelled their upcoming UK tour due to start March, 16. 2020 in Manchester and finish at Wembley on April 8, 2020. In a statement given to Sky News, the band said they felt "much regret" about the postponement but that "fans' safety is paramount."
Avril Lavigne
Avril Lavigne has cancelled her much-anticipated UK/Europe comeback tour due to the COVID-19 outbreak. The singer was scheduled to play four headline dates in the UK, but in a statement posted to her Instagram page, she revealed US travel restrictions made it impossible. "With these restrictions in place, it means that I am no longer able to bring the Head Above Water Tour to Europe and the United Kingdom. And it sucks!" she wrote.
Little Mix
Little Mix were set to go on a cross-country summer tour between June and August 2020. However, in light of the current government guidelines on social distancing and staying at home the band have decided to cancel the tour. Writing on Instagram they said, "the health and safety of all our fans and crew is always our number one priority. Please look out for an email from your ticketing agent shortly." Referring to what the government has said they signed off, "please stay safe and stay home, the girls."
Camila Cabello
Camila Cabello is another artist who has faced postponing a world tour because of the pandemic. She was due to set out on her Romance tour in May 2020. She cited the safety of her fans, dancers, and crew being the most important thing.
Elton John
Vulture reported that Elton John has also decided to postpone further dates in his Farewell Yellow Brick Road tour, which included more than 300 shows worldwide.
Smaller Festivals
Smaller UK festivals such as Deer Shed Festival in North Yorkshire and Brighton's The Great Escape have had to cancel their events this year, and many are expected to follow suit. You should continue to check the websites and social media pages of these festivals to find out the latest news and find out whether you are entitled to a refund. However, many organisers are asking ticket holders to opt for a "rollover" option (in other words, use their ticket for next year's festival) due to cashflow concerns.
Film Releases (Including No Time To Die)
Set to release in the UK on April 3, Daniel Craig's final Bond film, No Time To Die,has been postponed until Nov. 12. The UK premiere was scheduled to take place on March 31 at the Royal Albert Hall in London. This followed a letter sent by two of the franchise's fan sites that asked for the film's global release to be delayed.
Bustle has contacted EON, MGM, and Universal for further comment.
Other films that have had their release dates pushed back include Peter Rabbit 2and Fast & Furious 9, which will now launch in August 2020, and April, 2021 respectively.
Festivals, Carnivals and Parades
Chelsea Flower Show
A favourite event in the spring calendar for both the public and Queen Elizabeth II, this year's Chelsea Flower Show sadly won't be going ahead in May. The Royal Horticultural Society released a statement on Tuesday 17 March confirming that all of its shows until June 30 would be cancelled to prevent the spread of coronavirus. It is the first time the green-fingered event hasn't gone ahead since the Second World War.
Pride 2020
A number of Pride 2020 events around the world have been disrupted due to the COVID-19 outbreak. On April 2 it was announced that Brighton Pride (due to take place from July 31 to August 2, and headlined by Mariah Carey) has been cancelled, and tickets will roll over to next year. A Pride spokesperson said: "Pride is a celebration for the whole city and brings lots of people in, and of course the emergency services, the police, the NHS and all the other key workers who are often part of that parade. Our focus is on supporting them and supporting people who are going through tough times."
On March 18, it was announced that Edinburgh Pride, due to take place on June 13, had been cancelled. Meanwhile, Pride in London, which was originally scheduled for June 27, has been postponed and UK Black Pride is also postponed until further notice. Organisers estimated that 1.5 million people attended Pride in the capital in 2019 and they've told the BBC they're "hopeful" it can be picked up before the end of the year.
Notting Hill Carnival
For the first time in the event's history, the annual Notting Hill Carnival has been cancelled due to the ongoing coronavirus pandemic. The carnival was scheduled to go ahead between August 30 and August 31, and is normally attended by around one million people in West London. Organisers explained how cancelling the event was "the only safe option," and later revealed that plans to hold an alternative virtual celebration on the same weekend are currently underway.
The Hay Festival
The 33rd annual Hay Festival of Literature & Arts will not take place in its usual form. However, the event is scheduled to go ahead digitally, and a series of celebrity appearances, speeches, and Q&A sessions will be available to enjoy online between May 18 and May 31.
The literary festival is normally held in Powys, Wales, and speaking of this year's digital alternative, Director Peter Florence revealed that organisers will be "zinging the programme as if from a green field in Wales."
Edinburgh International Festival
All five of Edinburgh's prestigious cultural festivals – Edinburgh International Festival and the Fringe, The Military Tattoo, Edinburgh Art Festival and Edinburgh International Book Festival – have all been cancelled in what Scottish First Minister Nicola Sturgeon called a "heartbreaking" decision.
This will be the first time in more than 70 years that the Edinburgh International Festival and the Fringe, celebrated as the world's biggest arts festivals, will not take place.
Culture Secretary Fiona Hyslop said the events will be "missed greatly" and promised the Scottish government's cooperation to bring the events back in 2021.
Trooping the Colour
The Queen's birthday parade, due to take place on June 13, will "not go ahead in its traditional form" Buckingham Palace confirmed on March 27. "In line with government advice, it has been agreed that the queen's birthday parade, also known as Trooping the Colour, will not go ahead in its traditional form," the statement read. "A number of other options are being considered, in line with relevant guidance."
Normally, the event includes more than 1,400 parading soldiers, 200 horses and 400 musicians. It also usually involves the full attendance of the royal family, who gather on a balcony in Buckingham Palace's east wing to watch the flypast by the Royal Air Force.
Sporting Events
Invictus Games
The 2020 edition of the Invictus Games was called off, but nonetheless remembered by Prince Harry. Two months on from the Paralympic-style competition was postponed, the Duke of Sussex shared a personal message on May 8, what would have been the opening ceremony. He encouraged would-be participants to continue to support each other from afar, stating, "I hope all of those in the Invictus family are coping well and supporting each other through these challenging times." He also noted that "life has changed dramatically" since the last time he was in the Hague, but the Invictus Games 2020 organisers have "done an incredible job to adapt so quickly to the situation, and are busy planning dates for next year." He promised that, "the new dates will be shared with you very soon."
Ascot
Royal Ascot is not cancelled, but may still go ahead possibly behind closed doors, organisers confirmed on April 7. "This will of course be a great disappointment for everyone planning to attend," read the statement. The five day event was scheduled to take place in Berkshire, between June 16-20.
The race's future is "dependent on Government and public health policy and the approval of the BHA," it continues. "This would be for the benefit of the industry, our valued partners and suppliers and our television audiences at home and internationally. Planning for this is now our complete focus and we will update on progress as and when we can."
Guy Henderson, Chief Executive of Ascot Racecourse said they "look forward to being able to welcome racegoers back when it is safe to do so."
The Grand National
The Grand National Festival was set to take place between 2 to 4 April. However, following the advice of the government and health officials that mass gatherings aren't advised during the coronavirus pandemic it's been cancelled. "Public health must come first," senior steward of The Jockey Club Sandy Dudgeon told the BBC, "following the new government measures to help to tackle the coronavirus outbreak, this is not a viable option."
The Grand National attracts an audience of 500 million people and Dudgeon said, "I know this is hugely disappointing news for the many people who work in our sport and the many millions who were looking forward to this year's event, but very sadly these are exceptional times and this is the responsible thing to do."
The London Marathon
The capital's April 26 run has been postponed until Sunday, October 4, due to the COVID-19 outbreak. Hugh Brasher, the event's organiser said in a statement given to The Guardian: "The world is in an unprecedented situation grappling with a global pandemic of Covid-19 and public health is everyone's priority. We know how disappointing this news will be for so many – the runners who have trained for many months, the thousands of charities for which they are raising funds and the millions who watch the race every year."
Wimbledon
Wimbledon has been cancelled for the first time since World War Two, reports the BBC. The tournament was scheduled to take place between June 29 and July 12.
"It has weighed heavily on our minds that the staging of the Championships has only been interrupted previously by World Wars," said Ian Hewitt, All England Lawn Tennis Club chairman. "But, following thorough and extensive consideration of all scenarios, we believe it is ultimately the right decision to cancel this year's Championships, and instead concentrate on how we can use the breadth of Wimbledon's resources to help those in our local communities and beyond."
The French Open, which normally takes place in May, was rescheduled and is expected to take place at the end of September.
Tokyo Olympics 2020
Over the last month there was a lot of deliberation about whether the Tokyo Olympics could go ahead as normal on July 24. However, on March 24 organisers announced that both the Olympics and Paralympics would have to be postponed until 2021.
The BBC reported that that the threat of the coronavirus was too great and in a joint statement, the organisers of Tokyo 2020 and the IOC said, "in the present circumstances and based on the information provided by the WHO today [Tuesday], the IOC president and the prime minister of Japan have concluded that the Games of the XXXII Olympiad in Tokyo must be rescheduled to a date beyond 2020 but not later than summer 2021, to safeguard the health of the athletes, everybody involved in the Olympic Games and the international community."
Football Matches
As of 17 March, it was also announced that Euro 2020 is postponed until 2021. The Premier League and English League football games have been suspended until April. 3 2020, per the BBC. The Professional Footballers' Association posted a statement to Twitter, in full support of the postponement. It read: "The PFA welcomes the decision to suspend the Premier League and English Football League to suspend games until 3rd April 2020."
The FA's ruling "'will also apply to all England team fixtures at every level and all FA competitions including the Emirates FA Cup and the Women's FA Cup, along with academy and youth-team matches." The full statement, from the Football Association website, confirms the decision was made "purely on the number of cases requiring self-isolation and the impact on facilities."
The Times reports that football matches in England could be played behind closed doors to help manage the spread of COVID-19. The new rules would apply to Premier League matches, per the publication, and ticket holders would reportedly be able to stream all matches from home. Manchester United will also play the first leg of the Europa League without fans "following advice from the Austrian government."
It comes after Manchester City's Premier League fixture at home to Arsenal on March 11 was postponed. In an official statement on their website, Manchester City says it's to do with some players having to self isolate, "after it emerged that personnel from Arsenal FC have come into contact with the Olympiacos owner, Evangelos Marinakis, who has been named as a positive case of COVID-19."
If you or someone you've been in close contact with appears to have shown or be showing symptoms of coronavirus, which include fever, shortness of breath, and coughing, visit the NHS website in the UK to find out the next steps you should take or visit the CDC website in the U.S. for up-to-date information and resources. You can find all Bustle's coverage of coronavirus here, and UK-specific updates on coronavirus here.
Contributions by Lauren Sharkey, Sophie McEvoy, Aoife Hanna, L'Oréal Blackett, Isobel Lewis, Niellah Arboine, and Alice Broster.
This article was originally published on