The Syria Gas Attack Is Sparking Outrage Internationally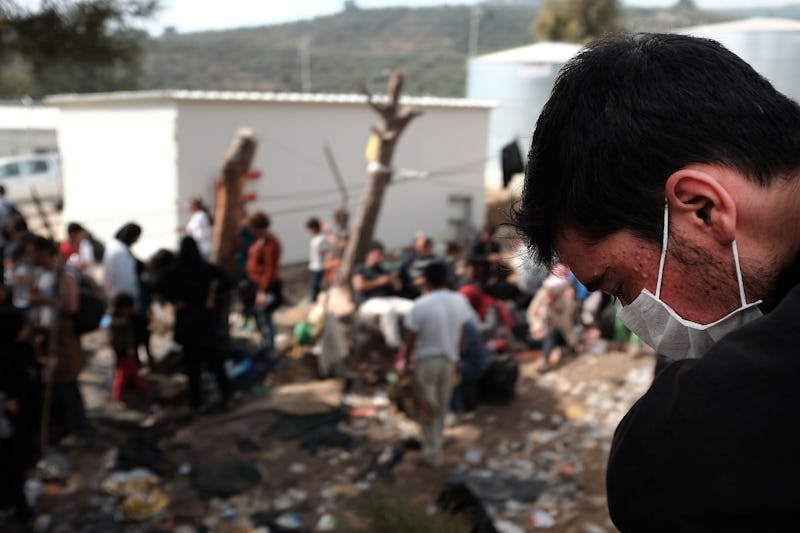 Spencer Platt/Getty Images News/Getty Images
World leaders and humanitarian aid organizations expressed outrage on Tuesday over what is suspected to be a chemical weapons attack that has left over 50 civilians dead and 300 wounded in the northwestern Syrian province of Idlib, according to the British-based Syrian Observatory for Human Rights. This gas attack in Syria is one of the deadliest in recent memory, and it is being called a war crime by U.S. State Department officials.
The attack began just after sunrise on Tuesday, according to witnesses, when an airstrike hit the rebel-held city of Khan Sheikhoun, emanating poisonous gas that caused large groups of people in the area to collapse as they gasped for air. As humanitarian aid organizations like the White Helmets and the Syrian Civil Defense rushed to help the wounded, many aid workers were themselves overcome by the gas.
Dr. Fares al-Jundi, a physician in the region who tended to the wounded, told CNN that at least 500 people, including many women and children, lined the floors of the hospital, some foaming at the mouth and others struggling to breathe. Many, including whole families, eventually died of asphyxiation.
"I believe this horrible memory will stay with me for the rest of my life," said Dr. al-Jundi.
One of the hospitals in Khan Sheikhoun was later bombed while tending to victims, according to The New York Times.
The United States is blaming Syrian President Bashar al-Assad for the attack, and believes that he used the banned chemical agent sarin. Sarin, a nerve agent, is considered a weapon of mass destruction and has been outlawed by the Chemical Weapons Convention of 1993.
The Syrian government has denied any involvement in the attack, and is blaming insurgents and ISIS fighters in the region.
The attack comes just days after U.S. Ambassador to the United Nations Nikki Haley said that the United States will no longer focus on ousting Assad from power, but will instead seek new strategies to ending the Syrian Civil War that has claimed the lives of thousands of civilians over the past seven years.
The White House responded to the attack by calling it "reprehensible," but Press Secretary Sean Spicer said that it would not cause the administration to re-focus on removing Assad from power.
"There is not a fundamental option of regime change as there has been in the past. Somebody would be rather silly not acknowledging the political realities that exist in Syria. What we need to do is to fundamentally do what we can to empower the people of Syria to find a different way," Spicer said.
The U.N. Security Council will be holding an emergency meeting on Wednesday to discuss the chemical attack.