This Movie Will Be Verne Troyer's Final Role When It's Finally Released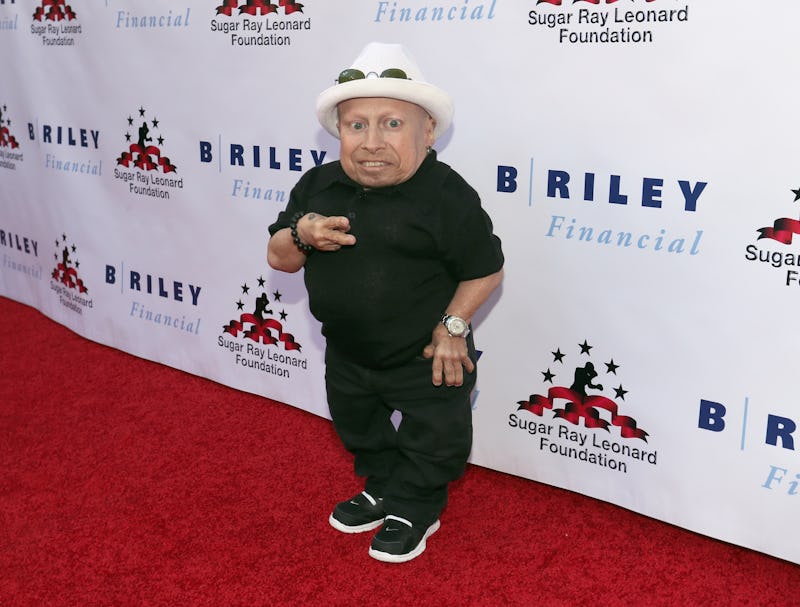 Mark Davis/Getty Images Entertainment/Getty Images
Actor, stunt performer, and comedian Verne Troyer, best known for his role as Mini Me in the Austin Powers films, has reportedly died at age 49. If you haven't been keeping up, and you're wondering: What was Verne Troyer's last role? Troyer starred as himself in Canadian mockumentary television seriesTrailer Park Boys: Out of the Park in 2017, which is available to watch on Netflix. He also recently completed the forthcoming film Hipsters, Aliens, Gangsters, and Geeks, which IMDb describes as a story about an out-of-work actor who stumbles upon the key to the universe and is drawn into intergalactic war between clowns and aliens.
Troyer, who starred in dozens of other movies and TV shows between 1994 and 2017, was hospitalized earlier this month after an incident involving alcohol at his home, according to TMZ. "He inspired people around the world with his drive, determination, and attitude. On film [and] television sets, commercial shoots, at comic-cons, [and] personal appearances, to his own YouTube videos, he was there to show everyone what he was capable of doing," a statement from Troyer's office Facebook page noted after his passing. "Even though his stature was small and his parents often wondered if he'd be able to reach up and open doors on his own in his life, he went on to open more doors for himself and others than anyone could have imagined. He also touched more peoples' hearts than he will ever know."
Troyer had openly struggled to overcome substance use issues and depression during the course of his life, and his Facebook page statement asks for kindness and understanding for others battling the same demons. "Verne was also a fighter when it came to his own battles. Over the years he's struggled and won, struggled and won, struggled and fought some more, but unfortunately this time was too much," the statement said. "During this recent time of adversity he was baptized while surrounded by his family. The family appreciates that they have this time to grieve privately. Depression and suicide are very serious issues. You never know what kind of battle someone is going through inside. Be kind to one another. And always know, it's never too late to reach out to someone for help."
Troyer is known for starring in movies such as Baby's Day Out, Men In Black, Harry Potter and the Sorcerer's Stone, My Giant, Fear and Loathing In Las Vegas, and more. In lieu of flowers, Troyer's family asked that people make a donation in his name to one of his two favorite charities; the Starkey Hearing Foundation, which helps Deaf and hard-of-hearing people, and Best Buddies, which is dedicated to ending the social, physical, and economic isolation of the 200-million people with intellectual and developmental disabilities.
With more and more people in the public eye publicly acknowledging their struggles with mental health and addiction, Troyer's message is a powerful reminder of the importance of mental health awareness. While he made millions of people laugh, he privately struggled with depression. "Verne was an extremely caring individual. He wanted to make everyone smile, be happy, and laugh. Anybody in need, he would help to any extent possible," his family's statement reads. "Verne hoped he made a positive change with the platform he had and worked towards spreading that message everyday."
Troyer's legacy is a valuable reminder that kindness doesn't cost a thing. His final film, Hipsters, Aliens, Gangsters, and Geeks, is currently in post production. "Now starting the post-production phase, Hipsters will incorporate many hilarious special effects," the movie's official website stated. "When the cigar-chomping Clown Captain (Martin Klebba from Pirates series) shifts his space craft into [fourth] gear and steps on the gas, all hell breaks loose as we blast into hyperspace!" An official release date has yet to be announced.
If you or someone you know are experiencing suicidal thoughts, call 911, or call the National Suicide Prevention Hotline at 1-800-273-8255.