Bill Paxton Was Essential To 'Training Day'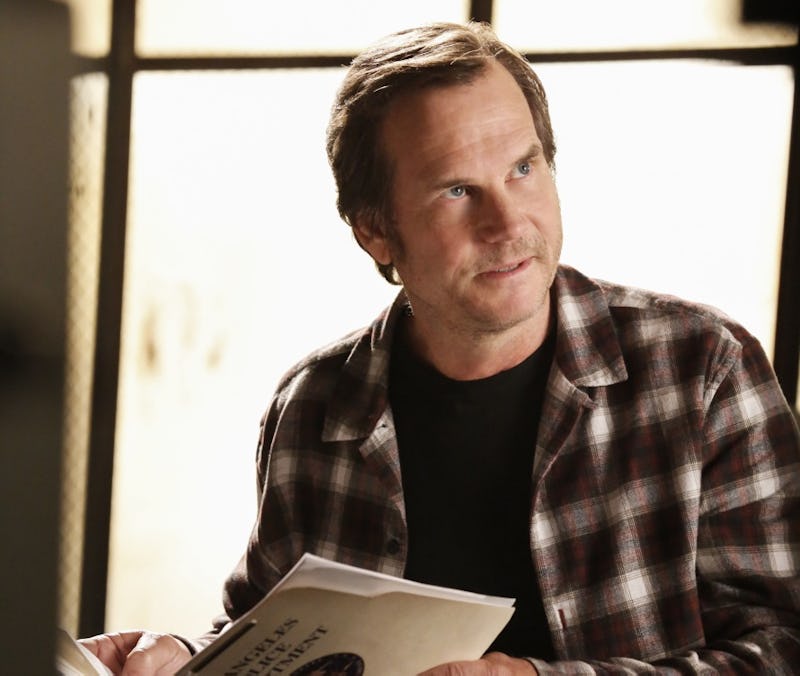 Robert Voets/Warner Bros. Entertainment Inc.
Sad news out of Hollywood on Sunday, with People magazine reporting that actor Bill Paxton has died at 61 following complications from surgery. Paxton, perhaps best known for his roles in Titanic, Apollo 13, and Aliens, was working right up until his death, this time on the CBS show Training Day which debuted on Feb 2, 2017. A reboot of the classic movie, Paxton portrayed Frank Rourke, a plays-by-his-own-rules detective. The show had already finished filming several episodes, but his death begs the question of whether what will happen to Training Day without Bill Paxton.
In a statement to Bustle, CBS and Warner Bros Television said, "We are shocked and deeply saddened this morning by the news of Bill Paxton's passing. Bill was, of course, a gifted and popular actor with so many memorable roles on film and television. His colleagues at CBS and Warner Bros. Television will also remember a guy who lit up every room with infectious charm, energy and warmth, and as a great storyteller who loved to share entertaining anecdotes and stories about his work. All of us here offer our deepest sympathy to his wife, Louise, and his two children."
In every interview Paxton gave about Training Day, you could tell how much he loved the project. He even got his 22-year-old son James involved, according to People. "I was thrilled to have my son guest-star on the eighth episode of Training Day," Paxton told the magazine. "[James] plays the son in a father-son robbery team ... And my character, whose dad was also a criminal, tells him, 'We're both our father's sons, but that doesn't have to define us.' It was surreal saying that to him."
Only four of the episodes have aired as of his passing, so it's comforting for fans to know that at least eight have been filmed and will likely air. Beyond that, it's unclear how the network will choose to proceed. According to Deadline, the show opened with the network's lowest view count, and its ratings have only slipped further from there. As Paxton plays the main character of the series, it's entirely possible the network will choose to end the show after its first season, rather than shake up the entire show by recasting the lead. Paxton's big role coupled with the show's low ratings will probably lead to a cancellation, if I had to guess. It's always a shame when a show can't get off the ground in viewership, but it might be for the best in the end. Paxton's role was central to the show and, without him, it would definitely feel like something was missing. So, if CBS chooses to pull the show after a season, at least fans can remember it for what it was with the great Bill Paxton doing what he does best — being a great actor.