People Are Worried That Trump's Latest Hire Is Going To "Militarize" The White House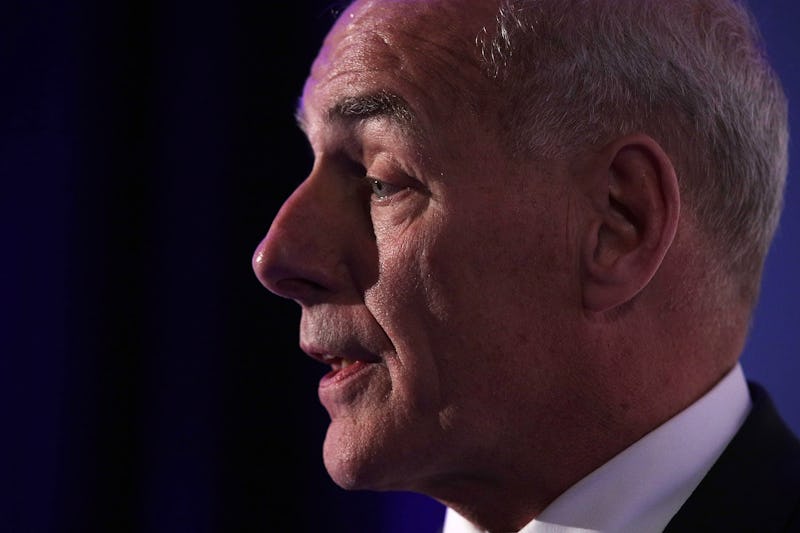 Alex Wong/Getty Images News/Getty Images
On Friday, President Trump announced that Homeland Security Secretary John Kelly will replace Reince Priebus as the White House Chief of Staff. Kelly was one of the first Trump appointees confirmed to his post by the Senate, but one member of Congress quickly expressed concern that, by making Kelly the new Chief of Staff, Trump is "militarizing the White House."
Before announcing Kelly's new job, Trump had told associates that he wanted to bring military-style discipline in the White House, according to the Associated Press. But Kelly's military background — he's a retired four-star general — concerned Rep. Barbara Lee, who criticized Trump's decision later in the day Friday on Twitter.
"By putting Gen John Kelly in charge," Lee wrote, "Pres Trump is militarizing the White House & putting our executive branch in the hands of an extremist."
Trump has indeed surrounded himself with many former or active-duty members of the military, including National Security Advisor H.R. McMaster, Secretary of Defense James Mattis, CIA Director Mike Pompeo, Energy Secretary Rick Perry and Attorney General Jeff Sessions.
It's worth noting , though, that unlike with those other officials, Kelly won't be crafting or setting public policy. Instead, he'll be in charge of carrying out the president's orders within the executive branch. Although a chief of staff's duties vary from president to president, they usually serve as a liaison between the president and Congress, manage other members of the cabinet, develop legislative strategies and in general, do the president's grunt work.
Kelly had much more power to change federal policy from his position at the Department of Homeland Security, and that's exactly what he did. In February, he launched a widespread crackdown on undocumented immigrants, and revoked an Obama-era directive that shielded undocumented parents of U.S. citizens from deportation. In July, he reportedly told members of the Congressional Hispanic Caucus that the administration wouldn't commit to defending the Deferred Action for Child Arrivals program (DACA), which prevents undocumented immigrants brought to the U.S. at a young age from being deported, in court.
That's not the kind of thing Kelly will be doing at his new job. Although he might suggest one policy or another to Trump, he won't have any power on his own to make that policy become reality.
Priebus presided over a chaotic and disorganized White House, and according to multiple reports, he was widely perceived within the Trump administration as being an ineffective chief of staff. It's quite possible that Kelly will change this by bringing a more military-like attitude to his new job. But even if his appointment means that the White House begins functioning internally more like a military, that doesn't necessarily mean we'll see more militaristic policies coming out of the federal government.