Preet Bharara Has Options For His Next Move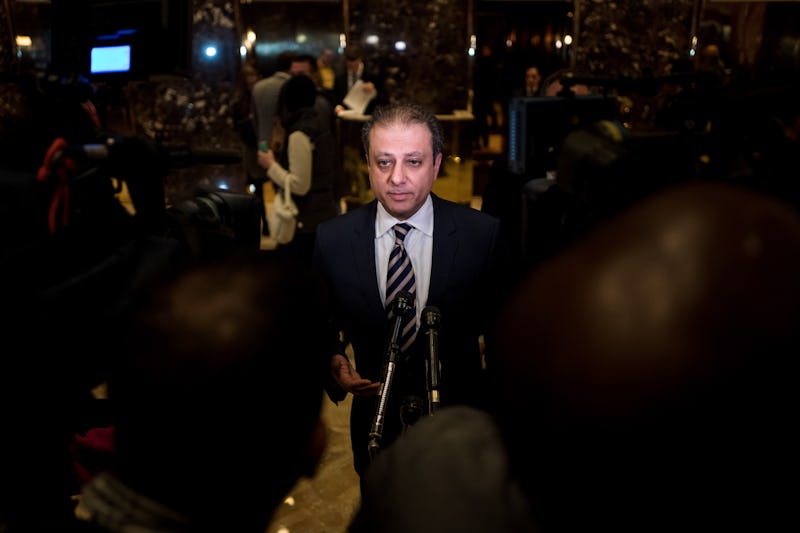 Drew Angerer/Getty Images News/Getty Images
In the increasingly alarming saga of Donald Trump's presidency, a United States attorney who was appointed by President Obama was reportedly fired, he announced on his Twitter, prompting interest and concern about his next move, as well as the administration's next steps regarding the high-level Justice Department employees. What Preet Bharara will do next is uncertain, but he's more than qualified, and incentivized, to continue fighting against government corruption in the private sector if that's what he chooses.
Bharara was reportedly fired this week after refusing to step down after Attorney General Jeff Sessions asked all Obama-era United States attorneys to resign earlier this week. According to The Hill, it's typically common for all U.S. attorneys to be replaced at the very beginning of the administration, and the delayed request might have to do with Sessions' extended confirmation process. However, Bharara's firing could continue to tie him up in an inquiry or investigation for some time to come, particularly if it had anything to do with any pending cases he was working on at the time. Bustle has reached out to the White House for comment on Bharara's dismissal.
Many journalists are speculating about the potential investigations that Bharara was conducting, and whether they may have contributed to his firing. The White House has not given a reason for his dismissal, with a Department of Justice spokesperson only telling CNN, "Preet Bharara is no longer US attorney of the Southern District of New York."
According to The New York Daily News, Bharara was overseeing an investigation into Fox News. Hundreds of firms across the country could snatch up his services, providing him the resources and infrastructure to fight back against the administration.
Bharara could also use his newfound name recognition to reach out to the public more directly. According to Facebook, Bharara is scheduled to speak at the Cooper Union in New York city on April 6 (the event is free and open to the public — just RSVP here if you plan to attend). Although the event was announced before Bharara's firing made headlines, the subject is almost guaranteed now to be a central part of his talk. Bharara could extend that into a lucrative speaking tour as other former government officials have, especially given the high-profile circumstances around his leaving public office.
Clearly, Bharara has a lot of his options for his post-government career, so he won't be struggling to find something to do for the time being.