Steve Bannon Is Reportedly Heading To Breitbart To Wage An All-Out War On Trump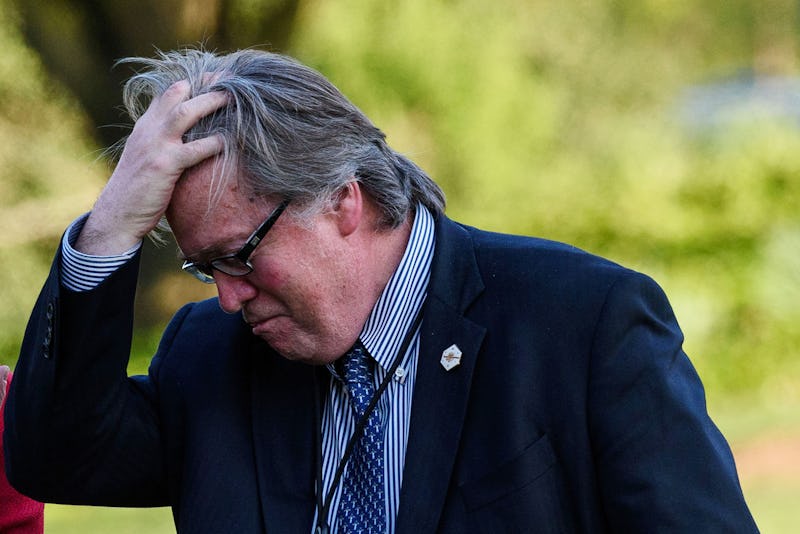 MANDEL NGAN/AFP/Getty Images
Another week, another high-profile White House exit. On Friday, outlets including the New York Times and Drudge reported that Steve Bannon is on his way out of the White House. The White House confirmed this news shortly thereafter with a brief statement noting that Chief of Staff John Kelly and Bannon had mutually agreed to part ways. So, the million-dollar question: What will Steve Bannon do next?
Well, according to early reports, it seems as though Bannon might head back to right-wing outlet Breitbart. Vanity Fair correspondent Gabriel Sherman tweeted Friday, "Bannon friend says Breitbart ramping up for war against Trump. 'It's now a Democrat White House,' source says." Sherman also wrote: "Source close to Bannon confirms Bannon expected to return to Breitbart after a WH exit."
Returning his old company seems to make a lot of sense for the embattled former presidential adviser. Following persistent accusations of racism and anti-Semitism, exacerbated this week after the Nazi protests in Charlottesville, Va., Bannon's job prospects probably aren't too hot. Plus, unlike the Trump administration, Bannon gets to really be the boss at Breitbart and move the outlet in whatever direction he wants. Bannon reportedly fought with Trump and his family for months before his exit, so a little autonomy may be just what he's after.
Beyond those preliminary reports, it's unclear what Bannon plans to do with himself now that he's out of the White House. He's had several different careers that he could reasonably fall back on, including investment banking with Goldman Sachs, a movie producer and documentarian for conservative-bent films, and even a video game company executive. He's also sitting on an estimated net worth of more than $10 million — possibly as much as $48 million — so at 63 years old, he doesn't need to work again a day in his life. Whatever comes next for Bannon will probably be a passion project, which is a scary concept for those who oppose his political views.
Through all his time with the Trump administration, Bannon was largely a quiet force who worked behind the scenes. But his reemergence into the spotlight due to his firing means he could have the opportunity to garner and mobilize his own following. His political prowess shouldn't be underestimated — after all, he was part of the team that got Trump to the White House in the first place. Whatever Bannon does next should be watched very closely.