The Love Islanders Are Celebrating V-Day With Another Gross Eating Challenge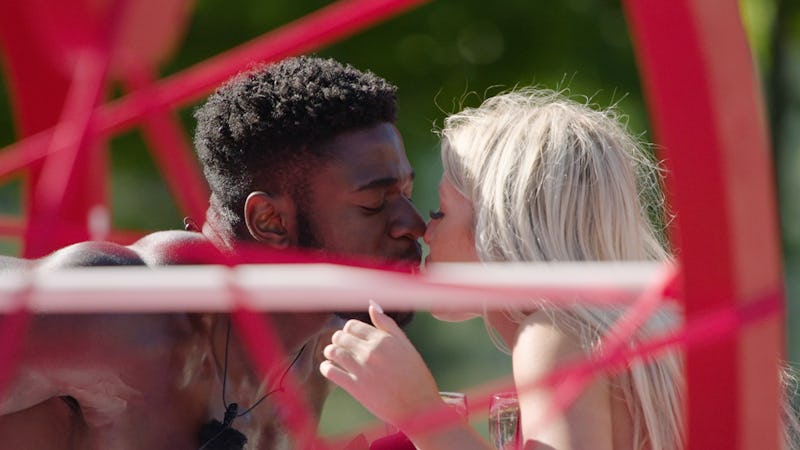 ITV
Celebrating the first Valentine's Day with your significant other is something you'll never forget, certainly for those spending it in the Love Island villa. This series marks the first time Love Island has aired on the holiday, and it'll be interesting to see how these new couples will celebrate it with one another. With that in mind, I want to know, what will Love Island be doing for Valentine's Day?
There are so many different ways that ITV could have covered Valentine's Day. Romantic 1:1 dates? One lucky pair getting a special night in The Hideaway? Another celebrity DJ set?
Well, in a statement sent to Bustle UK, it has been confirmed that the islanders will be celebrating the most romantic day of the year with a Valentines-themed challenge: Valentine's Bae.
The challenge will involve the islanders having one hand tied to their partner's while the two take on a romance-inspired assault course. The course will feature a love tunnel and a bed of gunge. The course will end in a Lady & The Tramp-style pasta kiss, which sounds cute but also kind of gross.
But what are the islanders going to do to mark the special day with their partners?
ITV has revealed that, on the Feb. 14 episode, Luke T will gather the boys to help him create a fairy tale-themed surprise for Siânnise. According to the network, the surprise will end in an "important question."
Sadly, that's all ITV have revealed for now, and we'll have to wait and see what happens with Paige and Finn, Jess and Ched, and all the other loved-up couples. That is, provided they've made it through the News Splash drama by Feb. 14...
This article was originally published on