Here's What Trump's Military Parade Will Look Like (Because Yes, It's Actually Happening)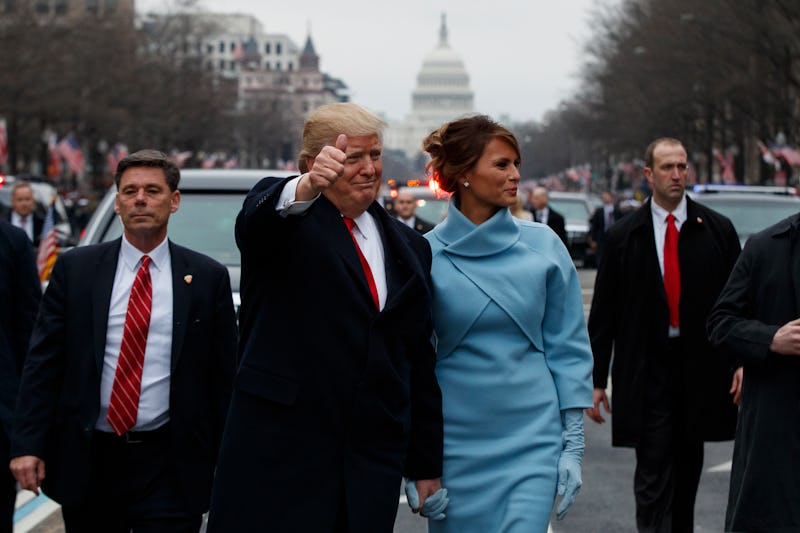 Pool/Getty Images News/Getty Images
Plans for President Donald Trump's military parade are marching on despite concerns over its potential cost. Now, a Pentagon planning memo seen by CNN has revealed more details as to what Trump's military parade will look like. And if you were expecting armored tanks, you'll likely be sorely disappointed.
While President Trump was reportedly inspired to host his own military parade after watching a Paris Bastille Day event last July, it seems the Pentagon won't be putting on a show nearly as elaborate as France's. According to CNN, a planning memo sent Thursday from the Pentagon to the Joint Chiefs of Staff noted that Trump's parade will "include wheeled vehicles only, no tanks" as "consideration must be given to minimize damage to local infrastructure." But although the parade won't have tanks rolling down Pennsylvania Avenue, there will reportedly be "a heavy air component" thanks to various military aircraft flying overhead "as available" as the parade wraps up.
The parade, which is scheduled to fall on Nov. 11, Veterans Day, will be combined with Washington, D.C.'s annual Veterans Day parade and reportedly maintain a focus on veterans' contributions. "This parade will focus on the contributions of our veterans throughout the history of the U.S. Military, starting from the Revolutionary War and the War of 1812 to today," the New York Times reported the memo said. The Pentagon's memo also noted the parade would have "an emphasis on the price of freedom."
Trump's military parade will reportedly include soldiers in "period uniforms" and re-enactments as well as an "old guard fife and drum." It was not clear from the New York Times' report what exactly would be re-enacted as part of the parade. According to the New York Times, the memo also notes the Pentagon is planning for the parade to "highlight the evolution of women veterans from separate formations in World War II to today's integrated formations."
Trump first publicly tossed out the idea of organizing a military parade during an interview with the New York Times in July of 2017. During that interview Trump heaped praise on the Bastille Day event, calling it "one of the most beautiful parades I have ever seen" and then later "super-duper" and "an incredible thing." The president then said the United States "should do one one day down Pennsylvania Ave.," adding that he'd "always thought of that."
During a meeting at the United Nations in September, Trump told French President Emmanuel Macron that his administration was "actually thinking about Fourth of July, Pennsylvania Avenue, having a really great parade to show our military strength." An eager Trump went on to say he'd already spoken to Chief of Staff John Kelly about beginning the process of planning such a spectacle. "We're looking forward to doing that," Trump said, adding the United States was "going to have to try and top" France's Bastille Day event.
In February, Trump told FOX's Jeanine Pirro the parade was "preliminary being discussed" and that the military "loved the idea." "We'll see if we can do it at a reasonable cost, and if we can't, we won't do it. But the generals would love to do it, I can tell you, and so would I," Trump said. "I think it's great for our country in terms of being a cheerleader and the spirit, it's very important."
It's unclear what Trump's idea of "a reasonable cost" is. According to NPR, White House Budget Director Mick Mulvaney said "very preliminary" estimates for the parade put the cost somewhere between $10 million and $30 million "depending on the size of the parade, the scope of it, the length of it, those kinds of things."
In fact, concerns over the parade's potential cost have led to criticism from both Democratic and Republican members of Congress. "I think confidence is silent and insecurity is loud," Republican Sen. John Kennedy said in February in remarks referencing Trump desire for a military parade. "America is the most powerful country in all of human history; you don't need to show it off."