Trump's Vision Of "The Wall" Took A Sharp Turn — And Democrats Aren't Convinced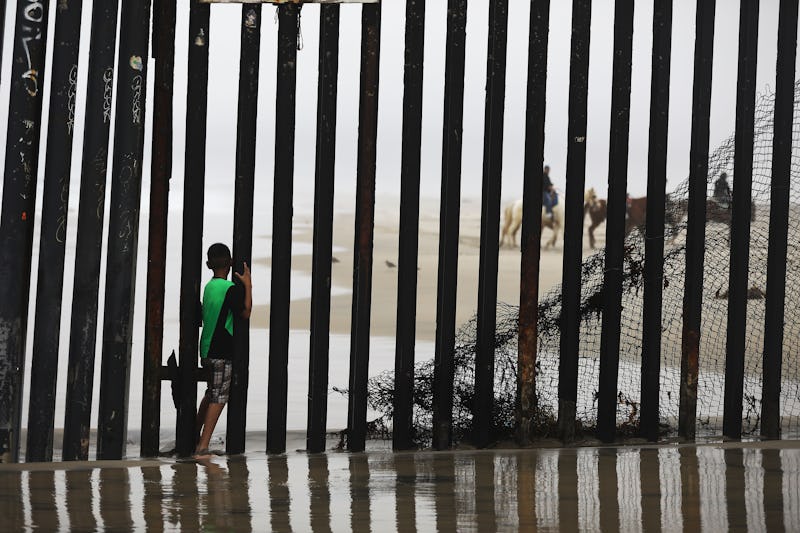 Mario Tama/Getty Images News/Getty Images
As the partial government shutdown spurred by Donald Trump's desire for a completed border wall persisted, the president addressed what the wall on the southern border would be made of on Sunday. The president implied that Democratic lawmakers — who have repeatedly said no to funding the border wall — might okay the construction if he changed the building materials.
"They don't like concrete, so we'll give them steel," Trump said of Democratic lawmakers at a press conference outside the White House, according to CBS News. "Steel is fine. Steel is actually more expensive than concrete, but it will look beautiful and it's very strong. It's actually stronger."
In a two-page letter sent Sunday to congressional leaders, the Trump administration asked for $5.7 billion to build the wall, according to The Washington Post. The letter asked for $800 million to address needs of unaccompanied children at the border in addition to the "steel barrier," according to the newspaper.
On Saturday, Trump told reporters outside the White House that he was considering declaring a national emergency to build out the border wall. "We're looking at a national emergency because we have a national emergency," Trump said, according to Bloomberg.
During the 2016 presidential campaign, Trump promised a concrete wall to his supporters. Now, Trump has embraced steel instead. "V.P. Mike Pence and group had a productive meeting with the Schumer/Pelosi representatives today. Many details of Border Security were discussed. We are now planning a Steel Barrier rather than concrete," Trump tweeted on Sunday. "It is both stronger & less obtrusive. Good solution, and made in the U.S.A."
Despite Trump's evolution on building materials, House Armed Services Committee Chairman Rep. Adam Smith told ABC's This Week that the composition of Trump's proposed border wall really doesn't matter. "The president really doesn't understand the issue," the Democratic congressman told host George Stephanopoulos on Sunday. "All border security experts that I talk to say, where a wall makes sense, it's already been built."
Smith said he's yet to hear a convincing case for the wall. "The wall is not in itself a bad idea, it's just...it's been done," Smith said on This Week. "And what the president has not done is he has not made the case that on the portions of the border where a wall has not been built, how is a wall going to actually enhance border security?"
Smith said Trump's plan is unnecessary addition. "There is no evidence whatsoever that that's necessary, and yet he is willing to shut down the government and stop paying border patrol agents," the new chairman said. Employees with U.S. Border Patrol as well as Immigration and Customs Enforcement are among the federal workers considered "essential" by the government. This means these employees must work without the promise of a paycheck during the shutdown, which began on Dec. 22, according to The Washington Post.
Beyond Smith's practical reasons for not supporting Trump's plan, other Democratic lawmakers have called the wall "an immorality" in their reasons to not support Trump's plan. "A wall is an immorality between countries," House Speaker Nancy Pelosi told reporters on Thursday, according to USA Today. "It's an old way of thinking. It isn't cost effective."
Thursday was the same day the Democratic majority in the House of Representatives passed a bill to re-open the government. According to USA Today, Pelosi added: "We're not doing a wall."