Here's What Your Hands & Fingers Can Predict About Your Love Life, According To A Palm Reader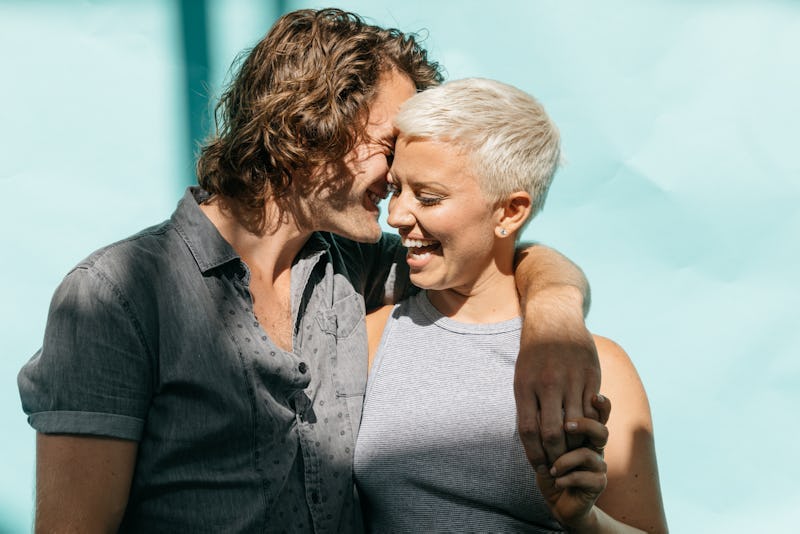 Ashley Batz/Bustle
Palm reading is a pretty fascinating art. You may not think all the numerous lines, shapes, crosses, and branches on your hand have any real meaning to it, but they may indicate something greater about your life. If you're looking for some guidance in your love life, a quick glance at your hand can help you find what you really need in a relationship in order to be happy. And yes, this can help you figure out what your partner or potential partner needs as well.
"A palm reader can look at someone's palms in five to seven minutes and quickly determine many of their character traits, talents (hidden and visible), what they have done with them, and what changes they can make in their life in order to be happy," psychic and spiritual counselor Davida Rappaport tells Bustle. When it comes to love, there are a few things that can quickly give you insight into your needs so you can find a happy relationship with another person without needing to do a ton of deep analysis.
According to Rappaport, characteristics like length, shape, thickness of your fingers and nails, and the raised areas or "mounts" of your palms rarely ever change. But based on the choices you make throughout your life, the lines in your hand will change from time to time.
"The major hand, the hand people use to write with, will show the choices someone makes, and their lines will change more often than the lines on their minor hand, which is the hand that shows someone's potential," she says.
If you take a look at both of your palms right now, you'll notice that the lines are either reasonably similar or totally different. If they're similar, Rappaport says you're probably following what you were "programmed" to do in life, based on your upbringing or genetics.
But if both palms are noticeably different, this shows that the choices you've made have changed your life. "In many cases, you may have made some excellent choices and your life has improved as a result," she says. Some lines may become deeper with age, while some lines may be light and barely visible. Those variations help determine your personality, which means there isn't always a one-size-fits-all interpretation.
Palm lines are just one thing readers will look at to give you information about your love life. But if you want the quick version, here's what you can learn about yourself in love, just by looking at the size and shape of your hands and fingers.