Ashley's Actions Will Be Explained Soon, Says The 'Million Little Things' Star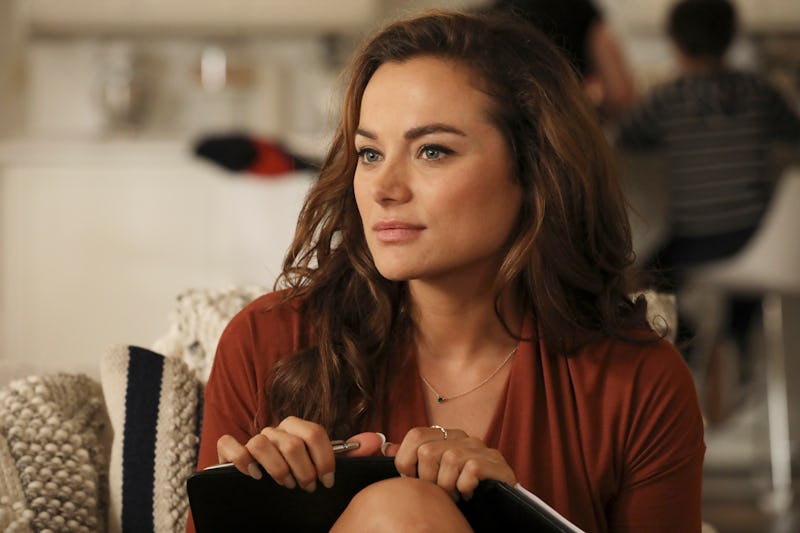 Jack Rowand/ABC
Every character has secrets on A Million Little Things, but Ashley seems to be hiding more than anyone. As Jon's assistant, she was privy to information that none of his friends, or even his wife knew. And, because of some of the actions Ashley took after his death, fans have questioned her intentions. But Christina Ochoa, who plays Ashley on Million Little Things, wants audiences to keep an open mind about her character — because there's so much more to explore with her.
"We'll reveal a little bit of her backstory as we start, not justifying, but explaining some of the actions that she's taken so far," Ochoa tells Bustle. "One week you'll see something she does, and you'll judge her for it. And then the next week, we'll discover why she's doing it, [and] we'll question our own judgement, which is part of the fun of doing a show with these flashbacks and reveals."
There's been more than meets the eye for all of these characters, and Ashley's character development is starting to get to that point too. In a recent episode, fans saw Ashley's guilt about not having given Delilah her husband's suicide note, hinting that there was more to Ashley than her seemingly calculated, secretive actions.
Ochoa says that everything Ashley does is out of love, even if she may be misguided about the way she's going about some things. "She comes from a place of love, absolutely, for Jon and for his family," Ochoa says, adding that it's less about whether or not she was in love with Jon, and more that "she is lonely and she wants to help and be loved and she wants to love."
Ochoa notes that we don't see Ashley's family, and she doesn't talk about them. It seems like Jon and his family are all she has resembling one of her own — and she's fighting to hold onto that. "I think she has genuine affection and love for this family and she's trying to do her best to maybe protect them, maybe help them," Ochoa says. "Maybe we don't know why she's doing it, but it's definitely coming from her internal love. Whether it's right or wrong? We do a lot of things wrong for love. We all make mistakes."
One of Ashley's mistakes was taking the note addressed from Jon to Delilah. It's a move she made before she even knew the secrets inside it, further showing that it was more of a panic move than a calculated decision to hide Rutledge from Delilah.
"I think [Ashley] was a little bit in fight or flight mode at that moment," Ochoa says. "Sometimes you make a decision in panic and then eventually you have to live with all the consequences of that decision ... It's like telling a white lie and to cover the lie you have to continue building on it and then it becomes this big thing." Ochoa adds, "She panicked, she took the letter, she feels very, very guilty about it for a multitude of reasons, but then she's kind of had to build her whole world and story around it."
"Maybe we don't know why she's doing it, but it's definitely coming from her internal love. Whether it's right or wrong? We do a lot of things wrong for love."
Because she took the letter, Ochoa says fans now constantly ask her what's inside it. She can't give anything away, but she does say that it remains vital to the story. "The envelope is a character in this story, and we will reveal what's inside it little by little," she says. But don't expect too many answers. This is A Million Little Things, after all. Each reveal comes with a million new questions. "Eventually it will all come out," Ochoa promises. "But when we find out what's in the envelope, it's always going to be a partial bit of information."
Just like the show is piecing together pieces of the envelope puzzle, it's doing the same for its characters. Each week, fans will learn more about all of them, and especially Ashley. "Towards the end of the season, we get a little more of a glimpse of who Ashley is beyond her job and beyond her help towards the family and beyond her involvement with the group," Ochoa says. "So that's really where we start seeing a little more about who she is."
This is why Ochoa wants fans to keep an open mind. She jokes that even she doesn't have Ashley pegged yet, and she's the one playing her. So if the actor doesn't even know everything yet, the audience definitely needs to take a moment and let everything unfold before forming any lasting opinions. Nothing is completely as it seems on this show, and Ashley deserves the benefit of the doubt until everything gets explained.
If you or someone you know is experiencing suicidal thoughts, call the National Suicide Prevention Hotline at 1-800-273-8255 or text HOME to the Crisis Text Line at 741741. You can also reach out to the Trans Lifeline at 877-565-8860 or the Trevor Lifeline at 1-866-488-7386, or to your local suicide crisis center.