Ashley Might Be The Only One Who Really Knew Jon On 'A Million Little Things'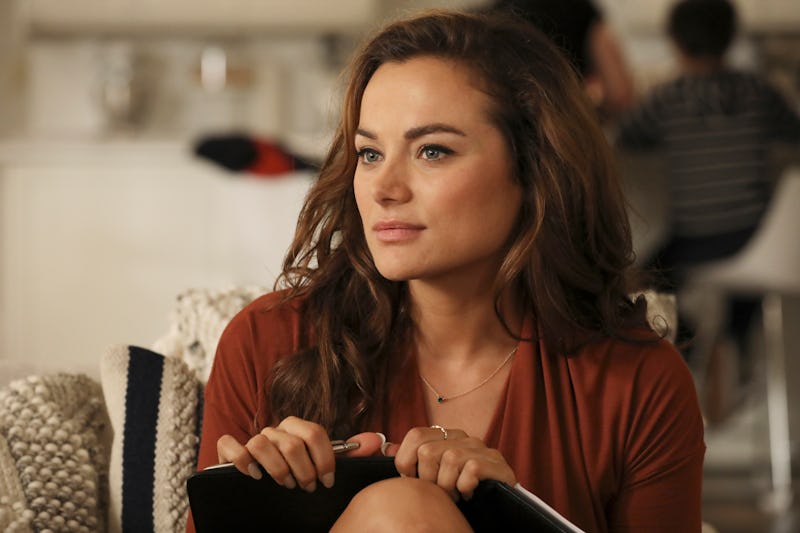 Jack Rowand/ABC
It's impossible to consume and be aware of all the new television shows that are released in a given year. With more channels than ever before, not to mention a growing number of streaming services, its easy to miss series that air on cable networks, which means you may not notice talents like Christina Ochoa, who plays Ashley on A Million Little Things, whose profile has steadily grown over the past few years with major roles on multiple television series on smaller networks.
ABC's A Million Little Things centers on a group of friends, but Ashley is not one of those friends — certainly not at the beginning of the series. Ashley was the assistant of Jon (Ron Livingston), core member of the show's central friend group, before he committed suicide. Jon's sudden death will surely connect Ashley to Jon's friends, and his widow Delilah (Stephanie Szostak), and may cause people to wonder if Ashley and Jon's relationship was strictly professional or more than that.
Ashley may not be part of the show's central friend group, but is instrumental in unravelling the mystery at the shows' core. In an interview with Fanfest, Ochoa explains that Ashley "is a little bit of a mystery and will remain so for a while. She's the only one who holds that key to unraveling the reason why John killed himself."
A Million Little Things marks the first major network role for Ochoa, who has played recurring or main roles on three separate television series since 2016, before coming to A Million Little Things. She plays the recurring role of Renn Randall on the TNT crime drama Animal Kingdom, starred as the lead role of Nora Madani on The CW drama Valor, and portrayed the role of Grace D'Argento on the SyFy show Blood Drive which dared to ask the question "what if cars could run on blood?" A Million Little Things doesn't feature the crime, guns, or man-eating cars of her previous work, serving as a relatively tame showcase for the actress.
Christina Ochoa's recent television resume is impressive, but her interests extend well beyond acting. In addition to acting, Ochoa is also a passionate student of all things scientific, having hosted the Know Brainer podcast and joining the advisory board for marine advocacy organization Oceana, per Fanfest.
Ochoa told Cliché Magazine that she balances her acting work with scientific endeavors, saying "I work more in sci-comm when I'm on hiatus and focus more on punctual philanthropic work while I'm shooting."
Ochoa's scientific background likely won't come into play during her performance as Ashely on A Million Little Things, but anything is possible considering how mysterious her character is. While Ochoa has been balancing a variety of different television roles for the past few years, it's possible that Ashley could be the role that helps Ochoa find an audience among viewers who want to know the truth about what happened to Jon. If the show doesn't come back for another season, however, it seems that Ochoa doesn't have much difficulty finding new television projects to work on, given her impressive recent track record.