This True Crime Special Looks Back On A Shooting That Dominated The Tabloids In The '90s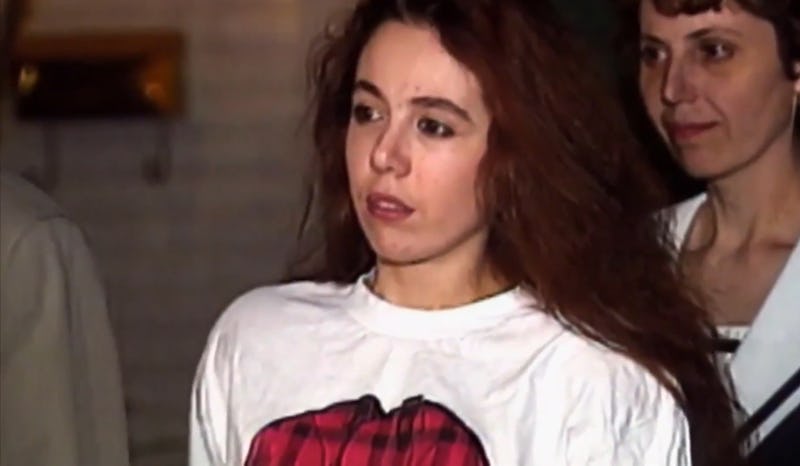 Oxygen
Amy Fisher's name is familiar to anyone who was even vaguely paying attention to the news in the early '90s, and anyone else who's a true crime buff intrigued by infamous cases. So where is Amy Fisher in 2018? Oxygen's Snapped is the latest program to tackle her case, looking back at what happened before and after she shot Mary Jo Buttafuoco in a suspected act of jealousy and subsequently pleaded guilty to aggravated assault, according to Newsday.
Fisher, who was a teenager when the assault occurred, spent about seven years in prison and was released in 1999, according to People magazine. The 1992 shooting came after she'd been romantically involved with Mary Jo's husband, Joey Buttafuoco, who was in his mid-thirties at the time.
On the day of the shooting, Fisher showed up on the Buttafuocos' doorstep with a gun, and shot Mary Jo directly in the head, according to Time magazine. Mary Jo, who has since gone on to write a book about the experience, miraculously survived, though she had nerve damage that was still being repaired as recently as last year, per People.
Since her sentence ended, Fisher has dabbled in the adult film industry, briefly wrote a column for the Long Island Press, has been married, divorced, had three children, and written a book, the article goes on to say. She has a Twitter account, but it's been inactive for a couple years.
The most recent update on her life appears to be a story from last year from the New York Post, which reported she was living back on Long Island, where the shooting occurred. She was previously living in Florida with her kids, but was being harassed and stalked, the article goes on to say.
"I was really scared," she told the outlet. "I want me and my children to be safe. I don't want any lunatics coming after me."
Fisher has spoken out in the past about the shooting. In an interview with Oprah Winfrey, Fisher said that Buttafuoco knew of her bad relationship with her father, and that he "preyed upon her vulnerabilities" throughout their relationship. She told the Post in the above article that Mary Jo "really is a wonderful lady and I was just a stupid kid." And in 1999, she did issue Mary Jo a formal apology. "What happened to you — it wasn't your husband's fault … it wasn't my father's fault. It was my fault, and I'm sorry," she said, according to another People report from 1999.
According to Mary Jo, she doesn't think about Fisher at all these days. "She hasn't made good choices, that's her decision. I wish she hadn't," she told Dr. Oz last year, according to another People report. "I forgave her. I forgave her more for me, because again, like I said, when you got this anger and this bitterness you have to say, 'You know what, I can't keep you in my head anymore.'"
Mary Jo Buttafuoco's testimony about the case is heavily featured in the upcoming episode of Snapped, where she'll apparently describe at length both the shooting and the intense public scrutiny that followed throughout the trial. She stayed with Joey after the trial for several years, even though he was sentenced to six months in jail after pleading guilty to the third-degree rape of Fisher, the New York Times reports.
"Reliving my life and realizing now that I was married to a very, very good sociopath, I can see why I stayed," Mary Jo said in the Time report. "We had been married for 15 years up to that point. And I believed him. It's as simple as that. I believed him when he said he had nothing to do with her."
Though the upcoming episode of Snapped appears to focus more heavily on Mary Jo's experience than Fisher's, it could shed some light on why exactly Fisher did what she did, and how the shockwaves of the shooting still endure today.