Shep Rose's 'RelationSHEP' Winner Seems To Have A New BF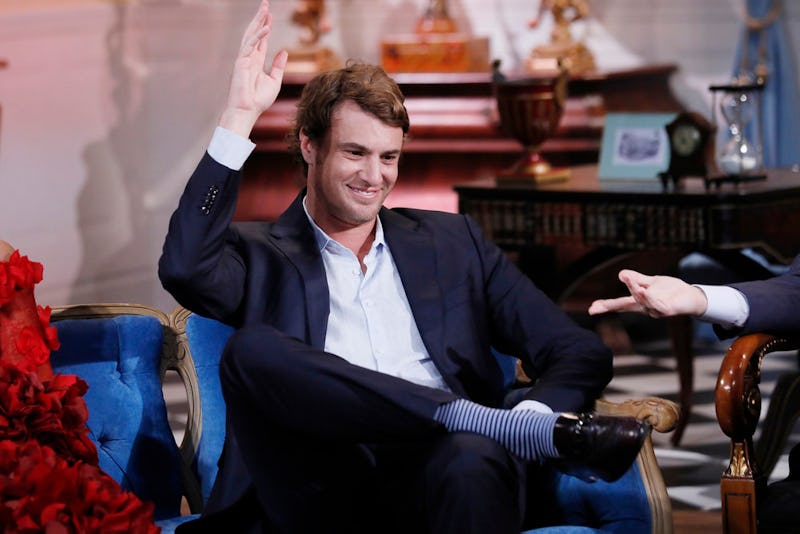 Heidi Gutman/Bravo
Shep Rose is looking for a woman to spend the rest of his life with, and unfortunately, he's not having much luck. Bravo even gave him his own show, RelationSHEP, to help him find someone to settle down with. At the end of the show, Southern Charm-er Shep decided that Bella Clark, one of the contestants who had already left Charleston, was the one, and he raced to New York to find her. It was cute. Violins swelled, etc. But, on the premiere of Southern Charm, Shep revealed that these two aren't together anymore. What happened? What is Bella doing after her breakup with Shep?
Honestly, Bella and Shep were so far out of left field that many viewers didn't see it coming. They had a great relationship when Bella was in Charleston on the show, but she got summoned back to her job, and she had to go. They were both sad-ish that she was leaving, but it seemed that Shep would go with one of his final two — Priscilla or Peyton? In the end, Shep told his producers that Peyton and Priscilla were cool, but Bella was the one he couldn't stop thinking about, and he flew to New York, flowers in hand, to confess his love. Bella didn't seem like she was expecting Shep, but she took him in anyway, and it was more romantic than I could ever give Shep credit for. But, alas, it wasn't to last.
From the looks of it now, Bella is starting her own #brand. She has a blog, which seems to focus primarily on travel and lifestyle, and her Instagram is full of her adventures. Bella doesn't need Shep — she can turn this 15 minutes into something bigger (hopefully). On the Morning Breath, Bella hinted that she needed someone with a little more get-up-and-go than Shep. "We tried to make it work after the show, but I think once you're off camera, you get to know someone a little bit better, and I just realized we didn't have as much in common as we initially thought," Bella said. "At the end of the day, I really admire [an] ambitious and hardworking guy. [Shep] always says, 'You need to settle up, not down.' So that's what I did."
Did you feel that shade? Because I did. Bella seems to have found a guy that floats her boat more than Shep — at least based on her IG pics.
On the premiere of Southern Charm, Shep told Cameran, "I went up to New York a handful of times, but it just kind of became apparent that [Bella and I] were on different wavelengths. Like, she and her friends would go home at 11pm, and I was like, at the bar … It just became obvious that we weren't in the same headspace. I went to New York for five nights, and she saw me for two of them."
Cameran, who is not one to suffer fools, said, "So really, for it to work out with somebody, you need a girl that stays out until 4 o'clock in the morning, but she reads the classics … I mean, who is this girl? She doesn't exist. It's always, 'She's a great girl, but…'"
Thank you, Cameran, for being the Greek chorus of all Bravo viewers.
It's understandable that Bella and Shep didn't work out because they didn't really get the chance to know each other before committing to a boyfriend/girlfriend set up. That and the distance and the fact that Shep has some pretty idealistic and unrealistic expectations of the woman he'll end up with likely doomed Bella and Shep's romance before it could even start. But there's no need to shed tears — it seems like Bella and Shep are both landing on their feet.
This article was originally published on