Danielle L. Is Cringing At These 'Bachelor In Paradise' Moments, Too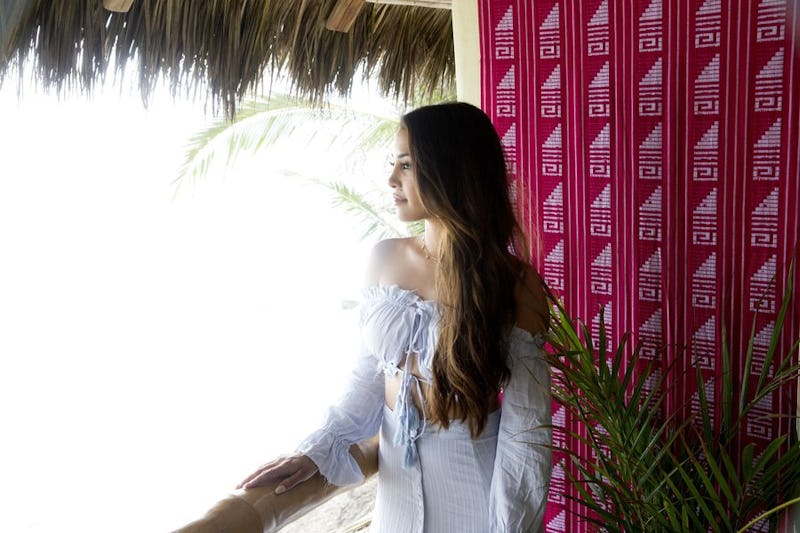 Paul Hebert/ABC
Every new arrival on Bachelor in Paradise has the potential to make waves — and Danielle Lombard did just that. She came to Mexico and asked out Dean on a date, thus creating an unexpected love triangle between herself, Dean Unglert, and Kristina Schulman. What Danielle L. is doing after Bachelor in Paradise is filled with fun and Bachelor franchise alums, as evidenced by her social media posts. Since Season 4 is still airing, so there's no social media proof if anyone of the women ended up with Dean, but it doesn't sound likely that Kristina and Danielle L. emerged as friends, based on recent interviews.
Danielle arrived in Paradise and asked Dean out with her date card — all innocent actions, considering she didn't necessarily know that Dean and Kristina had traveled together during the Bachelor in Paradise production shutdown. Danielle recently told Us Weekly:
If Kristina and I were close friends and she wasn't comfortable with me dating Dean, then I would have just backed off. But that wasn't the case. We talked a lot during the show. We had a conversation and we've talked afterwards. And I think it's one of those situations where you can't help who you love and it's a tough situation.
It's not clear how the love triangle will play out, but Danielle has been watching Bachelor in Paradise Season 4 as it airs on ABC. "Watching it back, it's cringeworthy, because I see the miscommunication," she told Entertainment Tonight during a Facebook Live interview.
When Danielle isn't talking or tweeting about Season 4, her social media posts show that she's having a blast on the West Coast. She's set to appear at a Bachelor charity event on Sept. 6 in Santa Monica along with Robby Hayes, Lauren Bushnell, Jasmine Good, and more Bachelor alums; the event will benefit Restore Dignity, a non-profit that gives financial assistance to Survivors of campus sexual assault and hazing.
Throughout the rest of her post-Paradise summer, Danielle has hung out with fellow Paradise dwellers Robby Hayes and Jasmine Goode at TCL Chinese Theaters in Hollywood, went to Disneyland with Alexis Waters and other Bachelor in Paradise alums, and seemed to have a blast with Raven Gates at Malibu Wines.
Danielle also took a trip out of Los Angeles for a little bit, heading to Punta Cana, Dominican Republic, with Jasmine, Raven, Sarah Vendal, and Astrid Loch. According to E! News, the trip was supposed to be Bachelorette Rachel Lindsay's engagement party, but Rachel missed it for unknown reasons.
Danielle seems to be having a great time after Bachelor in Paradise — no matter how that Dean love triangle panned out.