Danielle L. Explains Whether She & Kristina Are Friends After 'Bachelor In Paradise'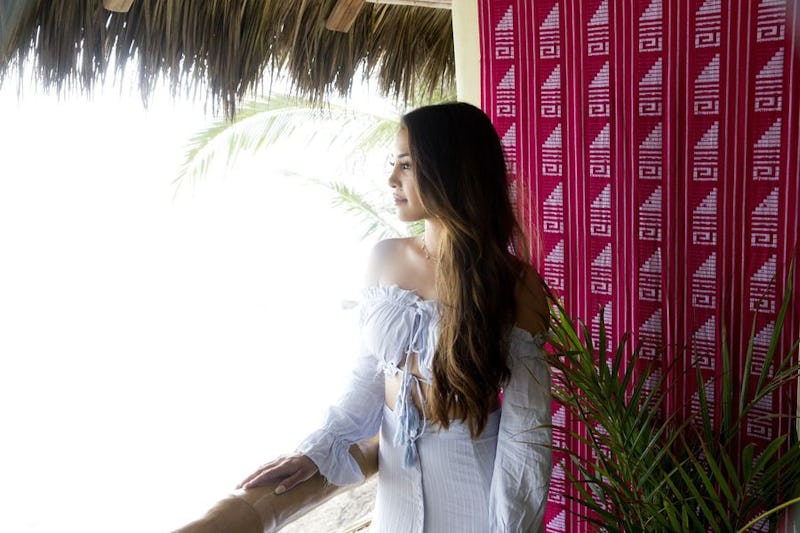 Paul Hebert/ABC
Beyond the romances that stem from the roses handed out, many friendships are formed because of Bachelor Nation. Yet, it could understandably be hard to make friends or stay friends when you share the same love interest. For Bachelor In Paradise Season 4, one of the biggest love triangles so far has been between Dean Unglert from Rachel's season of The Bachelorette and Kristina Schulman and Danielle Lombard from Nick's season of The Bachelor. With Kristina and Danielle L. on Bachelor In Paradise both pursuing Dean — and with Dean seemingly leading them both on — things are tense between the two women. And based on social media and interviews given by Danielle, Kristina and Danielle aren't friends after Bachelor In Paradise. But if it's any consolation, Danielle indicated that they were never really close in the first place.
While Kristina has been using her Twitter to express some negative feelings toward Dean, Danielle has been speaking to the media about the love triangle. "Kristina and I, we've always… I wouldn't even say we're friends," Danielle told Us Weekly. "At the end of the day, I know how my actions can be perceived on television and I know what really happened. And if Kristina and I were close friends and she wasn't comfortable with me dating Dean, then I would have just backed off. But that wasn't the case."
She continued:
"We talked a lot during the show. We had a conversation and we've talked afterwards. And I think it's one of those situations where you can't help who you love and it's a tough situation. Dean really needed to step up and take on that role of really talking to us both and being very transparent, so it will be interesting to see what happens."
Danielle also spoke to Entertainment Tonight for a Facebook Live video, where she opened up about the love triangle again and explained where her relationship with Kristina stands today. She said:
"We hung out over the weekend for Raven's birthday in LA and we've seen each other at events. I think it's still kind of a tough situation to be in, especially when things still might not be clear to this day. But I don't have anything against her personally. I hope for the best and I think everything will have a way of working itself out."
You can hear Danielle speak about it in the below video at 5:36.
Since Bachelor In Paradise is still on, fans don't know if Danielle or Kristina will end up with Dean — or if they'll all leave Mexico single. And Danielle's comment to Entertainment Tonight implies that this love triangle may not be completely resolved even now that Bachelor In Paradise is done filming. (Although Dean did say he found love in Paradise and signs point to him being with Danielle over Kristina.)
Despite what went down in Mexico and any residual hard feelings, Danielle must still interact with Kristina because of Bachelor Nation duties and having similar friends. And though Danielle said they were never truly friends, Danielle and Kristina were hanging after The Bachelor and before Bachelor In Paradise for the same reasons, as evidenced by some posts on social media.
Although they look close in the above photos that highlight their time in Las Vegas in May with other contestants from Nick's season, Danielle's interviews are adamant that she was never super tight with Kristina. And that seems to be even more true during and after Bachelor In Paradise, thanks to the added stress of the love triangle. So while it's good to know that Dean hasn't necessarily ruined a preexisting friendship, don't ever expect Kristina and Danielle to be besties — no matter how this love triangle plays out.