'American Crime Story' Shows How Tragedy Began Donatella Versace's Trailblazing Career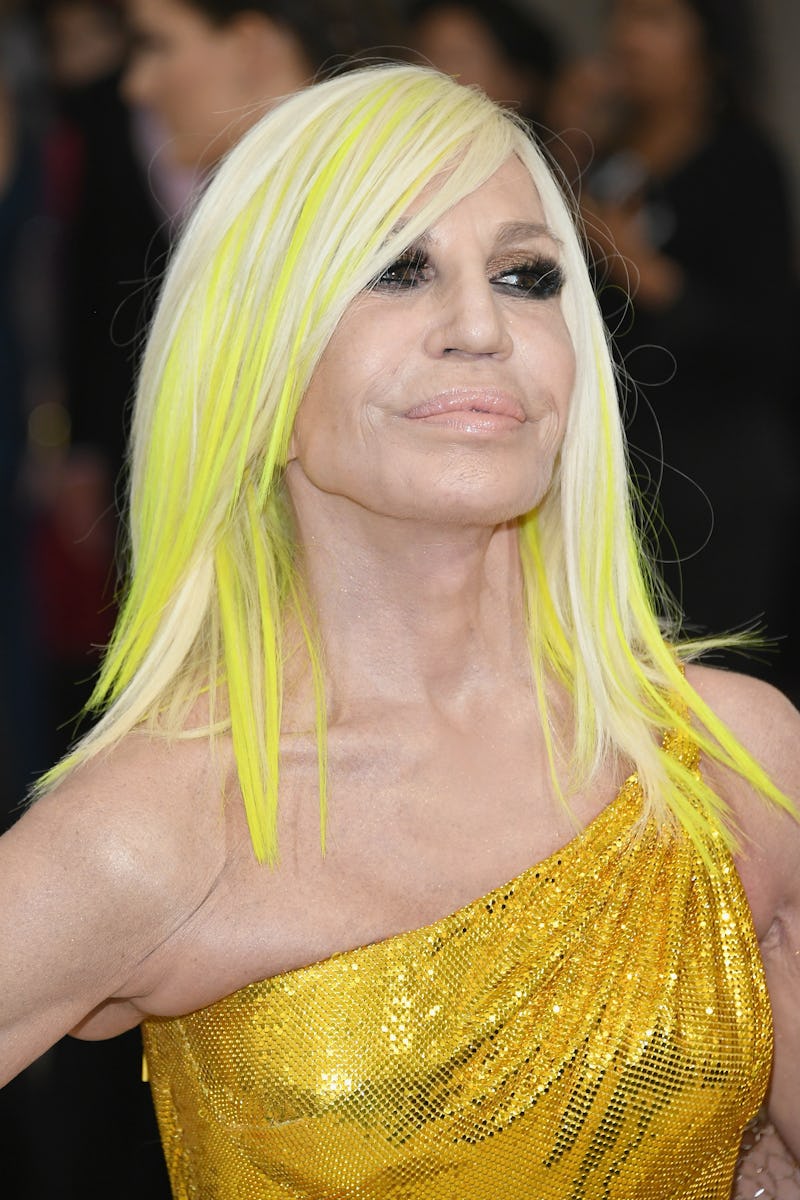 Dia Dipasupil/Getty Images Entertainment/Getty Images
There are few people in the world who can be recognized immediately by just one name. And Donatella — Donatella Versace — is one of those icons. Her name immediately registers as the head of one of the most legendary and persevering fashion houses out there. The Assassination Of Gianni Versace: American Crime Story (writer: Maureen Orth) will focus on the tragic murder of Donatella's brother and founder of the fashion house that bears their family name. It will also chronicle her sudden, unexpected rise from helming one line — Versus — to having creative control of the brand. She has managed to not only maintain but continue to expand what her brother began. What is Donatella Versace doing in 2018?
Well, it looks like Donatella is continuously doing what she has always done best. The artistic director and vice-president of the company is taking the brand to new levels and continuing to produce new designs to stay relevant in the ever-so-fickle world of high fashion. Although rumors ran rampant in 2016 that she would possibly be soon handing the creative control of Versace over to a successor, she told The Guardian that this was untrue and the reins would be staying in her hands for the foreseeable future instead of being handed over to former Givenchy designer Riccardo Tisci. So, it appears that 2018 will continue to see Donatella at the helm of Versace. And she is definitely not resting on her laurels.
A look at her Instagram immediately shows that Donatella is still making huge waves in fashion. On Jan. 13, Versace debuted this year's Menswear line at Milan Fashion Week 2018. The show was livestreamed and included a new collaboration between Donatella and rapper 2Chainz. The pair created an exclusive sneaker line that features elements from both Versace and 2Chainz's brands. This appears to be just the tip of the iceberg when it comes to surprising moments from Donatella and her company in 2018. In an interview with Vogue, the designer promised that, "2018 will bring a lot of new, exciting things, you will see."
One exciting project that Donatella is commited to happens to be something that everyone can appreciate. She has recently started trying to turn Versace into a completely environmentally sustainable operation. In the Vogue interview mentioned above, Donatella said, "We need to respect our planet and we need to do it now or it will be too late. It's not only the way we produce the clothes, the materials we use, or how we use them, it's also a new culture inside Versace, a culture that puts people and their well-being in the center."
Meanwhile, the brand continues to be popular with celebrities. This month, Versace's fashion was on some of the biggest names in Hollywood at the Golden Globe Awards, including Best Actress winner Saoirse Ronan, the iconic Oprah, and the always amazing Angelina Jolie. The all-black red carpet theme memorably honored the #TimesUp movement.
And it seems that Donatella is fully focusing on her work. When asked by the same Guardian interviewer about any romances [she split from ex-husband Paul Beck in 2000], Donatella emphasized her busy creative life. "I need to know what is going on," she said. "Fashion processes sociology. You can see everything in clothes." That kind of dedication is one of the reasons why she was awarded Fashion Icon of the Year Award at the British Fashion Council's Fashion Awards this past December.
And now, the icon is a dramatized version of herself in FX's American Crime Story, portrayed by her friend Penelope Cruz. During an appearance on Ellen, Cruz said that it was important to her to discuss the role with Donatella herself because even accepting it, per Harper's Bazaar. "She [Donatella] told me if somebody was going to do it, she was really happy that it was me," the actor told host Ellen Degeneres, "Because I think she knows what I feel for her and Gianni." Creator Ryan Murphy told Entertainment Weekly that, though he told Donatella Versace that he would not send scripts or other information for approval, that Donatella would be treated as a "feminist hero" by the series.
However, the Versace family issued a statement on Jan. 10 emphasizing that they had no part in the series and that it should be considered "fiction." The whole statement reads:
"As we have said, the Versace family has neither authorized nor had any involvement whatsoever in the forthcoming TV series about the death of Mr. Gianni Versace, which should only be considered as a work of fiction. The company producing the series claims it is relying on a book by Maureen Orth, but the Orth book itself is full of gossip and speculation. Orth never received any information from the Versace family and she has no basis to make claims about the intimate personal life of Gianni Versace or other family members. Instead, in her effort to create a sensational story, she presents second-hand hearsay that is full of contradictions.
As just one example, Orth makes assertions about Gianni Versace's medical condition based on a person who claims he reviewed a post-mortem test result, but she admits it would have been illegal for the person to have reviewed the report in the first place (if it existed at all). In making her lurid claims, she ignores contrary information provided by members of Mr. Versace's family, who lived and worked closely with him and were in the best position to know the facts of his life.
Gianni Versace was a brave and honest man, who engaged in humanitarian work for the benefit of others. Of all the possible portrayals of his life and legacy, it is sad and reprehensible that the producers have chosen to present the distorted and bogus version created by Maureen Orth.
The Versace family will issue no further comment on the matter."
Bustle has reached out to the network for comment but has not received a response as of the time of publication. The network responded to an earlier Versace family statement with the following, however:
"Like the original American Crime Story series The People Vs OJ Simpson, which was based on Jeffrey Toobin's non-fiction bestseller The Run of His Life, FX's follow-up The Assassination Of Gianni Versace is based on Maureen Orth's heavily researched and authenticated non-fiction best seller Vulgar Favors which examined the true life crime spree of Andrew Cunanan. We stand by the meticulous reporting of Ms. Orth."
However you classify the second season of American Crime Story, the upward trajectory of Donatella Versace's career is a known fact. And in 2018, she's still on top of her industry.