You Will Want Literally Everything From Ilana Glazer & Phoebe Robinson's New Clothing Line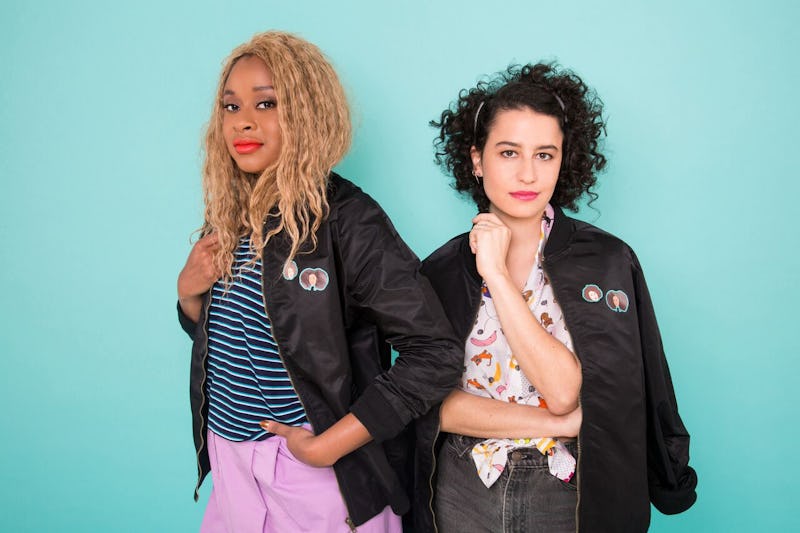 WILDFANG
If you're a fan of Ilana Glazer, who has brought you Broad City, or Phoebe Robinson, who has brought you 2 Dope Queens, then you're going to love this new clothing collection. Clothing company Wildfang has partnered with the two comedians to create a limited edition line, dubbed YQY (Yas Queen Yas), to celebrate their YQY tour. The inclusive line features tops, bombers, and tote bags that fall in line with two comedic giants' style. With the two women leading creative direction of the collection, you know the pieces have turned out nothing short of amazing.
The idea behind the line isn't just to sell merch for their tour, but also to connect with people who couldn't snag tickets. It's kind of like J.K. Rowling printing out The Cursed Child for those who couldn't have afforded to jump on a flight to London to see what Harry and the gang have been up to since graduation.
"The tour is entirely sold out, so this partnership is super exciting for us and is a great way to be there even if you can't actually be there," the pair say via a press release.
Featuring five items in total, fans can choose between a black bomber with the words "Yaaas Queen Yaaas" emblazoned on the back, a cap with the same slogan, a T-shirt or tote with Glazer and Robinson surrounded by glittering stars, and a notebook.
"The phrase 'Yas Queen' originates from queer people of color in the 1980's drag ball culture, and dat vogue-ing tip," Glazer tells Bustle. "It's definitely trickled into the intersectional feminist movement today. We just want people to celebrate that."
The duo teamed up with artist Robin Eisenberg to create the cheeky pieces, who is known for her colorful and acid trip-y art. But the message of the collection goes far beyond pure aesthetics and into overall inclusivity.
"The message is just Ilana and I are cute," Robinson tells Bustle. "No, but it really is cool to see a curly haired Jewish woman and a black woman be the face of a small collection. Neither of us would be considered typical because she's on the shorter side and I'm a size eight, so it's just fun to be adding another kind of look to the landscape."
If you watch Glazer's show or listen to Robinson's podcast, you know that intersectionality and representing all kinds of people are important to the two comedians. That fact is not only present their collection, but also in their opinions of who is best suited to rock the collection.
"I think bad bitches and gay boys and hot butch girls and proud feminists and even straight dudes are gonna rock the shit out of this merch," Glazer says.
If you're ready to make the YQY collection part of your own wardrobe, check out the options below.
1. YQY Bomber
YQY Bomber, $88, Wildfang
Stay warm this fall with a limited edition Glazer and Robinson jacket.
2. YQY Crop Top
YQY Tee, $36, Wildfang
Make a statement with two of you favorite comedians striking a pose across your chest.
3. YQY Tote
YQY Tote, $18, Wildfang
Throw your groceries or chapter books into this cotton tote. Never again bring your avocados back home in a bland, beige canvas bag.
4. YQY Notebook
YQY Notebook, $10, Wildfang
Taking notes has never been so fun.
5. YQY Snapback
YQY Snapback, $32, Wildfang
Whether you buy this for a friend for the holidays or snap it up to wear yourself, it's a great addition to any wardrobe.
While seeing the two women live on their tour would be a total dream, owning their cheeky merch is a great consolation prize. Say it with me: "Yaaas."