Kylie Is Launching A Super Spooky Halloween Collection & It's SO Different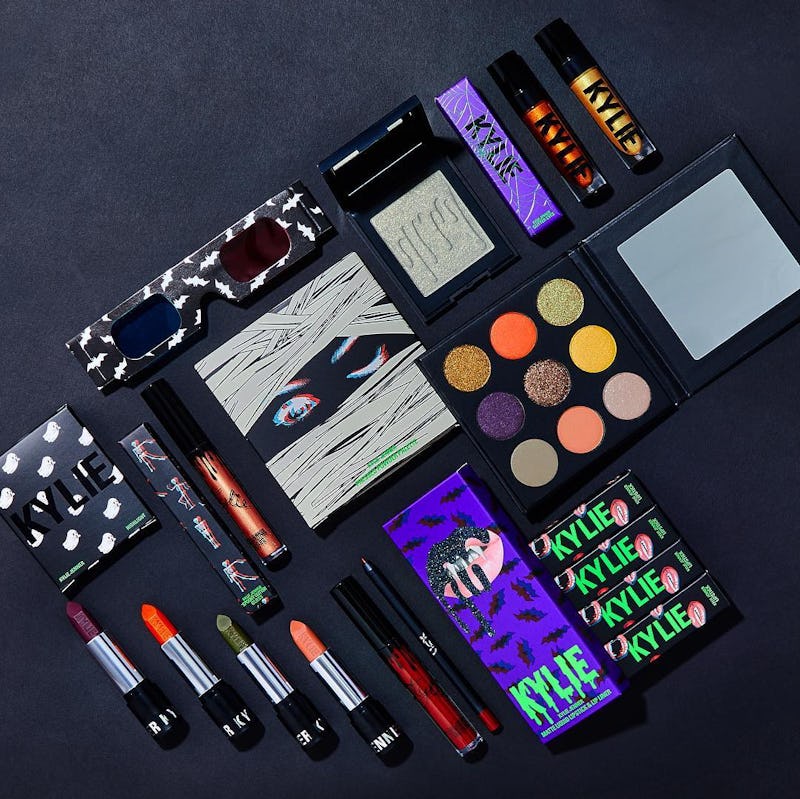 Kylie Cosmetics/Instagram
Kylie Cosmetics loves a good theme, and Kylie Jenner's eponymous brand certainly knows how to execute one. The brand's latest foray into themed products is the new Kylie Cosmetics Halloween Collection, and it's a purple and green hued, spooky take on some of the brand's classic products.
You may shocked to hear that Kylie Cosmetics is launching a brand new collection. After all, the brand just launched their highly anticipated Jordyn x Kylie Collection a few weeks ago. Before that, there was Jenner's annual birthday collection. To say that Jenner has been busy would be an understatement, but it hasn't stopped her from celebrating the spookiest time of year with some super-cute, themed products.
On Tuesday, Jenner teased the collection on Instagram and let fans know that the full reveal would be coming on Wednesday. Now, it's here, and so on point. Jenner took to both the brand's and her personal Instagram accounts to unveil the Kylie Cosmetics Halloween Collection piece by piece for her fans, and there's some seriously killer (no pun intended) products coming out just in time for you to get your spooky on. From lipsticks to eyeshadows to a highlight, Jenner certainly didn't skip out on Halloween (even if she has been a busy makeup mogul).
Inside the collection, fans will find two new bullet lipsticks in a new metallic formula, a brand new lip kit shade, a gloss, two liquid glitter eyeshadows, a new palette, and a highlighter. See? Definitely not skipping out for Halloween.
First, Jenner debuted a new lip kit shade named Bite Me. Appropriately, it's a gorgeous red shade. Get it? Bite me. Blood. Vampires.
Next up, she showcased her brand new gloss in the shade Spooky.
Of course, everyone loves a good highlight, and Kylie Cosmetics didn't let fans down for Halloween. Go Ghost is a golden glow in a pressed powder formula.
Jenner's kind of become known for here eyeshadow palettes now. She releases one for nearly every collection (just think about the Jordyn x Kylie collab and her birthday collection). Halloween is no exception.
Jenner then went on to debut a different type of eyeshadow. While the brand's liquid and glittering shadows aren't new, there are two new colors in honor of Halloween.
Finally, the Kylie Cosmetics mogul gave fans a look at the collection's classic bullet lipsticks. While there are two mattes like her existing lippies, there are two new metallics which marks a new product for the brand.
Just look at how incredible these swatches are!
After debuting the Kylie Cosmetics Halloween Collection on Instagram, Jenner took to her Twitter to thank fans their excitement and express how much she loves developing new items for her fans.
If the new Halloween goodies seem perfect for your spooky October plans, then get your pens out and get ready to mark your calendar. The Kylie Halloween Collection is set to launch on Oct. 12, just in time for you to snag the products and rock them for the spookiest season of them all. Whether you're feeling a new red lip or an ultra witchy green, Jenner's new collection has you covered.