These Drag Queens Came To 'Sleigh' The Holidays In This Year's Lush Christmas Campaign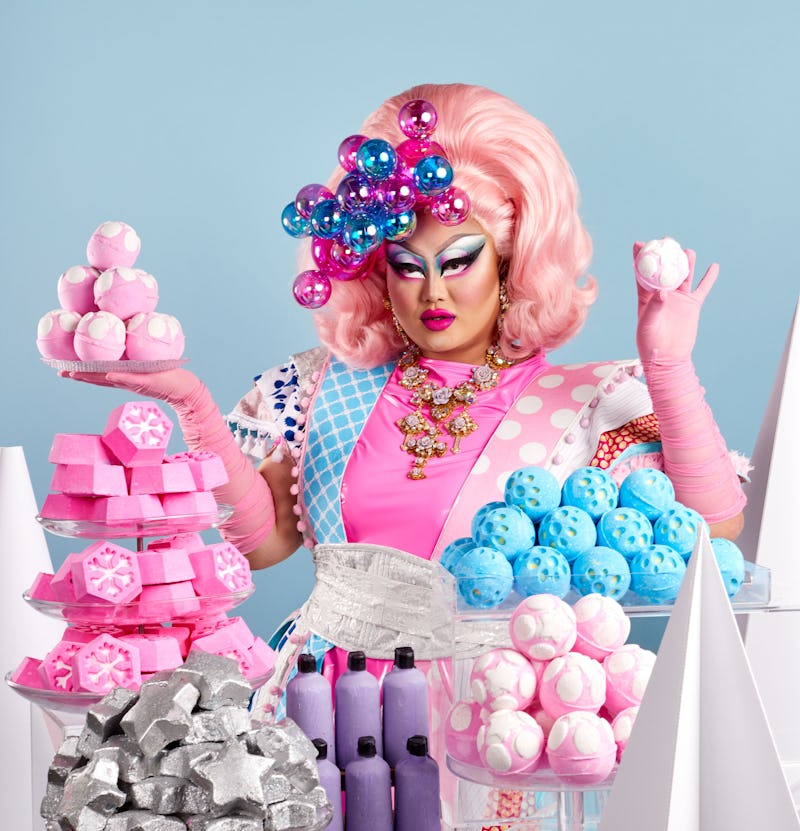 Courtesy of Lush Cosmetics
Before you know it, you'll be running around town like a headless chicken for last minute Christmas gifts. The routine rubbing of the temples will kick in and you'll need something soothing, quick. But you've got SheMail this Christmas season, and the message comes straight from Lush Cosmetics' new holiday range featuring Kimchi, Detox, and Shea Couleé from RuPaul's Drag Race. Can you say "Yas, queen?" Thought so.
Ringing in the season with a new line of colorful bath bombs and body conditioners, Lush serves its fans with three of Drag Race's most coveted queens. Inspired by the cosmetic brand's holiday collection, all three queens will show out in full drag looks across its 250 shop windows.
Each queen will have her moment to be featured throughout the campaign from November to early December, bringing you festive realness. In a series of bath bombs, soaps, bubble bars, and shower gels made for the Yule Tide, each queen's look represents a theme in the line.
In a press release, Lush noted how each queen wears her Lush-inspired look. Kimchi's theme for her campaign is Cheery Christmas Vibes, Detox represents Dripping Luxury in her campaign and Shea Couleé brings it all the way back to a Classic Christmas.
One thing's for sure, these queens came to sleigh all Christmas day.
Starting with Season 9 finalist, Kimchi, who brought other-worldly "lewks" to the runway and holds nothing back in this bright Judy Jetson silhouette.
"There's a lot of fun vibrant colors, and I tried to mix a lot of prints, textures and colors," she said in a press release. "So a quilted masterpiece is what I'm serving you." She could turn dirt into gold.
This queen's look is inspired by Lush's Cherry Christmas bath bomb, Snow Fairy Jelly Bomb, Holey Night Bath Bomb, Star Light Star Bright Luxury Bath Melt, and its Sleepy Shower Gel.
All-Star Drag contestant Detox who donned killer gowns glams up in one dipped in luxury gold for her campaign.
"My look is a little vintage and nostalgic," she said. "Kind of like 50's glamour housewife, hosting a holiday party…with Lush product."
If you want to shop her sickening style in Lush products, pick up its Shoot For The Stars Bath Bomb, Perle De Sel Bath Bomb, Yog Nog Yule Log Bubble Bar, Golden Pear Soap, and Cinder Shower Gel.
In the final weeks of the campaign, Ms. Shea Couleé delivers evergreen and peppermint. The Season 9 Finalist wore an all red gettup with a party on top and evening wear on the bottom.
"I wanted a look inspired by 50's negligees and nightwear that references those 50's silhouettes," she stated, "but with a little bit of whimsy in there... all out of repurposed materials."
Shea has the Classic Christmas look and the products it was inspired by are deliciously shoppable. Grab the brand's Candy Cane Reusable Bubble Bar, Puddy Holly Bubbleroon, Santa Bomb Bomb Bath Bomb, Golden Wonder Bath Bomb, Lord Of Misrule Bath Bomb, and Butterbear Bath Bomb to shop this drag look.
If you're struggling to find the perfect gift for someone, a bubbly bath bomb might be the thing to gift someone after the holiday hype ends.
It'd be hard to believe someone would deny a soothing body product for a gift, but let this one be a drag you want.