ColourPop Is Launching A Make-A-Wish Makeup Collection Designed By A Young Girl Who Is Battling Cancer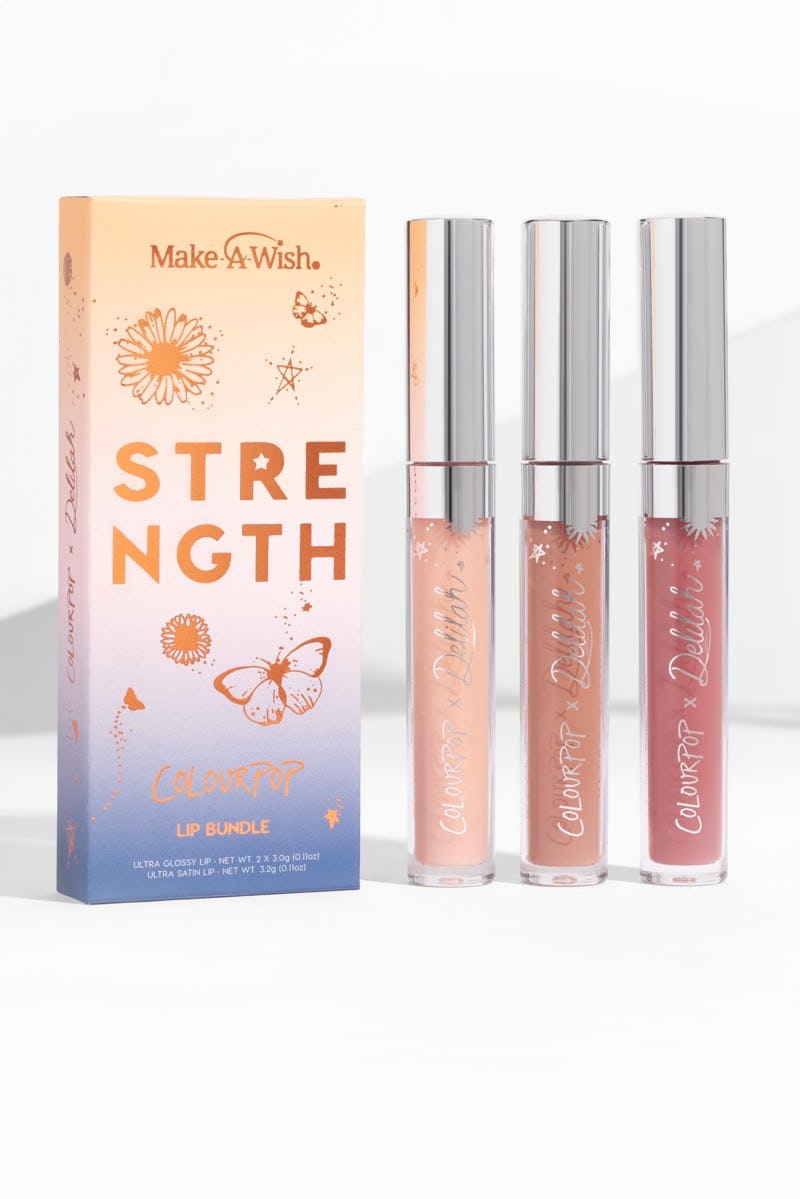 Courtesy of ColorPop
Grab a tissue and get ready for your expertly applied mascara to run — but the reason this heartwarming news brings you tears is so worth it. Bustle can exclusively reveal that the ColourPop x Make-A-Wish Foundation makeup collection is the result of a young cancer patient and makeup lover's desire to create her very own products in order to help others feel better while battling this disease.
Delilah Juarez was diagnosed with osteosarcoma, which is a form of bone cancer. It was her dream to create a makeup line for cancer patients and to assist those who deal with changes to their appearance due to their course of treatment. ColourPop helped make that dream a reality.
Juarez, 17, ultimately wanted others to have the same confidence and strength that she feels when she wears makeup. Thus, this partnership with Make-A-Wish Southern Nevada was beautifully born.
This collection truly recognizes the power that makeup has for so many women. It fuels creativity and makes the wearer feel good. The Delilah-designed products remind us why makeup matters on a whole other level.
Juarez traveled to ColourPop's L.A. HQ for a day of development. She worked alongside the brand to create the products, each of which is close to her heart.
Every product is christened after something Juarez has experienced throughout her cancer journey so far. For example, the "New Day" Ultra Glossy Lip is a reminder that every day is a gift and filled with endless opportunity.
The ColourPop x Make-A-Wish Collection will go on sale exclusively via the ColourPop site on Thursday, Oct. 11. The brand will also donate 20% of the proceeds to the Make-A-Wish Foundation. So these products not only make you look good. They will make you feel even better, since your purchase will benefit others.
There are three lippies, which will also be sold in a bundle. They are wearable, looks-good-on-everyone neutrals in two textures. The Ultra Satin Lip in Wish is a mid-tone peach x beige and was named after the charity. It costs $6.50. There are two shades of the Ultra Glossy Lip and they are $6 a piece. The aforementioned New Day is a nude shade while JJ is a pinky mauve that Juarez named after her sister.
The collection also features a Super Shock Shadow Foursome for $18. The color story mixes multiple tones. You can create so many unique looks with this set.
DJ is a red copper color that is named after Juarez herself. It is her collection, after all. Okay is a soft gold shade spiked with silver glitter. The name represents the word Juarez said to herself daily at the start of her experience with cancer. Cherish is a golden bronze dosed with silver glitter. Its name reminds the wearer to cherish every moment they are given because life is indeed precious. Lastly, Warrior is a deep teal hue splashed with turquoise glitter and it's how Juarez views herself and her disease.
Juarez is complete and total inspiration. The collection is "must get" for makeupistas and it will do so much more than prettify lips and lids. It demonstrates the emotionally transformative power of makeup and the support that can be inherent in the larger beauty community — and that's beautiful.