H&M Is Launching A Lingerie Collab That Is All About Perfectly Imperfect Undies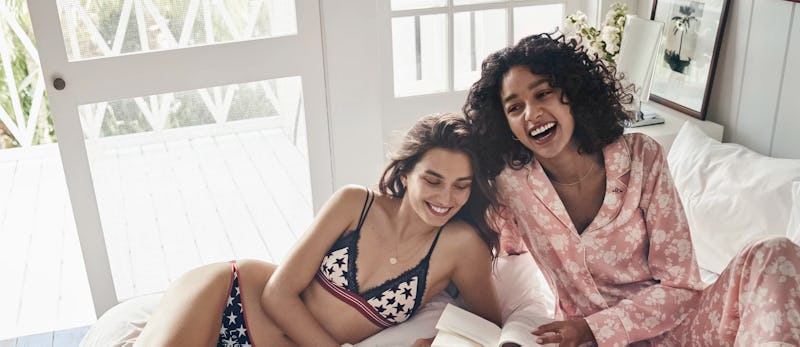 Courtesy of H&M
Your undies are going to be getting quite an upgrade. H&M and Love Stories are doing a lingerie capsule collection. The fast fashion giant and the Dutch intimates brand are collaborating on a 20-piece collection that boast bralettes, briefs, thongs, PJs, slip dresses, socks, kimonos, eye masks, travel bags, and more.
Yeah, it's basically all the sleepwear you need. It's "loungerie" and beyond, since there are loungewear-adjacent items, like the aforementioned masks and travel sacks.
According to the press release received by Bustle, H&M x Love Stories collection arrives on Aug. 9. It'll be the tail end of summer so you can do an undies upgrade for the fall season.
Go ahead and program a reminder in your SmartPhone of choice so you can remember to shop the collection. It will be available in select stores globally and online as of that date. The pieces are sporty and stylish — you won't feel awkward picking up the mail and waving to the neighbor while wearing these pieces out of doors. They are playful and sexy and you'll feel the same while wearing them.
If you are not familiar with Love Stories, let's remedy that. The brand launched back in 2013 with an emphasis on comfy designs with fun prints — think animal and floral designs, along with details like lace and tulle. Love Stories' aesthetic is all about the mixing and matching of tops and bottoms regardless of the print or hue.
H&M decided to partner with Love Stories for its first-ever lingerie collab because it wanted to add a healthy dose of fun into its undergarment offerings. The collection typifies Love Stories' notion of "perfect mismatches." There are athletic stripes and ruffled edges, along with stars and flowers.
The pieces are offered in the following color palette: dusty pink, olive green, and black. All pieces are meant to mixed to suit your mood.
If you want to be sporty and sexy at the same time, mixing pink ruffles with a smattering of stars or leopard spots, go for it.
The H&M x Love Stories pieces allow for that.
"Lingerie has always been an important part of the fashion [industry] but maybe seen just as practical," H&M design director Pernilla Wohlfahrt said in the press release, offering some insight into why these brands paired up. "With this collaboration, we really want to show that lingerie can be as fun and expressive as clothing, even if not always visible. Love Stories is the perfect [combination]. We've admired Marloes [Hoedeman] for a long time for her energy, vision, and her projects, so we are glad to have worked together."
The crown jewel of the collection will be the bralette. The Love Stories' bralette is a signature piece that comes in new fabrics and hues each season, per Vogue. It is featured in this range.
Hoedeman, who is Love Stories' founder and designer, told Vogue exclusively that the collection is comprised of "pieces created to be worn at home without forgoing style. They are not necessarily worn only at home: our idea is to create a versatile product people love to wear and, why not, also to flaunt."
Hoedeman also backs the idea of underwear-as-outerwear, saying, "Lingerie is part of your outfit, so please show it."
While Hoedeman did note that Love Stories cup sizes stop at D, the brand is working on increasing its sizing. Therefore, the H&M x Love Stories collection doesn't sound like it will be very inclusive. However, Hoedeman commented to Vogue, "Making the most of all sizes and making our clients feel good are top priorities for us."
That's a good sign for the future diversity of this brand.
For now, Love Stories, which currently has 143,000 Insta followers, will be introduced to a much bigger customer base courtesy of its H&M collab.
Underwear-as-outerwear is no fleeting trend! This mashup allows you to trick out your undies because why not?!