Torrid Has The Most Amazing 'Harry Potter' Line & It's Some Serious Style Sorcery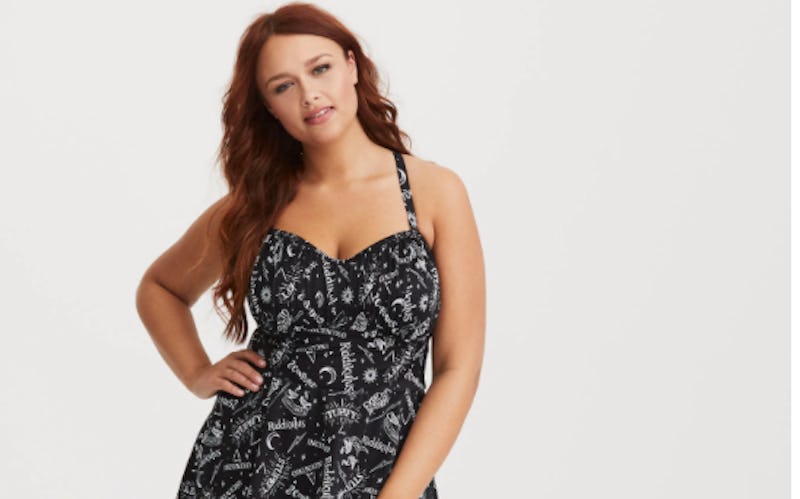 Torrid
Harry Potter is hotter than ever! No, that's not a "Daniel Radcliffe is all grown up and handsome AF!" reference, either! The beloved character, stories, and franchise continue to dominate pop culture — from the Broadway play to clothing. The new Torrid x Harry Potter clothing collection is magical, summer-friendly, seriously on sale, and has something for ever level of Hogwarts fandom — from the casual fan who has seen every movie in the theater to those who own all the books and can recite key passages at will!
If Harry Potter is your jam, then you need to whip our your wallet. There savings suggest some serious sorcery is going on.
The collection boasts crossbody bags, undies, swimsuits, leggings, rompers, and much, more more. All the prices are slashed to decent savings, too.
You can scoop up several pieces and satisfy the Harry Potter collector in you and pair them with things already in your closet. That's how to introduce a little magic into your wardrobe, affordably so, for the summer. You will pack just the right amount of Potter punch for your OOTD.
You have plenty of choices. So get to it.
1. Gryffindor Bag
2. Skater Swimsuit
3. Blaze With A Blazer
4. Hipster Undies
5. Marauder's Map Leggings
6. Jean Shorts
7. Tank Top
8. Hufflepuff Suspender Skirt
9. Ravenclaw Suspender Skirt
Go ahead and stock up on these Torrid x Harry Potter pieces. You can magically deck out your wardrobe this summer without going broke. You'll still have enough cash left over to buy ice cream cones every night — because #summer.